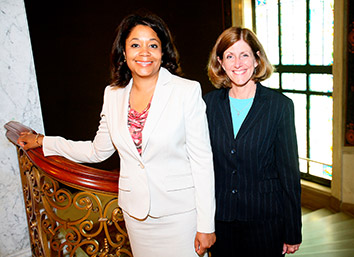 History has been written within the state's legal community, thanks to a pair of new federal judges who within days
of each other joined the Southern District of Indiana.
Their confirmations doubled the state's number of female federal judges, shifted the District's makeup so that
a majority of the judges are women, and gave Indiana its first ever African-American on either of the two U.S. District courts
here.
Judge Jane Magnus-Stinson was confirmed June 7, moving from the magistrate judge spot she'd held for just more than
three years. A day after she took her oath, her colleague Marion Superior Judge Tanya Walton Pratt received an identical Article
III judgeship on the same court.
 
The two came from similar spots on the state trial court bench, though the path to the federal bench materialized in different
ways. Their journey began during the past year as two positions opened in the court that covers the southern two-thirds of
the state. They now share the experience of joining Judge Sarah Evans Barker in the Southern District and Judge Theresa Springmann
in the Northern District as the only females in the Hoosier federal court system.
"Their coming to the court is so special and new, but it's been a long time coming," said Judge Barker,
who became the state's first female federal judge in 1984. "It matters so much that the bench is diverse, and
in rapid order we've gone to being a majority on the court after many years of being a distinct minority."
Adding to the excellent qualifications that's already allowed both the new judges to hit the ground running, Judge
Barker reflected on the gender diversity aspect and said she feels like former Justice Sandra Day O'Connor did when
welcoming Justice Ruth Bader Ginsburg to the Supreme Court.
"You may not be able to tell any difference in work product or whether an opinion is written by a man or woman judge,
but this will enhance the quality of justice and makes it deeper and broader and even more credible," she said.
Both Judges Pratt and Magnus-Stinson recognize the historical significance of their appointments, and they credit the joint
leadership of Indiana's Democratic Sen. Evan Bayh and Republican Sen. Richard Lugar for working together to find qualified,
inclusive nominees.
After their nomination announcements in January – along with attorney Jon DeGuilio for the Northern District of Indiana
– both Judges Pratt and Magnus-Stinson worked their way through a confirmation process they describe as interesting
and fair. Senators confirmed DeGuilio in May.
"This (process) has been a test of patience, but I'm so very happy and honored," Judge Pratt said. "I
do respect the historic significance of being the first African-American in the state to join the federal bench, and that's
really a credit to Sen. Bayh for looking outside the traditional group of candidates to be inclusive."
On the bench
Judge Pratt succeeds Judge David F. Hamilton, who was elevated to the 7th Circuit Court of Appeals late last year.
She leaves the Marion Superior Court, where she has presided over the Probate Division since December 2008. Before then, she
served as a criminal division judge since 1997, handling major felonies and presiding over 20 to 35 jury trials a year, as
well as supervising the juvenile detention center. Judge Pratt was first elected in 1996, but she had served as a master commissioner
in Marion Superior Court since 1993 after practicing privately.
The president signed her commission the same day as the vote, and after submitting a resignation letter to the Indiana Supreme
Court she expects to officially begin in the federal system June 25.
Judge Magnus-Stinson is there to guide her friend and colleague, who's making the same kind of move from state to federal
court that she experienced in early 2007 when she took over for retiring Magistrate Judge V. Sue Shields. Prior to that, Judge
Magnus-Stinson had served for 12 years on the Marion Superior bench. She worked in the 1990s as chief legal counsel for then-Gov.
Evan Bayh. She also had practiced civil litigation at LewisWagner following graduation from Indiana University School of Law
– Indianapolis in 1983.
Now, Judge Magnus-Stinson succeeds Judge Larry McKinney who took senior status last summer. She started her judicial duties
June 14 with plea agreement hearings and a jury trial within a week.
"There are differences, but that's what makes this job so exciting," Judge Magnus-Stinson said about the
state and federal systems. "You get to keep your curiosity up, and you're always learning a new area or issue
of law. You never know what's next."
Both plan to attend a new judge school in Texas at the end of June. Once that happens they'll be ready to jump full
force into their respective dockets on which they're already working.
The two hope their appointments will serve as examples to the community – that diversity is important and won't
keep anyone from their dreams as long as they work hard.
"You have to have those distinguished role models … so you can see others work hard and do it, and know that
you can, too," Judge Pratt said. She echoed Judge Magnus-Stinson who said one of the best parts of all this has been
to see the pride in their daughters' eyes about their mother's accomplishments. "Any little girl can do
it."
Filling those vacancies
Now the process begins to fill their vacated posts. A merit selection committee will narrow the candidates and recommend
potential magistrates, while Gov. Mitch Daniels is responsible for choosing Judge Pratt's successor. That process has
officially started, and the governor's general counsel David Pippen expects a 30-day application window through mid-July
for those interested in the judicial post. Interviews will follow, but Pippen said an exact timeline isn't clear and
depends on the number of applicants and overall scheduling. It likely will overlap with the search for a new Indiana Supreme
Court justice for which interviews are slated to begin in early July.
Whoever is chosen will be of the same political party – Democrat – as Judge Pratt, in order to balance the total
36 Superior Court judges between both parties. Her successor will fulfill the remainder of her term that runs through 2014.•
 
Please enable JavaScript to view this content.