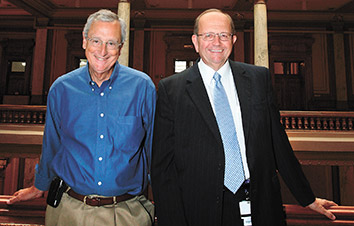 Whether someone has worn a black robe before joining an appellate court is a discussion that often surfaces whenever one
of those judiciary posts opens in either the state or federal system.
Senators have raised that question when discussing the pending U.S. Supreme Court nomination of Solicitor General Elena Kagan,
who doesn't have any prior judicial experience. She would be the 112th justice to join the nation's highest bench.
That same issue is also one that Indiana Supreme Court knows well, as three of the five sitting members – Justices
Theodore R. Boehm, Brent E. Dickson, and Frank Sullivan Jr. – didn't come from the bench.
 
On the flip side, Chief Justice Randall Shepard served on the Vanderburgh Superior bench while Justice Robert D. Rucker came
from the Indiana Court of Appeals after practicing in Lake County.
That court makeup could change in coming months, though, with the upcoming retirement of Justice Boehm. Whether his successor
will shift the judicial experience makeup of the court remains to be seen, but fewer than half of the total applicants –
16 out of 34 – come from either the trial or appellate bench. Both the Judicial Nominating Commission and Gov. Mitch
Daniels will be responsible for ultimately choosing who will become the state's next justice.
Despite those openings and whether that judicial experience question has any merit, most in the legal community agree that
it doesn't much matter one way or another whether someone has a judicial background. Most say that having a diverse
membership from all kinds of backgrounds makes a court stronger, and that any judicial experience is just one of many factors
that must be considered.
"I think that one of the judiciary's great benefits is having multi-membered courts, as it affords a variety
of views based on that prior experience and different exposures to the fields of law," Chief Justice Shepard said. "Prior
experience is extremely helpful, but not obligatory. I do think we've seen great value in the way in which our court's
recently been formulated, and I think it would be a mistake to have all of one or all of the other."
Justices Boehm and Dickson took some time recently to meet with Indiana Lawyer and discuss that issue generally
and how their own non-judicial experiences impact the court and overall legal community.
Justice Sullivan declined to participate in this story or any follow-up interviews on the topic of prior judicial experience.
His experience before his 1993 court appointment included government service as Indiana state budget director, and work at
Barnes & Thornburg in Indianapolis.
Before joining the Indiana Supreme Court, most of Justice Boehm's experience was in corporate law after previous private
practice experience. He worked at Indianapolis firm Baker & Daniels through most of the 1980s; was general counsel at
General Electric starting in 1988, before a move to Eli Lilly in 1991; and then he rejoined Baker & Daniels in 1995.
Justice Dickson came from private practice, where he worked as a general practice lawyer for 17 years in Lafayette before
joining the court in 1986.
Sitting in the conference room where they meet weekly to ponder court business and pending cases that help shape Indiana
law, Justices Boehm and Dickson talked about their views on the merits of that argument and how it plays out both at the state
and federal levels. They also talked abut how it could be potential fodder for expanding the Indiana Supreme Court at some
point in the future.
"Honestly, I think that assumption about needing that experience is quite wrong," Justice Boehm said. "We
benefit from having people who aren't all the same and have been judges before."
With three current justices not having that prior experience, Justice Boehm said that he sees the state court as having a
deeper background that is able to better understand and take into consideration all aspects of an issue that a homogenous
makeup might not allow.
Justice Dickson said someone who has spent his or her entire career on the bench has "missed out" on those other
perspectives, and that must be balanced on an appellate court with non-judges.
"I see (having) courtroom lawyers being very important because those are the cases that are appealed and those are
invaluable experiences," Justice Dickson said. "They've been in the trenches and know how a decision from
this court is going to impact them specifically."
While both justices said a member's past experience doesn't matter much when the court is considering and deciding
on cases, it might sometimes shape discussion about a particular appeal between the five members. The pair said the court
often turns to a particular member's past experience to get their take on a particular issue at the start of a discussion,
and sometimes it might even impact how a case is assigned.
For example, the court might think about whether someone's expertise in an area of law would add anything new, or if
it would be better to have someone else write it. Justices also consider how important that might be when considering cases
such as judicial disciplinary actions, and whether it could be beneficial to have the decision penned by one of the members
who didn't come from the bench previously.
"It might govern the beginning of a case, maybe, but certainly not the outcome," Justice Dickson said about the
overall impact. "We have all been in courts and don't have to sit on the bench to have an appreciation for the
litigants and the legal issue."
Regardless of someone's background and whether that person sat previously on the bench, Justices Boehm and Dickson
said everyone will have a gap of inexperience when they join the appellate bench.
Neither Justice Boehm nor Dickson expressed any feedback about whether the governor should next appoint a judge or not, but
that it is be one of many factors he must consider in making that decision. Both did note that a need for greater overall
diversity on the court could be used in the debate about whether to expand the number of Supreme Court justices within the
state – lawmakers could bump the number up to eight, if they chose to.
Aside from the experience aspect, though, both justices said it might sometimes be easier to find new appellate judges or
justices from the lower court ranks simply because of the government salaries. That might limit potential applicants to those
already familiar with the money and lifestyle requirements, they said.
Looking at his soon-retiring colleague, Justice Dickson smiled and said, "There are too few people like Justice Boehm
willing to give back."
Justice Boehm said that more than five justices might be a way to bring in even more diversity – from anything including
gender, race, geography, and legal experience. That also increases the complexity of a court and potentially makes it more
difficult to find agreement, they noted.
But regardless of the number of justices, one thing is clear: Indiana falls into the majority of what courts do across the
country.
The National Center for State Courts reports that 46 of 53 courts – comprised of the 50 state supreme courts plus the
separate criminal courts of last resorts in Oklahoma and Texas, and the District of Columbia Court of Appeals – include
at least one member without prior judicial experience. Across the country, 19 sitting state chief justices didn't have
that experience, the NCSC reports.
For the SCOTUS, eight of the current justices served as federal appellate judges before joining that bench. Retiring Justice
John Paul Stevens was not a judge beforehand, and now Kagan has been tapped to take his place – if confirmed she'd
be first new justice in almost 40 years without any prior judicial experience. The Senate Judiciary Committee started Kagan's
confirmation hearings in late June, and Republican opposition expressed concern about the fact that she didn't have
any judicial experience.
"The public expects Supreme Court nominees to possess a mastery of the law, a sound judicial philosophy, and a demonstrated
dedication to the impartial application of the law and the Constitution. With no judicial opinions to consider, it will be
especially important that other aspects of her record exhibit these characteristics," said Sen. Jeff Sessions, R-Ala.
Other Republicans issued similar concerns and pointed out that most Americans believe that prior judicial experience is a
necessary credential for a Supreme Court Justice."
But those political arguments ignore a simple fact: The legal community doesn't raise those same concerns. Also 40
of the 111 SCOTUS justices came the court without any prior judicial experience – half of them served in the 20th century
and includes some of that court's most distinguished alumni.
From within the legal community, Justice Boehm said that prior judicial experience is simply not what's important about
a court member and that many other factors are just as significant. He isn't weighing in on the Kagan nomination, but
said that his own clerking experience for former U.S. Chief Justice Earl Warren gives him a view into the federal judiciary
that reinforces his belief.
"That is more of a public argument than one that attorneys make," Justice Boehm said. "You're going
to have the same gripe, even if your court is one that has all prior judges. You have to have a mix of opinion and members
who are equally experienced in all areas of the law that you might be considering. That's what makes a court strong
for either the state or federal bench."•
 
Please enable JavaScript to view this content.