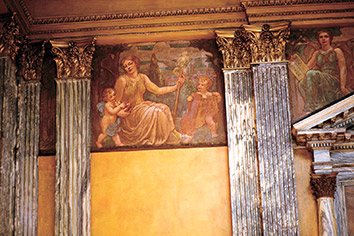 As attorneys and judges continue filing and litigating cases in the U.S. District Court for the Southern District of Indiana,
a renovation project is underway and adding new life into the federal courthouse in downtown Indianapolis.
Using $69.3 million from the American Recovery and Reinvestment Act as part of a multi-billion dollar program, the 105-year-old
building will be modernized for the 21st century and preserved for at least another century.
 
"This building may look like a museum, but it's a fully operational and functional federal building and we have
to keep that in mind with this project," said project manager Matthew Chalifoux of Washington, D.C.-based Einhorn Yaffee
Prescott Architecture & Engineering. "We keep in mind that there's 100 years of life in this building already,
and we're extending that life even longer."
The U.S. General Services Administration is overseeing the Birch Bayh Federal Building and U.S. Courthouse project, which
began in January and is scheduled to continue until August 2012. About 100 workers are currently working a night shift so
as not to interfere with court business, and as many as 150 total will be working once a weekend shift is added, according
to the GSA. Twenty-three companies, including 19 with offices in Indiana, are involved in the project.
Four key areas of the renovation:
• Fire prevention: More than 10 miles of sprinkler lines and 3,725 new sprinkler heads are being installed in the building,
aimed at increasing the amount of coverage by six times the current level of protection and making it comply with modern safety
codes. The new fire safety system will include voice alert alarms, and the overall impact will be to improve safety about
74 percent.
• A green roof: A new roof with grass, plants, and trees growing on top of it is being added in order to increase energy
efficiency and help keep the building cooler and more environmentally friendly. The new 30,000-square-foot rooftop will provide
as much oxygen as 18 trees, double the lifespan of the roof, and help insulate the building, according to a GSA release. The
roof is being installed by Indianapolis-based Blackmore & Buckner Ro
Renovation project manager Matthew Chalifoux, with Washington, D.C.-based Einhorn Yaffee Prescott
Architecture and Engineering describes how the roof will look once it goes green. (IL Photo/ Perry Reichanadter)
ofing, and once finished it will be the largest of four green roofs within Indianapolis.
• Harvesting rainwater: Five 2,000-gallon tanks will collect water from roof drains to provide a non-potable supply
for the building's 91 toilets and 28 urinals. The tanks are in the basement, and water will be filtered before going
into the plumbing system. The harvesting effort is estimated to reduce water usage by as much as 30 percent.
• Digital controls: The building's 300 manual controls for heating and air conditioning will be converted into
a single digital keyboard that will better monitor air quality, comfort, and efficiency. Crews will be able to control the
system remotely by cell phone and other mobile devices.
But aside from those main focuses of the project, other renovations are also happening throughout the courthouse. Murals
in the William E. Steckler ceremonial courtroom, where now-Senior Judge Larry McKinney hears cases, are being renovated through
this project. Those 13 murals that represent the original U.S. colonies line the top of the courtroom's walls, according
to court historian Doria Lynch.
Project leaders say the objective of that historical preservation aspect fits into the project's overall theme: that
people will think of this as a 1905 courthouse, even though it's a 21st century building.
So far, the legal business of the courthouse hasn't been impacted much, even though construction materials and temporary
safety walls are around the outside of the building and in various spots.
Judge William Lawrence said he expects to be losing his chambers for a period of time starting in mid-July and will eventually
be relocated elsewhere in the building. Judge McKinney will likely be moved sometime after that, as will the remaining judges
and magistrates – though the timing will depend on the project's overall progress.•
Please enable JavaScript to view this content.