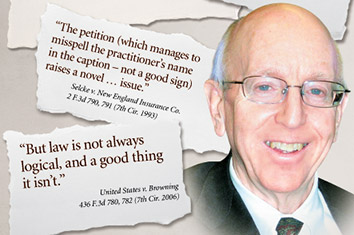 It's no secret judicial clerks help with writing opinions at some point in the process – whether it's the
research, writing a first draft, reading and writing memos to judges on their drafts, or in some cases rewriting the judge's
first draft or outline into a final draft.
However, 7th Circuit Court of Appeals Judge Richard A. Posner insists on writing his own opinions, leaving more time for
his clerks to do research and criticize his drafts instead of the other way around.
 
Some have noticed his distinct writing style, including a Valparaiso University School of Law professor who has compiled
some of the judge's most notable writing into "The Quotable Judge Posner: Selections from Twenty-Five Years of
Judicial Opinions," released in May. The book is available online from Amazon.com and in some Chicago-area bookstores.
Professor Robert F. Blomquist said he has been focusing on Judge Posner's opinions since 2000 after reading many of
them for his coursework teaching torts, environmental law, and national security law.
"I always found opinions that were reproduced in casebooks from Judge Posner to be particularly illuminating. They
cut to the heart of the matter," he said.
Blomquist has written about Judge Posner's
majority, concurring, and dissenting opinions.
"I thought the dissenting opinions were particularly incisive and penetrating. … He called the majority to task
for sloppy, and sometimes political, reasoning," he said.
Another academic who has also noticed Judge Posner's opinions is Supreme Court of the United States justice nominee
Elena Kagan, who Blomquist quotes in his introduction.
"'Judge Posner does not know how to write dull opinions,'" the Harvard Law School dean wrote for
the Harvard Law Review in 2007. "'In part this is a matter of style.' Thus, 'Posner's aphorisms,
his sardonic humor, his colorful voice, make all his opinions interesting to read.'"
In 2006, Blomquist saw a book called "The Quotable Einstein," which, he said, "made a light bulb go off"
to consider compiling quotes from the judge's opinions for a book not only for lawyers and law students, but also for
anyone with an interest in the law. He got a contract with State University of New York Press in May 2006, and for about two
years during summers and his free time during the school year, he worked with research assistants to compile a collection
of highlights. He ultimately read about 2,250 opinions.
His first draft was about 600 pages of typed text, which was ultimately cut down to about 220 pages of quotes covering a
range of categories including American society, civil rights, criminal law, evidence, habeas corpus, military law, prisons,
trials, and of course, "Posnerian Wisdom."
Judge Posner also agreed to write a forward to the book, which he wrote was "not to echo the too-generous praise of
my judicial opinions that Professor Blomquist gives in his introduction, or even to thank him for the enormous labor he has
undertaken in preparing this book," but to explain why he thinks it's important for appellate judges to write
their own opinions.
As Judge Posner told Indiana Lawyer, the reason he writes his own opinions is "I like to write, it's
the fun part of the job for me."
Another reason as to why it's not the best idea for judges to have clerks write for them, he said, is because most
judges only have their clerks for a year, so there's turn over and therefore a steep learning curve every year.
"When they start, they're not experienced opinion writers. But if a judge writes his own opinions, over the years
he gains experience and can write faster than a clerk could. And if the law clerks are not writing opinions, they have more
time for research," he said.
He added that in the writing process, the writer might change his mind as to what he would like to include in the opinion.
"Writing is a stimulus to thinking," he said. "I may realize some issues need to be addressed in different
ways than I initially thought."
If a law clerk notices something that should be changed, she is more reluctant to acknowledge the difference, he added. If
a judge tells a clerk the opinion should be reversed, but the clerk disagrees, she "probably won't come back and
say, 'I don't think we should reverse.'"
Voice is also important in writing opinions.
"Every writer has his own voice and you can learn a lot about a person – not just a judge – from what he
says and how he says it. A reader can get a better sense of where a judge is coming from if he or she is writing his or her
own opinions," he said.
On the other hand, "clerks write in an informal, impersonal way," because they don't want to include their
own voice in the opinion.
While the judge said he understands why other judges might prefer to have their clerks write for them – especially
if the judge isn't a very good writer – there is a spectrum of how judges write opinions.
"Some judges write a rough first draft and the law clerk rewrites it, so it still includes more of the judge's
work than the clerk's. The converse to that is when the law clerk writes the first draft and the judge rewrites it,"
he said.
"I'm on the end of the spectrum with only a few other judges," he added. "I write the first draft
and give it to my law clerk for criticism and research, and the clerk writes me a memo with his or her suggestions on what
should be changed. Then I do another draft. I control the writing but I get a lot of help from the clerk, including notes
about any errors that need to be corrected."
He said that for a judge to write his own opinions isn't necessarily a sign he's more intelligent than the clerk.
"Sometimes the law clerks might be smarter than the judges," he said. "I've had law clerks smarter
than I am. Sometimes … the clerk might be faster at writing opinions … but that doesn't mean the judge
isn't bringing his experience to the job," he said.
That includes experience of judging and writing opinions.
"I think I've improved at this … I like to pare down the facts to the essentials and present them in a
way to give a very clear picture on what the case is about," he said. "… I try to make sure I include all
the points I think are important, and I try to be economical."
He also doesn't include footnotes – if something is important enough to be included he works it into the opinion,
and he said he tries to avoid jargon, which he said "often operates as a substitute for thought."
"Very early on, a law clerk for another judge told me that his wife who's not a lawyer enjoyed reading my opinions.
I thought it would be nice to write opinions that lay people could read. … I try to put everything into ordinary English,"
he said.•
Please enable JavaScript to view this content.