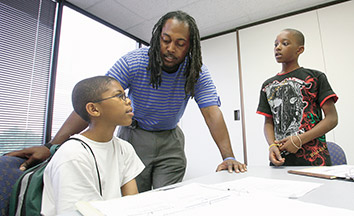 When an attorney in a bar association's program for young lawyers learned that a program that helps at-risk youth to start and maintain their own businesses was in transition and needed a little help, he suggested his group step in.
As a result, David Jones, formerly of Riley Bennett & Egloff in Indianapolis, who recently moved to Arkansas for a job closer to his hometown, suggested his group in the Indianapolis Bar Association's Bar Leader Series Class VII support the work of Business Leadership in the Next Generation, or BLING.
The IBA group's role with the organization was to present an orientation for the students June 12.
 
For the orientation, the group members, including Mary Ann Fleetwood of the Marion County Prosecutor's Office, Reynold Berry of Rubin & Levin, John Henning of Ogletree Deakins Nash Smoak & Stewart, and Leslie Gibson of Cohen & Malad, helped get support from local businesses, including door prizes like Colts tickets and restaurant gift cards.
The group also scheduled speakers to address the students, including Indianapolis Colts wide receiver Dudley Guice, who spoke about the importance of academic achievement. Community and business leader Deborah Oatts, president and CEO of Nubian Construction Group, spoke to the students as well.
BLING program director Immanuel Ivey added the IBA members also helped with supplies such as notebooks, pens, and paper, and have offered to continue to work with BLING as mentors as needed.
The IBA group that helped BLING was one of five in the leadership series, including a group that has been working with military families including a website and kid-friendly event, another group worked with a youth indoor soccer league, one group created a resource directory for blighted neighborhoods, and another group worked on a "Peace Coach" program in conjunction with the Peace Learning Center.
BLING, which has been around for about five years, according to Ivey, offers students from age 10 through high school an intensive five-week course in June and July that teaches them how to determine and implement a business plan and set short-term and long-term academic goals, while learning public speaking and marketing skills.
In the past, students have come from various neighborhoods, but this year they are all from the Martindale–Brightwood neighborhood and are bused from the Edna Martin Christian Center to downtown Indianapolis for their classes.
Throughout the five weeks, students also learn financial literacy through a program provided by Key Bank. The students sign up for a bank account through Mt. Zion Credit Union, and in past classes, students' parents have opened their own bank accounts as a result of what their children have learned.
Students also hear firsthand accounts of what it means to run a business from business owners, and take field trips to banks, businesses, and a Black Chamber of Commerce networking meeting, Ivey said.
Berry, who recently attended one of the classes in mid-July, compared what the students were learning with a college-level business course. He added he was excited to see what the students were doing.
"Some kids have a natural tendency to be entrepreneurs, but they don't know the business terms" or exactly how to implement their business plans, he said.
With BLING, the students come up with an idea for a business. They earn points through attendance, pre- and post-tests, participation, and homework. The points are converted into dollars, up to $100, and then they can use the money they earn to buy supplies to make products for their businesses, Ivey said. They purchase supplies from wholesale vendors, and based on the costs of supplies can choose how much to charge for their goods.
Then the students, as well as alumni of the program, market and sell their products to attendees of the Indiana Black Expo in the youth section of the event. This year, the students were at the Indiana Black Expo July 16-18.
 
Rubin & Levin attorney Reynold Berry, left, helps Goldie Reed with her BLING project. (IL Photo/ Perry Reichanadter)
Following the weekend at the expo, the students continue their class and discuss how their businesses did, and future goals they have for the businesses and for their academic achievement.
During a graduation ceremony for the participants, the students present their business plans. Prizes are awarded to the first-, second-, and third-place winners. Berry planned to attend the graduation ceremony and the other lawyers were welcome to attend as well.
This year, the program has 11 students working on a total of seven businesses.
Among the types of businesses in this year's class are a candy store, students selling lotions and body oils, and a partnership that is designing clothes, Ivey said.
One of the students, Sheon Cole, an eighth-grader at Guion Creek Middle School, said she joined the program because she wanted to make money selling things and because she was good at math but wanted to learn to be a better salesperson.
For $5 per pair, she sold flip-flops she bought from a wholesaler. She chose the flip flops because she liked the design.
Robynisha Lee, a seventh-grader at Guion Creek Middle School, set up a jewelry business selling necklaces, toe rings, bracelets and bangles, and earrings. Before the expo, Lee said she looked forward to selling all of her jewelry, and Cole said she looked forward to making money.
"I learned how to be a business person, how to make a business plan, and how to set up goals for later in life," Cole said.
Lee added that the class also taught them how to save money. "You have to save because you may need it later," she said.
Berry emphasized that his group's involvement with BLING was mainly the orientation, even though he'd like to stay involved if asked.
"Now that I've been involved with BLING, I see that community service is its own reward," he said.•
Please enable JavaScript to view this content.