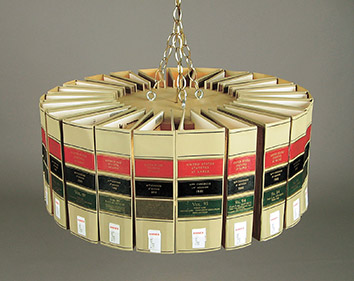 While libraries have been discontinuing books from their collections, the pages are taken out and recycled, and the covers are destroyed or recycled. One Indianapolis furniture designer, however, has been keeping the bindings to make benches, tables, a screen, and even a functioning chandelier.
The main materials Derrick Method uses for his furniture, appropriately on display at the library at Butler University during summer library hours through July 31 in his exhibit "bookwork," are covers of outdated legal books, such as reports from the Supreme Court of the United States, United States statutes, and reports on treaties and international law.
 
The books were discontinued from the Butler library collection, and Derrick, who recently graduated from Herron School of Art at Indiana University-Purdue University Indianapolis, became aware of their availability from his wife Sara Method, a cataloguing associate for the library.
Derrick also told Indiana Lawyer he plans to get discontinued books from the Indiana University School of Law – Indianapolis library for future projects. He and Sara have a friend who works for the law school who has been supporting Derrick in this endeavor.
While Derrick said most of the furniture is meant to be functional, one could easily imagine many of the pieces in a bar association or lawyer's office or waiting area.
A Shaker-style table with a glass top and book covers hanging under the glass would make an interesting conversation piece. So would benches and chairs made out of book covers with wood Derrick carved and placed between the covers to give the illusion of pages.
It's the small details of Derrick's work that are worth checking out in person. His tables have leaves to expand or shrink them. One has a drawer that looks like a piece of an old card catalog, and another work's functioning drawer has pieces of fabric, designed to look like bookmarks, which serve as handles for opening the drawer.
 
This Shaker-style table includes covers of outdated "United States Treaties and Other International Agreements." (Photo submitted)
Of all the items, perhaps the most intriguing is the chandelier, which unfortunately isn't part of the exhibit because there is no where to hang it in the library space.
Derrick's work is available for sale and he is accepting commissioned projects. He was also recently recognized at a Furniture Society conference in Cambridge, Mass., where he was the only one there to have furniture made out of book covers.
Summer library hours for the Irwin Library on the Butler University campus are Mondays through Thursdays, 8 a.m. – 8 p.m.; Fridays 8 a.m. – 5 p.m.; and Saturdays 10 a.m. – 5 p.m. The exhibit is in the library's Collaborative Learning Space, the right quad upon entering the library.
More information about Derrick's work is on his blog, http://methodicalcreations.blogspot.com. He can be reached via e-mail at [email protected].•
Please enable JavaScript to view this content.