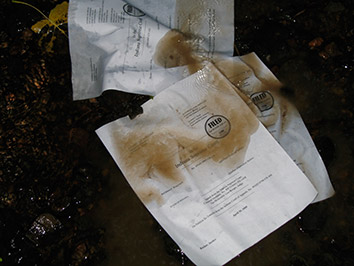 Clear and concise court rulings are what judges hope can be produced, so that lawyers and lower courts can have guidance
on how to address a particular legal issue.
But that doesn't always happen.
Courts sometimes issue rulings that create confusion and muddy the legal waters, leaving attorneys and judges without clear
guidance on a particular issue. Instead, those in the trenches are left scratching their heads and wondering how those higher
court decisions should be interpreted and exactly how they trickle down them.
Indiana appellate attorneys and trial judges say that isn't the trend for the state's appellate courts, as they
often are clear and concise and give adequate guidance. Still, the waters do get muddy at times.
That topic came up during the recent Judicial Nominating Commission interviews for an opening on the Supreme Court. When
asked about the state of the judiciary, Miami Superior Judge Robert Spahr told commission members that trial courts are often
"confused" by appellate opinions and that there's not enough direction or clarity.
"It's just confusing and unnecessary," Judge Spahr told Indiana Lawyer after his interview. "It's
not evil, but it's perplexing and unexplainable why this needs to be as complex as it's become. We're here
in the trial courts for law and order … that's our fundamental, absolute, bottom line job and the law must be
predictable in any way we can get it to be predictable. But right now, there's uncertainty."
Other trial judges throughout the state have echoed similar concerns on multiple issues of the law, though most agree they
see adequate rulings from the state appellate courts. Hoosier attorneys closely watching appellate rulings agree that uncertainty
isn't common, although they do see some uncertainty on various fronts.
"Uncertainty is not common in Indiana, but you always have areas of law that are constantly developing," said
appellate attorney Maggie Smith at Frost Brown Todd in Indianapolis. "I'd say that it's more common in the
criminal realm than in civil cases, because that area stays more in flux. But whatever type of issue you're talking
about, there are those cases and rulings that leave the waters very muddy and can be problematic for litigants."
On the criminal side, Indiana has endured many noteworthy waves of uncertainty during the past decade as Supreme Court of
the United States rulings have pulled the rug out from under the state courts and other still-developing issues have put clouds
over the state's criminal justice system. One of the most significant changes came with Blakely v. Washington
in 2004 when the nation's highest court declared most of the country's sentencing structures unconstitutional
and forced those jurisdictions – including Indiana – to interpret how the systems would be remodeled. Lines of
litigation came from that, and the state justices here continue dealing with that aftermath.
Sex offender statutes and caselaw has become more prevalent in recent years, as well, and one issue that came to a head last
year was the Indiana Supreme Court ruling in Richard P. Wallace v. State of Indiana, No. 49S02-0803-CR-138 that determined
a man should be removed from the statewide registry because he was convicted and sentenced before that requirement law was
passed. But it threw sex offender registry procedures into disarray as the state's Department of Correction and local
judges and prosecutors faced uncertainty about whom it applies to and how convicted sex offenders should be removed from the
public registry in certain situations. Multiple attorneys have continued pushing those issues in other pending and new cases
at both the state and federal levels, and the state of that area of law remains unclear.
The Indiana Public Defender Council identified several cases in the past year that have created uncertainty for public defenders
statewide, some resulting from SCOTUS opinions that aren't clear as far as trickling down to the state level, according
to attorney Kent Zepick.
One of the current areas of law that's muddy relates to McCullough v. State, 900 N.E.2d 745, 750 (Ind. 2009),
which authorized sentence increases on appellate review but left what Zepick and other criminal defense attorneys say are
many questions for current cases. The justices are now being asked to grant transfer in Akard v. State, 923 N.E.2d
202 (Ind.Ct.App. 2010), which specifically involves the criteria for increasing those sentences on appellate review –
something not developed in McCullough.
"This case puts lawyers and trial judges in a tough spot," Zepick said. "Trial courts may feel the need
to impose sentences that exceed the prosecutor's request to avoid reversals for being too lenient. The situation is
arguably worse for appellate counsel, who no longer can competently advise a client about whether to appeal a sentence because
of the possibility that the Court of Appeals will increase the sentence."
Attorney Joel Schumm, who works with the state public defender's office and runs an appellate law clinic at Indiana
University School of Law – Indianapolis, agreed that McCullough and Akard have significantly muddied
the legal waters. He said this could have a "severe chilling effect" on defendants who could otherwise challenge
their sentences on appeal, making it nearly impossible for lawyers to provide competent advice to those considering an appeal
and ultimately leading to longer sentences.
All of those criminal areas are constantly evolving as lawmakers change statutes and policy, and the uncertainty also hits
the civil side of the legal system.
Smith pointed to a June 25 ruling from the Court of Appeals that she says has created confusion for the business world. That
decision is Franklin Electric Company v. Unemployment Insurance Appeals of the Department of Workforce Development,
No. 93A02-0911-EX-1121, in which an appellate panel found that corporations can't simply create subsidiaries internally
and declare them separate entities in order to avoid paying higher tax rates under state unemployment compensation law. The
decision dealt with how courts can pierce the corporate veil, and Smith said she received calls from many businesses statewide
concerned about this ruling's impact.
"Their message: this is very scary," she said. "Although the decision is handed down in the context of
workforce development, the language is very broad and can be applied to more than those issues. It really does leave the waters
very muddy, because that whole analysis of piercing the corporate veil hasn't been fully developed here in Indiana."
The Franklin Electric Company case is pending on transfer to the Indiana Supreme Court, and Smith said she hopes the justices
take the case to offer more guidance on that front.
Sometimes, you'll see intermediate appellate judges trying to reconcile conflicting caselaw and various Supreme Court
decisions that impact their rulings, Smith and others said. She mentioned a 2009 case where Judge James Kirsch tried to bring
together three Supreme Court rulings about cross-motions and deemed denial, but found they were irreconcilable.
Appellate attorney Jon Laramore at Baker & Daniels said it's most common to see different three-judge panels disagree
and issue conflicting opinions. Appellate panels don't have the authority to overrule earlier rulings from another Court
of Appeals panel, Laramore noted, and the state doesn't have a way to address those internal conflicts as the federal
system and other states have done using the en banc procedure.
"I wouldn't advocate that in Indiana, but it was raised years ago as a possible issue," he said. "I'm
not sure if it would be used enough here to justify creating it."
Still, even with little guidance and uncertainty in various areas, many of Indiana's attorneys and judges who rely
on appellate caselaw say Indiana generally does better than what they've observed in other states.
"Our courts work very hard to make sure their decisions deal with not only the facts before them but also the precedential
value for future cases," Smith said. "Our justices don't wait as long to get involved, and because of that
we have much less uncertainty as a practical matter in Indiana law."•
Please enable JavaScript to view this content.