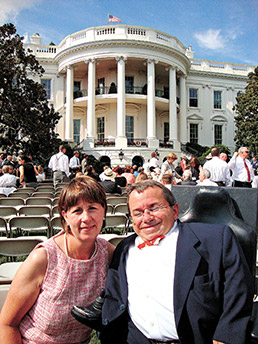 While many people might take it for granted that accessibility for all people is now commonplace and that it is illegal to discriminate against an employee based on a disability, the Americans with Disabilities Act was signed only 20 years ago.
It wasn't until 1992 that the first provisions went into effect regarding the accessibility requirements. Employment provisions didn't go into effect until 1994.
One Indianapolis attorney who was at the 1990 signing of the ADA, Greg Fehribach, was at the White House with his family last month when President Barack Obama and those involved with the original bill commemorated the 20th anniversary.
Fehribach was born with osteogenesis imperfecta, or "brittle bone disease," and has been in a wheelchair most of his life. He works as a consultant regarding ADA issues on a number of high-profile projects in central Indiana.
While in Washington, D.C., Fehr-ibach said he had an enjoyable time overall, including a personal conversation with the president when he was at the White House July 26 with his wife, Mary Beth Fehribach. He also said the White House was much more accessible this time than 20 years ago.
But the invitation has given him pause to think about the changes of the last 20 years, he said, particularly its impact on people with disabilities like himself.
Looking back, Fehribach said that even when he swore to uphold the rights of the Indiana and U.S. constitutions as a new lawyer in 1986, he himself could still be legally discriminated against because of his disability.
Before the ADA, businesses didn't need to worry about accessibility or employment of people who had disabilities. So at the time the bill was signed, he said there seemed to be fear among businesses about possible litigation for non-compliance and about how much it would cost to become compliant with accessibility for customers and employees.
But many attitudes about the ADA have since changed, he said.
Business owners realized they may have been effectively excluding many people as customers and employees, he said, and since the ADA they have made more efforts to include everyone.
The act may even be more relevant today than 20 years ago because of the changing population: Baby boomers who were in their 40s at the signing of the ADA are now in their 60s and are more likely to have developed an ailment that could be considered a disability; there is an increasing number of disabled war veterans returning from Iraq and Afghanistan; and more people tend to survive various ailments because of improvements in medicine, but they may need improved access as a result.
Even after 20 years, Fehribach still has an occasional experience that reminds him more can be done. For instance, when he first arrived in Baltimore, he and his wife were stranded because a shuttle with a lift he'd reserved to take him to his hotel had accepted another fare to Washington, D.C. They had to wait for an hour for another van with a lift.
He was also unable to take a water taxi in Baltimore because it wasn't wheelchair accessible. In Washington, D.C., he encountered two separate buses that had issues with their wheelchair lifts, delaying him from reaching his destination.
But it's these types of situations that have helped him as a consultant since the passage of the ADA for high-profile projects in Indianapolis, including The Children's Museum, Lucas Oil Stadium, and the Indiana Convention Center. As a lawyer, he understands the legal implications of what he does and what his clients need to do to meet the standards.
For The Children's Museum, his involvement started with work on the Dinosphere exhibit more than five years ago. That exhibit includes a "vertical dig" he helped design. It's a place targeted to children in wheelchairs to dig into a wall to find artifacts because they can't dig at ground level.
He also helped design an accessible tuk-tuk for the "Take me there: Egypt" exhibit. A tuk-tuk is a three-wheeled enclosed motorcycle-like vehicle that isn't wheelchair accessible. Fehribach suggested the museum have one cut in half so a child in a wheelchair could slide in.
"The Children's Museum takes a holistic look at accessibility," Fehribach said. "It's not just a place for recreation but also for learning. People are integrated there on all levels," including families, friends, classmates, and neighbors, he said.
He also worked with the museum on its "Power of Children: Making a Difference" exhibit that includes the stories of children who handled discrimination and racism and "Treasures of the Earth," a future exhibit that focuses on archeology.
"Over the years, Greg has really become the museum expert," said Jennifer Pace Robinson, director of exhibit development at The Children's Museum of Indianapolis.
"… He has always felt like another exhibit team member, not like an outside consultant," she said via e-mail. "… He reviews all of our ideas and then suggests ways to create experiences that are accessible to many different audiences, including the very young, grandparents, and adults/children with disabilities. He is really still like a kid; he thinks about what kids want to do and helps us see how we can meet our goals without excluding any child."
"To see the looks on children's faces, knowing that everyone can stand in line together. … They can learn how to work, how to play, and how to participate together," Fehribach said.
He has worked with John Klipsch, executive director of the Indiana Stadium and Convention Building Authority, on the Indiana Convention Center and Lucas Oil Stadium. Prior to his work with the ISCBA, they worked together on Conseco Fieldhouse and the Indiana State Museum.
"Greg … understands the important issues that are not always clear or laid out in the ADA law, and he's able to address those in a sensible manner," he said.
As far as the importance of accessibility in sports facilities since the passage of the ADA, Klipsch said, "it's important to have parity among all the seating arrangements, and that's been a process that's evolved as the sophistication of the customers has evolved. They understand that disabled customers need a choice in price level for seating, and Greg has helped us develop great options."
Bill Browne, founding principal of Ratio Architects, also has worked with Fehribach on various projects, including the convention center and the Indiana State Museum, among others.
"The thing I really admire about Greg is it's great to have someone so open about his disability. … He says, 'This is who I am, and I have a perspective to bring to projects.' … And he's schooled as an attorney in this area in a strong way, which gives us great comfort."
He added, "Greg always thinks about not only how you can meet the minimum but also what should be the right answer? … He has brought to me and others in the firm an appreciation of what it means to do more than just the minimum. Let's do what's right for the building and the community."
Jim Schellinger, chairman and chief executive officer of CSO Architects, echoed others about Fehribach's work. The two have worked together for about 20 years on various projects including the new Indianapolis Airport, Ball State University's Music Instruction Building, the JW Marriott Complex in Indianapolis, Archdiocese of Indianapolis projects, and the Columbus high schools.
While the passage of the ADA "initially created great anxiety based on unknowns," he said via e-mail, "… thanks to Greg's consulting work, knowledge, and skills we have become fully adapted to ADA and are proud that all CSO projects are universally accessible."
"Our clients hold Greg in high regard and really appreciate his focus and flexibility. They know he is focused on doing the right thing and guides them in this direction at all times," he said.
Fehribach also is working with Ball State students with the school's Bowen Center for Public Affairs. He teaches "The Disability Culture: Enhancing Today's Economy." The course focuses on "the challenges and opportunities facing both Americans with disabilities and employers in fulfilling the promise of legislation aimed at providing equal opportunities for persons with disabilities in the workforce."
Going forward, Fehribach said when attorneys have clients with any kind of fear when it comes to the ADA, he hopes attorneys will take the time to remind their clients why it's important to include those with disabilities.
"While I said 20 years ago that it was cheaper to make changes than to have litigation, now I would say that it is more economically prudent to invite people with disabilities into your business for economic reasons. That includes customers who have children, aging parents, or spouses with disabilities," he said.•
Indiana Lawyer interviewed Fehribach in 1990 after the signing of the ADA. Click here to read the online version of that story. 
Please enable JavaScript to view this content.