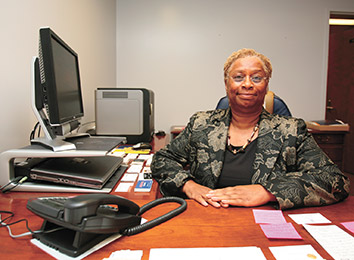 Marion County has a new judge, and that's created the latest round of musical chairs for the Superior Court and prosecutor's
office.
On Aug. 2, Gov. Mitch Daniels appointed the replacement for former Marion Superior Judge Tanya Walton Pratt, who was appointed
to the U.S. District Court, Southern District of Indiana. Of nine people applying for the post, he selected Barbara L. Cook
Crawford from the Marion County Prosecutor's Office.
The governor had to name a Democrat because Judge Pratt is one, and it's required to balance the county's Superior
Court system evenly between the two parties. Also applying for the judgeship were: Mark D. Batties III, a Marion Superior
master commissioner; Greg Bowes, Marion County assessor who was a Democratic candidate for county prosecutor earlier this
year; John J. Boyce, Marion Superior commissioner; Shatrese M. Flowers, Marion Superior commissioner; Bruce A. Hugon, partner
at Stuart & Branigin; Jeffrey L. Marchal, Marion Superior commissioner; Victoria M. Ransberger, Marion Superior magistrate;
and William K. Teeguardan, retired administrative law judge now working for the state.
Crawford has worked for most of the past two decades in the prosecutor's office and had served as screening chief.
The Indiana University School of Law – Indianapolis graduate has also worked in the Office of the Indiana Attorney General
and Marion County Public Defender's Office, as well as being an adjunct professor of trial advocacy at her alma mater
since 1998.
Marion Superior Judge Robert Altice, presiding judge of the executive committee, described his new judicial colleague as
an excellent choice from a list of very qualified candidates. He said Crawford "is very intelligent, compassionate,
and has a tremendous demeanor which will serve her well as a judge."
Starting Aug. 3, Judge Crawford said this was the first time she's served in a judicial role.
"This is a whole new experience, and it's really stimulating," she said. "It's amazing how,
despite being involved with our court system for some time, this is a new area and a new way of thinking for me. This is a
challenge I'm really looking forward to."
She replaces Judge David Certo in Superior 21, which is protective order court. Following Judge Crawford's appointment,
the Executive Committee on Aug. 6 agreed to move Judge Certo to community/environmental court – largely based on his
background in that area and his experience that includes working as counsel for the Indiana Department of Natural Resources.
Judge Certo replaced Judge Michael Keele, who'd gone to Civil 7 on the heels of Judge Gerald Zore taking over Probate
Court once Judge Pratt moved to the federal bench.
With Judge Crawford's appointment, the prosecutor's office also is experiencing changes. Deputy prosecutor Barbara
Trathen from homicide took over as screening supervisor while other supervisors and deputy prosecutors shifted their roles.
Even though the dominos have finished falling as a result of Judge Pratt's move to the federal bench, more changes
could be possible for the Superior Court in the coming months. Judge Altice said several of the 52 applicants for a federal
magistrate opening in the Southern District of Indiana come from the county's courts, and the District is also waiting
to hear if a new magistrate position will be created next month – meaning another chance for shifts to occur. In addition
to those potential changes, Judge Robyn Moberly from Civil 5 is one of three finalists the governor is considering for the
Indiana Supreme Court. If she's selected as the next justice, that would mean another opening.•
 
Please enable JavaScript to view this content.