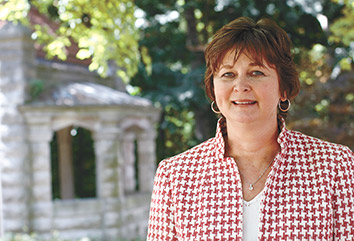 Kiply Drew knows her job as an in-house counsel for the one of the country's top 100 universities means every day is different.
That's why the associate general counsel at Indiana University can don any number of fun titles colleagues use when referring to the type of work she does each day: the construction queen, eviction queen, and mold or storm water queen. On occasion, she might even have to become a "mattress attorney" to navigate the varying legal issues that have come before her in the 16 years she's been with the Bloomington-based school.
While those designations bring laughs internally and are all in good fun, they serve as gentle reminders for Drew about how quickly her job can change with every phone call or e-mail.
 
"You truly never know what comes with the next phone call," she said. "You have to be prepared for anything, and the word 'generalist' almost doesn't cover everything you have to become a mini-expert on. But I wouldn't have it any other way."
Drew's 21-year career has taken her from private practice to the corporate counsel arena, and paved the way for her most recent application and interview for an opening at the Indiana Supreme Court where she clerked right after law school. Though she was one of nine semi-finalists considered for the post and didn't make the final cut, Drew has no regrets and said the experience has at least caused her to reflect more on her role in the legal community
"It's probably too soon to speculate what kind of impact this may have on my career," she said. "Being selected as a semi-finalist and contemplating the prospect of actually joining them on the court was exciting and inspiring. But being in-house at IU has been so varied, so interesting and, frankly, so all-consuming that I have not given much thought to pursuing a career change."
Graduating in 1989 from what's now Indiana University Maurer School of Law – Bloomington, Drew took her first position clerking for Justice Roger DeBruler on the state's highest court before going to work for the environmental group at Barnes & Thornburg in Indianapolis. She returned to her beloved Bloomington in February 1994 as an associate at Andrews Harrell Mann Chapman & Coyne, but within a few months Drew's career took a decisive, unexpected turn.
Associate general counsel Alvin York at IU died of a heart attack and the university asked the Bloomington firm to help. Drew took on the task, assigned to help the university's legal department assess and complete what York had been working on at the time of his death. She spent half days at IU billing the university as a firm client, and then went back to the firm for the afternoons to tend to her other clients.
That summer, IU decided to expand the legal department and add another lawyer. Drew wondered about applying but wasn't planning on it until her husband nudged her to do so. She started Aug. 1, 1994, joining four other associate general counsels.
In her in-house role, Drew has handled a wide variety of legal issues and describes herself as one of the few remaining "general practitioners" left. Some of the lawyers have specific topics they might know best, and the team turns to them first, but they all have some level of familiarity with those topics, Drew said. For example, when she started, her background in environmental law meant that she was the environmental lawyer for a time. That led to her titles of "mold queen" and "storm water queen." Since then, she's taken on more of a focus with construction issues, Drew said.
"As time passes, you develop these areas of expertise that maybe started out because of a cold call from someone at the university," she said. "Then, they call you first the next time something comes up."
For the most interesting aspects of her job, Drew immediately perks up when talking about constitutional issues. She sees situations ranging from due process and housing rights to police force search-and-seizure issues. With the university grounds being public places and being state-owned, they always have to be mindful of what might be constitutionally off limits. Drew recalls the past presidential election when two candidates visited and rented Assembly Hall for speeches, and the legal team had to make sure they weren't infringing on any legalities there.
First Amendment issues have been challenging and engaging to her personally, and she enjoys that work the most. But aside from all that, Drew also deals with budget topics and contracting, and those three elements are what she says makes the job unique for the in-house world.
"Universities are a hybrid creature, and I like that variety the best," she said. "We're very comparable to a small city or corporation, but we're not and in many ways and are very corporate in some of our dealings."
On the flip side, she said one aspect she enjoys the least is being the "eviction queen" when it comes to removing students from campus. Drew pointed out that IU is known as the "nicest landlord in town" for allowing students to remain through the end of a semester.
Then there are other issues that arise at a moment's notice, Drew said in reflecting on one instance in particular. At the time, she'd been caught up on a constitutional free-speech issue about how demonstrations could take place on campus. Drew was at her desk working when she heard a "ping" from her computer regarding a new e-mail.
"I turned around to look at the e-mail that didn't have any subject line or context, just asked a question: 'Can we sell used mattresses?'" Drew said. "I blinked my eyes and didn't know what to think."
Picking up the phone, she learned that the employee was asking how the IU hotel – that was buying all new mattresses – could dispose of the used ones. Her research taught her that the university could sell them, as long as they met health department regulations.
"Thankfully, that's the only time I've had to be a mattress lawyer. But it just shows that you have to be prepared for anything," she said.
She also directs and acts as university liaison to outside counsel who are hired to represent IU in litigation. That means reviewing and drafting documents that have to be filed in state and federal courts, and she keeps her internal clients informed about the case status.
"We're about problem prevention, rather than disaster recovery," she said. "That means always having to look at would could be a small problem now but turn into something bigger down the road."
Her boss, vice president and general counsel Dottie Frapwell, said Drew is a crucial member of the legal team that can't be replaced. She echoed the thoughts that the in-house lifestyle is much different than a traditional law firm or public sector position in many ways, but it's also the same in other situations.
"Being a university general counsel, you've got to know a little about everything," she said. "Some have said it's like rowing on a river that's a mile wide and an inch deep, and no single day is the same."
For Drew, being able to walk around the campus and see her legal work transformed into practical results is what she enjoys the most about her position. When she enters the IU Auditorium and sees murals on the walls that were refurbished about a decade ago, she knows that her work with people at the museum and consortium to get that done was a critical component.
"When I go in there and look at those murals, I feel like I had a part of that," she said. "That experience of being able to look around and see that you contributed to something, you know that you're part of something good."•
Please enable JavaScript to view this content.