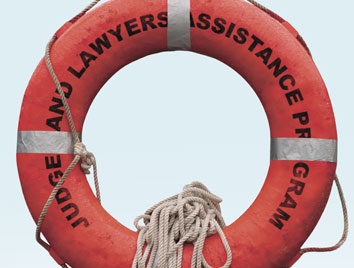 Issues that affect every member of the legal community's mental health and wellness, whether through a personal experience or that of a colleague, will be the focus of a conference in Indianapolis next month. The topics include substance abuse, addiction, depression, disciplinary issues, and a relatively new topic, compassion fatigue.
The American Bar Association 2010 National Conference for Lawyer Assistance Programs will be at the Hyatt, 1 S. Capitol Ave., Indianapolis Oct. 5-8, the closest it has been to Indiana in many years, said Terry Harrell, executive director of the Indiana Judges and Lawyers Assistance Program and vice chair of the conference.
She anticipated 200 to 250 participants from around the country will attend the event.
There will be a number of local speakers, including Indiana Supreme Court Justice
Robert D. Rucker; Roderick Morgan, president of the Indiana State Bar Association; Jeffry A. Lind, president elect of the ISBA; and Donald R. Lundberg, former Indiana disciplinary commission executive secretary.
While the program is targeted to lawyer assistance programs from around the country, it is also relevant to law students, managing attorneys, human resources departments for law firms, and others.
"Every lawyer, whether or not involved with a lawyer assistance program, is impacted by the topics addressed at the conference," said Laura Gatrell, executive director of the Tennessee Lawyers Assistance Program and the conference chair.
"… it has been estimated that 20 percent of all lawyers nationwide suffer from depression, which is about 200,000 out of a million, or roughly equivalent to the entire state bar of California," she added. "Dan Lukasik, our presenter on the topic, has released a documentary entitled 'A Terrible Melancholy: Depression In The Legal Profession.' It's interesting to learn why the legal profession has a higher rate of depression and suicide than almost any other profession."
Harrell said that during the past five or six years the national organization has worked to make the conference appeal to a broader audience.
Having a broader focus has also been a goal of lawyer assistance programs in general.
"The big difference between now and when the conference started in 1988 was that it was clearly focused on substance abuse problems. … Since then, most programs take a broad-brush approach, adding mental health and aging," as well as gambling and sex addictions, she said.
She said lawyer assistance programs in the past few years have also been expanding their reach to include things that may help prevent problems in the future, including retirement planning, stress management, and how to stay healthy and competent.
Like most states that are moving in that direction, she said Indiana's JLAP program was formed in 1997 with the idea it could include all of these issues.
Two of the conference highlights are receptions that anyone can attend without participating in the entire conference, she said. There will be a dessert reception Oct. 6 at the Indiana Historical Society featuring Dr. Will Miller, a therapist and comedian. On Oct. 7, there will be a dinner featuring Dr. Robert L. DuPont, a leader in drug abuse prevention and treatment. That night will also have the Purdue Jazz Band and dancing, she said.
Other than these two featured events, Harrell said, there will be local and national experts discussing what lawyer assistance programs are doing around the country, "The Science of Happiness," therapies to counter addictions, drug testing misconceptions and how some people cheat their tests, how to reach out to lawyers with depression, what works and doesn't work when lawyer assistance programs partner with disciplinary commissions, and trans-disciplinary treatments.
One of the newer topics that assistance programs are facing that will be addressed, and a reason for attorneys to be interested, Gatrall said, is "compassion fatigue."
"… attorneys and judges who work in the field of criminal or family law are at higher risk of developing compassion fatigue … the cumulative physical, emotional, and psychological effects of being continually exposed to traumatic stories or events when working in a helping capacity," she said.
For example, a judge hearing a murder or torture case can still be affected by what she hears, Harrell explained.
"Most of the time, people aren't involved in the legal system because they're lives are going well, and that can take a toll on lawyers and judges after a while," she said.
Another highlight, she said, is a panel about law students.
Carter Alleman, the Valparaiso University School of Law Student Bar Association president and national vice chair for Student Bar Associations of the ABA Law Student Division, along with an assistant dean and directors of lawyer assistance programs in Texas and Montana, will speak about the issues facing law students and how to improve their wellness.
"At the 2007 ABA Annual Meeting in San Francisco, Student Bar Association presidents expressed great concern for the mental health of the students in their student bodies and decided it was time to take action," Alleman said, and the ABA Law Student Division Mental Health Initiative was launched at that time.
One of goals of the initiative was to establish the ABA Law Student Division National Mental Health Day, which takes place March 27.
The second goal was "to increase awareness of mental health issues and provide information on how to implement mental health training and prevention at law school orientation by way of this Mental Health Toolkit for SBA presidents and law school deans. … The program provides the schools with a handbook with a list of resources that could be made available to students," he said.
SBA presidents and students can also visit the ABA website, www.abanet.org/lsd/mentalhealth for more resources.
Harrell added there will also be a breakfast Oct. 7 where participants can choose their tables based on the topic that is on that table. Topics include professional boundaries, families, holistic options to augment recovery, resiliency, compulsive spending and other financial struggles, volunteer training, how to handle alcohol in law schools, outreach to judges, suicide prevention and education, intervention practices, and making appropriate referrals/choosing a treatment provider, among others.
Following the conference, as it has for many years, is a meeting of the International Lawyers in Alcoholics Anonymous.
While the conference lasts only a few days, Harrell said JLAP is always there for attorneys, judges, and law students who need it. She said an Indiana Bar Foundation fund for attorneys who need help paying for basic treatment services is almost ready to start distributing grants for those who need a little extra help.
More information about JLAP and the conference is available on the website. CLE and CEU credit is available.•
Please enable JavaScript to view this content.