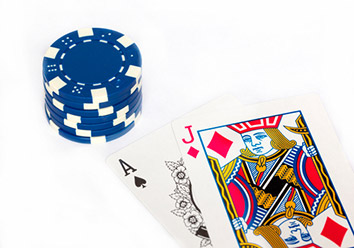 The Indiana Supreme Court has given state casinos a double win, strengthening their rights by saying they can exclude card counters and holding that pathological gamblers can't recover damages stemming from gambling losses as long as the casinos are following state regulations.
A pair of split decisions came Sept. 30 in the highly watched appeals of Caesars Riverboat Casino, LLC v. Genevieve M. Kephart, No. 31S01-0909-CV-403, and Thomas P. Donovan v. Grand Victoria Casino & Resort, L.P., No. 49S02-1003-CV-124.
While casinos triumphed in the dual rulings, the state's top jurists disagreed on how these two appeals should be resolved when it comes to the intersection of common-law rights and state gambling statutes. In one case, the court decided legislators overrode a gambler's common-law right to recover damages because of the regulatory scheme on the gaming industry. But in the other case, the justices found that casinos' common-law right as a business to exclude certain patrons trumps those same state regulations.
"These rulings in general are important to the casino industry because what the court is saying, in broad practical terms, is that a casino is no different than any other entertainment business," said Fred Biesecker, an Indianapolis attorney at Ice Miller who represented the Casino Association of Indiana. "It can exercise business discretion to refuse to allow an individual to participate, the same as a restaurant, bar, movie theater, or other place of entertainment.  Likewise, an individual casino patron is responsible for his or her own actions while participating, the same as an individual who runs up a huge unpaid bill at a bar or restaurant or retail store."
In Donovan, the Grand Victoria Casino and Resort at Rising Sun in 2006 banned Thomas P. Donovan, a retired computer programmer from Indianapolis who's won about $65,000 playing blackjack since 1999. He sued on grounds that the casino had breached a contract, and a Marion County trial court granted summary judgment to the casino. The Court of Appeals reversed on the exclusion issue and held Donovan was entitled to a declaratory judgment that the casino couldn't exclude him for counting cards.
The case drew statewide attention, including an opinion from Gov. Mitch Daniels during a commencement speech in which he rooted in favor of Donovan because it appeared he used his intelligence and skill to win rather than luck.
But in its recent ruling, the Supreme Court held that businesses have a common-law right to exclude a visitor or customer, subject only to civil rights laws. The court rejected an argument that common-law rights are preempted by the Indiana Gaming Commission's regulatory scheme on the riverboat casino industry.
"This long-standing common law right of private property owners extends to the operator of a riverboat casino that wishes to exclude a patron for employing strategies designed to give the patron a statistical advantage over the casino," Justice Frank Sullivan Jr. wrote for the majority.
Citing Bailey v. Washington Theatre Co., 34 N.E. 2d 17, 19 (1941), the court relied on that holding that industry regulations do not abrogate a private business's common-law rights of exclusion and used that to say that the 1993 gaming regulations don't clearly express a legislative intent on trumping those common-law rights.
Justice Robert D. Rucker didn't participate in the case, leaving only four justices to decide it. Justice Brent Dickson was the sole dissenter, criticizing the court's common-law analysis that differed from the other casino case issued the same day. He said the casinos exist in Indiana only by the recent permission of the General Assembly and that they have a common-law duty to serve the general public.
"Permitting a casino to restrict its patrons only to those customers who lack the skill and ability to play such games well intrudes upon principles of fair and equal competition and provides unfair financial advantages and rewards to casino operators," he wrote.
Justice Dickson said the court should use the same common-law rationale as it outlined in its separate Kephart decision, in which he also dissented.
The Kephart case out of Harrison Circuit Court involved a Tennessee woman who lost $125,000 in a single night of gambling at what is now the Horseshoe Southern Indiana casino along the Ohio River. The casino sued to recover the money it had lent it her, and Genevieve Kephart counter-sued on a claim that the casino had a common-law duty to protect her because it knew of her pathological gambling history and it used that to entice her with free meals and rooms, provided a car to drive her from Tennessee to Indiana to gamble and lent her credit to support her habit. The trial court declined to dismiss the case on that issue, and the Court of Appeals reversed before the justices granted transfer.
In a 4-1 decision authored by Justice Rucker, the court ruled that problem gamblers have the responsibility to look after themselves and casinos can't be expected to protect them if they don't; one of the options used in this case was a voluntary exclusion program allowing compulsive gamblers to have themselves banned from casinos.
"In this case, not only does the statutory scheme cover the entire subject of riverboat gambling, but the statutory scheme and Kephart's common law claim are so incompatible that they cannot both occupy the same space," Justice Rucker wrote. "The existence of the voluntary exclusion program suggests the legislature intended pathological gamblers to take personal responsibility to prevent and protect themselves against compulsive gambling. To allow Kephart's claim to go forward under the common law would shift primary responsibility from the gambler to casino."
In ruling against Kephart, the majority did leave her with some hope of pursuing an action against the casinos – the majority said nothing in this ruling precludes her from controverting any element of Caesars' prima facie case or from raising matters outside the scope of the casino's case here.
One of the cases the court relied on in Kephart was Webb v. Jarvis, 575 N.E. 2d 992 995 (Ind. 1991), which examined the relationship between the parties, foreseeability, and public policy that can be used to determine whether a common-law duty exists. While the majority found it unnecessary to resolve disputes brought out in that case on using those factors, Justice Boehm parted ways with the majority on that one aspect. He wrote a concurrence that explained how he believes the Webb framework "generates more confusion than light" and that the forseeability factor is a complicated topic. Justice Boehm, who used the Kephart decision as one of his last writing examples for the state's high court before retiring, noted that he's written on this topic and that a law journal article from 2003 examined the issue.
"I have been hoping for a case that would permit me to address this issue in a mode that would attract the attention of at least two of my colleagues, but must be content with leaving them with this small soupçon of the delights that await them in untangling this Webb," Justice Boehm wrote.
Justice Dickson, who was the lone dissenter in both of these cases, described that the result of Kephart is particularly disturbing because it goes against long-established common-law rights and he disagreed with how the majority used an "implied abrogation" standard for Kephart but came to a different decision in Donovan.
"Nowhere in Indiana's statutory system of gambling regulation is there any provision that expressly or unmistakably abrogates Indiana's common law requiring business operators to exercise reasonable care for the safety of their customers and subjecting them to accountability in damages for failing to do so," he wrote.
Attorneys who represented Caesars couldn't be reached for comment by Indiana Lawyer deadline for this story, but Evansville attorney Terry Noffsinger who represented Kephart said he agreed with how Justice Dickson outlined his dissent.
"This case might have been the last shot to put some meaningful practical limits on what casinos can do to people who have a serious medical problem," he said.
Indianapolis attorney Marc Sedwick who represented Donovan also couldn't be reached for this story.
Barnes & Thornburg attorney Peter Rusthoven, who represented Grand Victoria, said these decisions go further than one individual blackjack player or gambler and impact the entire population of casino patrons who might gamble. He said the issue is similar to what bar owners face when deciding who to serve and having the right to exclude those who might have imbibed too much.
"The same holds true for the casino industry," he said. "You want casinos to be the front line, to use their judgment on this without the gaming commission having to do a task that they don't have capacity or desire to do. We all root for the little guy to beat the house, but the law is what we need to follow and what the larger implications are on this."
Biesecker said these are important decisions for Indiana and the gaming industry, particularly at a time when the state is pursuing more economic development and rulings that went the opposite way could have hindered those business interests.
"From a practical standpoint, the industry can look at the decision and have confidence that accepted methods of operation which allow discretion in dealing with customers will survive legal challenges, unless they are incompatible with a specific statute or regulation," Biesecker said. "If the decision had gone the other way, it would have had a tendency to undermine operational confidence, which in turn could discourage future investment at a time when it is needed to maintain Indiana's competitiveness. Indiana has been very successful in its gaming endeavors because of its soundness and consistency, and it does not want to lose that reputation because of an isolated incident or two."•
Please enable JavaScript to view this content.