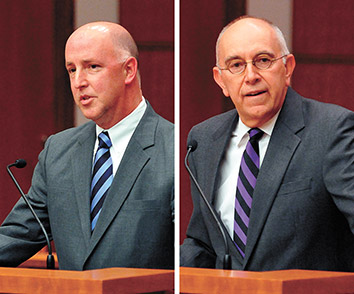 The two candidates for Marion County prosecutor faced each other at their alma mater, Indiana University School of Law – Indianapolis, Sept. 29, in a debate sponsored by the Republican Law Coalition, the Democratic Law Society, and the Criminal Law Association of the law school.
The two answered questions from professor Andy Klein; students submitted the questions prior to the debate.
Other than their political parties, the two seemed more similar than different on their stances. Both candidates have also publicly denounced the current Marion County prosecutor, Carl Brizzi, and during the debate the men spoke about a loss of public confidence and trust in the office. Many question whether Brizzi's personal business and even some professional dealings are at odds with his public responsibilities.
 
Mark Massa, the Republican candidate, was a part-time night student at the law school in the late 1980s and said he had wanted to be a prosecutor early on. He served as an intern in the Marion County Prosecutor's Office as a 3L, and has spent 13 of the last 20 years in a prosecutor's office, including work as an assistant U.S. attorney. He also served as general counsel to Gov. Mitch Daniels, who has endorsed him for the office.
Curry
Terry Curry, the Democratic candidate, graduated from the law school in the late 1970s. Before law school, he served in the U.S. Army and worked for The Indianapolis News. Like Massa, Curry has worked in the Marion County Prosecutor's Office. He also worked for the firm now known as Taft Stettinius & Hollister and as a sole practitioner.
Massa mentioned in his opening statement that because "we're in the midst of a crisis in public confidence" in the prosecutor's office, "like one we've never seen," he said one of his priorities would be to address that.
He also mentioned the incident this summer that involved Indianapolis Metropolitan Police Department officer David Bisard, whose blood alcohol test revealed him to be well above the legal limit when he hit and killed a motorcyclist, only to have those test results thrown out because the test was administered improperly. That has diminished the public's confidence in the police department, which Massa said he would also address as prosecutor. This issue then leads to a less likely chance the public will cooperate with police or speak truthfully when they do interact with police; they may even refuse summons for jury duty because they don't trust the police and/or the prosecutor's office.
Curry echoed much of what Massa said about lower public confidence and that as prosecutor he also would address this issue. One thing that differentiated him from Massa, he said, is he was never elected to office nor has he received a political appointment.
"We need a clear break from political allegiances," he said.
To restore public confidence, Curry said he would focus some of his energy on the deputy prosecutors who work with community organizations on what their needs are to have safer neighborhoods for residents.
He added this would allow for a greater exchange of information and more transparency between neighborhoods, police, and the prosecutor's office. This would also be a way for the neighborhood organizations to learn about the successes they may not hear about in the news.
Massa said there are a series of steps he would take in the first 100 days after his election, which would include appointing experienced deputy prosecutors. He also mentioned he would work to implement an ethics plan that would allow no gifts to employees of the prosecutor's office and would not allow employees to serve on boards of for-profit companies.
Beyond public confidence, both Massa and Curry said attacking violent crime in Marion County was a top priority.
Both mentioned there needs to be a greater use of grand jury investigations.
Massa also said there would be more efforts to go after recidivists, for the office to keep an eye on those who commit seemingly small crimes who could eventually commit violent crimes, and to keep an eye on gang activity.
Curry also said violent crime was one of his top priorities, including the issue of gangs in Marion County that came to light following the shooting at Black Expo this summer, which led to the arrest of a suspect who had claimed ties to a local gang.
He added the office should also pay attention to white-collar crime, because if not, there was a double standard.
Later in the debate, Curry also mentioned more attention could be paid to underreported crimes, such as domestic violence, relatively minor property crimes, and crimes against the Latino community, which has long distrusted the police.
When asked about the role of the office, both candidates said they saw the prosecutor as an administrator, but they would also try cases depending on their level of expertise on certain matters. Both men have had extensive trial experience on a variety of civil and criminal cases.
As far as who they'd like to have working in the office that has about 300 employees including 125 deputy prosecutors, Massa said he wanted to hire attorneys with a faithfulness to the mission of the office. "There needs to be camaraderie, and they need to feel inspired."
Curry said he would actively recruit energetic young women and men who wanted to work in public service "with the knowledge they would not be making as much money" as their classmates who went into large firms or other legal jobs.
"When you've been doing this long enough, it's easy to identify those who are excited about trying cases," he said.
Because the audience was mostly made up of law students, both attorneys also encouraged them to consider careers in public service, whether in the prosecutor's office or in the public defenders office.•
Please enable JavaScript to view this content.