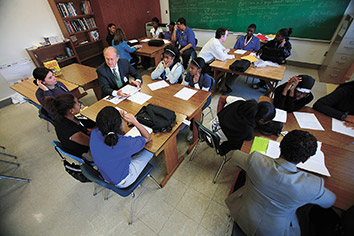 When high school students don't know attorneys or judges, it's less likely they'll know how to become attorneys or judges. This is particularly true in urban neighborhoods.
To counter that, diversity pipeline programs are being created to encourage more ethnic and racial diversity in the legal profession.
This is the case with at least two schools in Indiana that have dedicated programs to law and public policy. These programs tend to build on existing programs such as teen courts, mock trials, We the People mock congressional hearings, and internships and part-time work opportunities in law offices and courts. However, Shortridge Magnet High School for Law and Public Policy in Indianapolis and the Randall T. Shepard Academy for Law and Social Justice in Evansville take the idea a step further, having a specific academic focus on legal issues.
Shortridge Magnet High School for Law and Public Policy started enrolling students in grades 6 through 9 for the 2009-10 school year. The ninth-graders stayed in the school and started 10th grade during the 2010-11 school year, and they will continue at Shortridge through graduation. The school will accommodate grades 6 through 12.
 
Many students in the program have already expressed an interest in becoming lawyers or working in the legal profession. There are a number of opportunities, including a program modeled off a Marion County teen court program, Reach for Youth, that allows students to get a taste of what the profession is like by acting as defense attorneys and prosecutors for their classmates involved in disciplinary matters.
Teacher Alene Smith is judge of the "sentencing court," she explained. Freshmen and sophomores are eligible for jury duty for these cases.
Smith added the school also works with the Marion County Sheriff's Department cadet training, and those students serve as bailiffs for the court cases and as ambassadors for the school.
While the court is for minor offenses, Smith said students also have the option to ask for a mediation with their teachers for issues involving grades.
Working with partners
To get a head start on college, beginning next year, juniors will have the opportunity to take classes for college credit from Butler University, a partner with the school. Students will be able to earn up to 30 college credit hours.
The school has also partnered with Baker & Daniels and corporate attorneys at Eli Lilly as part of the national Street Law Corporate Legal Diversity Pipeline Program, based in Silver Spring, Md. The attorneys working on this program in Indianapolis received a law-related education award at the Oct. 15 Randall T. Shepard Award Dinner.
That program, required for all sophomore students, is taught by Smith. Three days a week, teams of attorneys from B&D and Eli Lilly visit the students and teach them different legal concepts.
For instance, on Oct. 29, at the end of the eighth week of the program, the topic was "what is legal in advertising." Five legal professionals – Chris Scanlon and Matthew Bahl of Baker & Daniels, and Michael Hulka, Jodie Mitchell, and Karen Flaherty of Eli Lilly – each worked with small groups of students.
Matt Bahl explains a case where a woman filed suit because Crunch Berries didn't contain real fruit. (IL Photo/ Perry Reichanadter)
To start, attorney Bahl showed the class a box of Cap'n Crunch's Crunch Berry cereal. He then explained that in a law suit involving the company that makes the cereal, a woman claimed that it was false advertising because the cereal did not contain real fruit.
The judge dismissed the claim, Bahl said, because the company showed the product on the box, which clearly did not contain real berries. The box also did not claim that the cereal contained real berries. He added that the judge also likely dismissed the claim because "a reasonable consumer" would understand that the sugary cereal bits were not real berries.
Following the various definitions of advertising and what is or isn't allowed, attorneys in the small groups went over real magazine and billboard ads with the students. The students were asked if the ads were legal.
One of the ads was for the chocolate hazelnut spread Nutella.
In the group led by Scanlon, he described it as a "chocolate goo" that his daughter likes, and he asked the students if they thought what basically appeared to be a "chocolate sandwich," like the Nutella on bread in the photo, was as nutritious as the ad claimed.
The students agreed that the ad wasn't lying by stating that there was no artificial color or preservatives in the product and by claiming it's made from all natural ingredients and includes Vitamin E. However, the students did offer that the ad was possibly misleading and should include some kind of language stating that Vitamin E is one of many essential vitamins.
Scanlon observed that all the students in his group, who he has worked with throughout the semester, are bright and pretty quick to add to the discussion. He also said they tend to ask good questions and grasp the concepts fairly quickly.
In addition to working with lawyers in the classroom, students follow a textbook and Smith administers tests based the interaction with lawyers and textbook topics.
Smith said that so far things were going well with having 30 attorneys and 10 paralegals helping with the program.
Ultimately, Smith said she would like for students to have internship opportunities with the attorneys, especially because most of them would like to be lawyers some day.
At the end of this semester, students will take a field trip to Eli Lilly. While there, they will present on various legal topics and meet with attorneys with different backgrounds.
Next semester, Smith said, the students will focus on criminal law. Marion County Public Defender Bob Hill will be involved with the class at that time, as will Kelly Rota-Autry, IPS district discipline adjudicator.
Another program, the Shepard Academy in Evansville, started earlier this year. For now, it includes 22 juniors and next year will include 50 to 70 juniors and seniors, said Staci Herrin, the Social Studies and Fine Arts Department chair at Harrison High School where the academy is located. Juniors will continue in the program as seniors next year.
Unlike the Indianapolis school, students attend the academy only in the morning and spend the rest of the day at their regular schools. However, about two-thirds of the academy students attend Harrison High School for the full day, Herrin said.
The academy classes fulfill the students' requirements for English and social studies classes, including political science, social justice, advanced speech, leadership, economics, government, law education, and international relations.
Students at Shepard Academy also receive hands on experience, such as panel discussions with members of the Evansville legal community, opportunities to watch appellate arguments online, and other experiences that incorporate social justice issues they discuss in class.
All but four of Herrin's students worked at the polls on Nov. 2, she said, and many volunteered for a candidate or a party.
"The important thing with our kids is to give them the real life experience and to hear from people who do it every day," she said. The academy is also in the process of adding a mentoring program where each student would be paired with a member of the Evansville legal community.
The academy is named for Indiana Supreme Court Chief Justice Randall T. Shepard, who graduated from Harrison High School in 1965.
While it is too early to know if these programs will produce lawyers – each has yet to have a graduating class of seniors – pipeline diversity programs have been successful in exposing more students to legal careers.
"They get to see that the law is more than what they see on TV," Smith said.•
Please enable JavaScript to view this content.