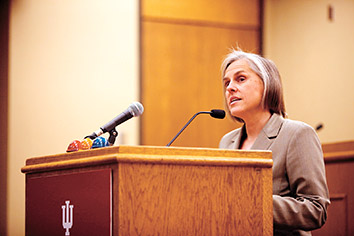 Two years ago this month, an Indiana University Maurer School of Law professor was named to the transition team of President Barack Obama, not quite knowing where that experience would lead.
Following her contributions to the transition team, in early January 2009 the president announced he would nominate professor Dawn Johnsen to the post of assistant attorney general for the Office of Legal Counsel. He then nominated her on Feb. 11, 2009.
To many, the nomination made perfect sense. She had been in the Office of Legal Counsel during President Bill Clinton's administration for five years, and she continued to study what the OLC had done during the administration of President George W. Bush.
To others, however, she was controversial for her experience both with NARAL, an organization originally called the National Association for the Repeal of Abortion Laws that focuses on reproductive rights, and her experience with the American Civil Liberties Union.
 
Following a U.S. Senate Judiciary Committee hearing Feb. 25, 2009, and an 11-7 party-line vote on March 19, 2009, that sent her name on to the full Senate for consideration, Johnsen waited for the full Senate to vote. She waited, and waited, and waited some more.
In the meantime, she and her family moved to Washington, D.C., in June 2009 so her two sons could start school there that summer, she recalled on Nov. 19, 2010, following her first public talk at the law school since her nomination.
At that point, she said, she thought her confirmation was imminent.
Instead, her confirmation was superseded by other events on Capitol Hill, including an opening on the Supreme Court of the United States, a healthcare bill, and other judicial nominations that the Senate considered.
About 16 months after she was nominated, including a renomination in early 2010, and after the Senate Judiciary Committee sent her name back to the full Senate for a vote in March, she withdrew her name April 9.
In her Nov. 19 discussion to a full lecture room of students, professors, and other supporters at the law school in Bloomington, which ended with a standing ovation, Johnsen said she felt free that she could again discuss the things that she has been passionate about since graduating from Yale Law School nearly 25 years ago.
To start, she gave a no-holds barred account of why she supports reproductive rights for women in the U.S. This included her work for NARAL in the late 1980s to fight the potential reversal of Roe v. Wade, the 1973 case that legalized abortion.
She said she believes that if anything, people who are pro-choice have become complacent and don't work as hard as they used to because they know Roe is not in danger of being overturned anytime soon, but they should still be aware of the current agendas of anti-choice organizations.
While she had no trouble discussing the issue, and has also taught classes about reproductive rights, it was often mentioned by conservative pundits as a reason why she shouldn't be confirmed to lead the OLC.
Johnsen also discussed another issue that made her nomination controversial to some: the "Principles to Guide the Office of Legal Counsel." In 2004, Johnsen and almost 20 other attorneys who formerly worked for the OLC under Republican and Democratic administrations released their criticism of the actions of the OLC during the administration of President George W. Bush.
At her lecture, she read the first principle aloud: "When providing legal advice to guide contemplated executive branch action, OLC should provide an accurate and honest appraisal of applicable law, even if that advice will constrain the administration's pursuit of desired policies. The advocacy model of lawyering, in which lawyers craft merely plausible legal arguments to support their clients' desired actions, inadequately promotes the President's constitutional obligation to ensure the legality of executive action."
She said these principles and the rule of law would also apply to how the president moves forward following a District Court judge's decision that overturned the policy Don't Ask Don't Tell regarding gay members of the military.
Even though the president agrees with the action and appealing it would be a contradiction, he will still need to do so because Don't Ask Don't Tell is the law.
However, she added, during a court hearing Department of Justice attorneys would have the opportunity to discuss his opinions about the policy, including why it may be unconstitutional.
She said the president will likely wait until after the Department of Defense issues a report on the policy, which is scheduled for Dec. 1.
But it was her explanation about her nomination that many people were there to hear.
She said she had "no regrets" about the work she did for causes that others found controversial, even if it possibly cost her the full Senate vote for confirmation.
"Being willing to stand on principle has not hurt me," she said, adding that anyone who is up for a political position will have opponents looking for something to use against them.
For the law students in the room, she said this was particularly important because it was not only "the right thing to do," but also "the patriotic thing to do."
She added the "system is broken," and that just a threat of a filibuster will hinder the nomination process. In spite of that potential, she was fairly certain at various times that there were enough votes in the Senate to confirm her.
She also spoke about the crisis of judicial nominations and said that because the system is backlogged, and because President Obama has had other priorities during his time in the White House, it will be difficult for the president to get caught up.
She added the incoming senators "won't make it any easier," but that possibly the lame duck senators could move forward with votes that hadn't yet taken place.
Johnsen said the president could also take better advantage of his ability to make recess appointments – executive appointments made when Congress is not in session – especially when nominees have been waiting a long time for a full Senate vote, like she did.
Finally, Johnsen said the process is not only a burden to individuals who are nominated, but also to their families, communities, and organizations that they must give up working for during the nomination process.
For instance, Johnsen gave up a seat on the board of the American Constitution Society, which she recently rejoined. Her husband, John Hamilton, had to give up a seat on their local school board. And her children had to move to Washington, D.C., and then move back to Bloomington, which involved leaving their friends and changing schools.
She said before she knew the ultimate outcome of her nomination, she thought these changes would be worthwhile, but unfortunately things didn't go as planned.
"She was candid, brave, and inspiring … but not at all bitter about it," said law professor Aviva Orenstein, a friend and colleague of Johnsen's who attended the discussion. "After all she went through, that's quite remarkable."
Orenstein added the discussion demonstrated Johnsen is an analytic, clear thinker, and that she is very ethics driven.
The discussion also "demonstrated what the nation lost. You want someone in the OLC who will say no to the president," she said, adding, "I think she was controversial for all the wrong reasons."
Orenstein said that Johnsen's nomination process "was just awful," but that her career was never in jeopardy. Orenstein added she was happy to see Johnsen back at the law school.
Johnsen also said she was grateful to the law school and Bloomington community for their support during the entire process. She added that she was happy to be back home.
She mentioned a Bloomington Herald-Times article from April 2009 that said "may Bloomington always be a safe haven she can call home," to which she said, "Bloomington is that and so much more."•
Please enable JavaScript to view this content.