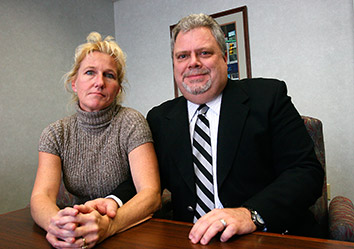 The scream that pierced the silence one morning almost two years ago is one that haunts Marion Superior Judge Bill Nelson every day, and it likely will for the rest of his life.
His wife, Kristina, had just discovered her 20-year old son – the judge's stepson for more than a decade – not breathing, blue, and unconscious in his bed inside their home. The young man and his family had been battling a prescription drug addiction together and were making progress, but what happened that day transformed not only the couple's world as parents but has also reshaped how the longtime judge presides over criminal cases that come before him.
"That scream is something I relive every single day, and it's made me a different kind of judge," said the 16-year judge who served in small claims court before taking the major felony bench in 2001. "I'm not sure that it's made me a better judge, just more aware of what may be happening."
Though they've struggled with the loss of a child and the two can never forget what happened almost two years ago, they are trying to use their son's death to make a difference in the community.
They're trying to send a message to those struggling with addictions and family members who might not fully understand prescription drug use – an issue that has become more prevalent in the past decade and touched members of the legal community both professionally and personally. For the Nelsons, their son's death is impacting the legal community through the judge's own court docket as well as through their efforts to make the prescription drug abuse topic a more common teaching tool for judges and lawyers statewide.
A life cut short
Born in March 1988, Bryan Fentz was Kristina's son from a previous marriage, and Judge Nelson became his stepfather about 13 years ago. A 2006 graduate of Lawrence North High School who also attended Culver Military Academy, Bryan was attending Ivy Tech Community College, where his stepdad says he was studying criminal justice with a possible paralegal path in mind. The parents laugh about him being known by friends as a "momma's boy," who took pride in that and always greeted everyone with a smile and compassion.
But there was a growing problem in their son's life in more recent years that remained mostly hidden. They aren't sure when and how it began, but the parents say the signs became more visible over time until it reached the breaking point in 2008.
Pills from prescription bottles in the medicine cabinet might vanish, and watches, DVDs, and small jewelry would disappear. Bryan became a different person and was resorting to theft to support the prescription drug habit, they see now.
"Looking at him, you couldn't tell it was drugs because he looked fine," the judge said. "Being in the business I am, I couldn't tell. That's what I feel the most grief about."
Kristina says she saw more, and that she'd keep some of that hidden from her husband because of the sometimes-tense relationship. She'd often drive out in the middle of the night trying to find her son who wasn't home. The family finally decided that Bryan would go through an inpatient program at Fairbanks in Indianapolis, and that 30-day treatment made all the difference. He felt safe there, the parents said.
"He really wanted to get better and two months out was when he felt the best, and he was a brand new man," the judge said. "But the disease was bigger than he was."
The Nelsons know that recovering addicts often relapse after treatment, and those "one last time" abuses can be even more traumatic for someone whose body has already gone through detox and is no longer as immune to large doses. That's what happened with their son, they think.
Kristina recalls her son came home one night in early January 2009, slurring speech and looking as though he'd gone back to the habit. Reflecting now on how she'd observed him countless times in that condition, Kristina didn't call an ambulance but they agreed he'd go back and be re-admitted to Fairbanks the next day. It was the last time she'd talk to him or see him alive.
A new reality
About 4:45 a.m. on Jan. 14, 2009, everything changed. That is Kristina's birthday, but now it has become the anniversary marking their son's accidental death.
She went into his bedroom to check on him and noticed that he was lying on the bed funny. He was cold and blue. She screamed and awoke Judge Nelson, who ran to the room. After phoning 911, they sat on the bed with Bryan and waited for the coroner. The cause of death was later determined to be polydrug intoxication, or the overdose from multiple drugs.
Since then, they've asked themselves why they didn't see the signs or do something differently. Being married to a former police chief previously and now a sitting judge, the mother wonders why she couldn't earlier and more clearly recognize the problem. But that's how prescription drug abuse happens, the couple says, and it's a problem that others – including those in the legal community – can be unprepared to handle.
"Sometimes we think that just because we're judges or attorneys or police that this won't happen to us, but it can and does," Judge Nelson said, noting that he knows of other judicial officers and attorneys statewide who've faced prescription drug problems and tragedies. "It knows no boundaries and can hit everyone and anyone."
Though it sometimes makes his court staff "tear up," Judge Nelson has an enlarged memorial photo of his son with him on the bench and he shows that to kids who appear before him in court. If a parent is there in the gallery, he'll call them forward and show them that photo and plead that they not allow themselves to lose a child as he has. Former defendants have written to him thanking the judge for that speech, he said.
"I've done this (judging) so long and I'd never before considered this to be a disease but a choice. I've done a complete 180-degree turn on that and know it's not just as simple as deciding to not put a pill in your mouth."
Embracing advocacy
Both parents say they weren't sure if they'd ever get to this point of being able to talk so publicly about their son's death.
"But we feel it's important," Judge Nelson said. "This has been an eye-opener, and we decided to do this so that Bryan's death wouldn't be in vain. He always wanted to help people and so that's what we're trying to do."
Reaching out to Fairbanks where their son felt safe, the Nelsons have started speaking to support groups and treatment sessions there. Judge Nelson has been certified through the National Judicial College in Nevada on drunk driving and illegal drug use, and ultimately he decided this would be a beneficial way to use both that training and this personal story to help others. The judge and his wife are also working with the Judicial Conference of Indiana to expand its involvement with these types of teaching opportunities, including any judicial officers who might have experienced prescription drug abuse in some way.
Their 40-minute presentation educates both parents and children about the drugs of choice, how to recognize them, their effects, and offers suggestions for parents on how to deal with the issues and effectively communicate with their kids. The second half focuses on the Nelsons' personal experience, opening with the playing of Kristina Nelson's 911 telephone call that morning.
"Maybe if one kid or parent will listen, then that would be worth it and prevent this from happening to them," Judge Nelson said. "This serves as a reminder to us, and you can feel like you're doing something. As horrible as it was, you have to get these kids' attention somehow."
At the treatment facility, Judge Nelson said they've heard that their son's death has resonated with many there and even throughout the community. For example, a Carmel high school principal sentenced for drug abuse enrolled at Fairbanks and knew Bryan. After that man's criminal case was finished, Judge Nelson later learned that he and his son had shared the same counselor and that Bryan served as an inspiration for that man to change his life, the judge said.
One parent with a teen daughter battling a drug addiction heard the Nelsons share their story at a recent session at Fairbanks, and she also applauds their efforts. She recalled a recent night where her daughter came into the bedroom after a relapse and said, "I don't want to end up like Bryan, mom." That hit the heart.
"I was thankful that she was at least listening to some of what Mrs. Nelson and Judge Nelson had to say," the mother wrote an in e-mail. "Although it was very informative, more importantly, it was a very sad and a very touching eye opener for both the children and the parents. For two people to get up and share such a personal tragedy and the personal hardships they have suffered as a result to a group of total strangers is truly remarkable. (They) were hopeful that their story would help save at least one child, and I want them to know that our daughter has assured us…it has."•
Please enable JavaScript to view this content.