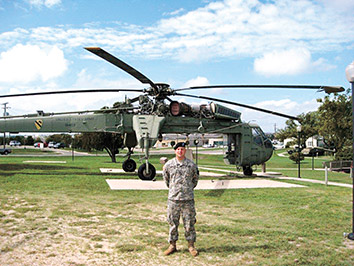 Since June, a number of Indiana-based Army Reservists have been helping American soldiers in their greatest hour of need. These attorneys assist soldiers disabled to the extent that they need to retire from military service as well as those who have injuries but are physically able to continue serving.
As Judge Advocate Generals, these Hoosier attorneys are in the middle of a one-year assignment to serve in the Office of Soldiers' Counsel in Army medical centers around the United States and in Germany. Some may serve even longer.
The Indiana attorneys now serving are Col. Eric Waldkoetter, at the U.S. Army Medical Command in Falls Church, Va.; Lt. Col. James McGillivray, at the Walter Reed Army Medical Center in Washington, D.C.; Major Jeffrey Mastin, at the Army European Regional Medical Center in Heidelberg, Germany; Major Edward Lupomech, at the Evans Army Community Hospital in Fort Carson, Colo.; Captain Kenneth Mattern at the Madigan Army Medical Center at Joint Base Lewis in McChord, Wash.; and 1st Lt. Exton Cordingley at Brooke Army Medical Center at Fort Sam Houston in San Antonio, Texas. Paralegals serving are Specialist Sarah Capozza, also at the Madigan Army Medical Center, and Master Sgt. Rodger McConnaughey at Landstuhl Regional Medical Center in Landstuhl, Germany, the largest American hospital outside of the U.S.
Soldiers who are determined to be 30 percent disabled in a way that prevents them from doing their assigned duties and accept help from these and other JAGs in the Office of Soldiers' Counsel become eligible, along with their dependents, for benefits that include retirement pay and health insurance.
Soldiers who want to continue serving despite their injuries can have the JAG officers work with them to present their cases as well.
To be determined as 30 percent disabled, the requirement for retirement from the Army, a Medical Evaluation Board must first review the soldiers' files. Following the MEB's determination, soldiers can meet with counsel, who will walk them through the process and explain what they need to have for the next step: meeting with the Physical Evaluation Board.
"One thing we try to do is tell their stories," said Waldkoetter, 51, who is an attorney for Roche Diagnostics in Indianapolis. He oversees the JAGs from Indiana and others in their unit.
"One of our challenges is to connect with soldiers who are wounded, injured, or ill and have a right to counsel, but for whatever reason (they) don't want to exercise that right to counsel," he said, adding the system is fairly complex.
1st Lt. Exton Cordingley stands in front of an Army helicopter at Brooke Army Medical Center at Fort Sam Houston in San Antonio, Texas. (Submitted photo)
"The intent of having a complex system is to make the system fair by its complexity, but it also reaches a level of complexity where you need help to navigate that system," he said.
Unfortunately, he said, many of the soldiers have received incorrect information from others, including veterans and senior officers. But the JAG officers can help them understand that process and clear up any misconceptions, including the role of the JAGs.
"In the context of the Physical Evaluation Board hearing, the JAG serves as an advocate for the soldier before a tribunal," Waldkoetter said. "The people change occasionally, but it's basically fixed. There's a medical doctor, an officer who is a specialist in personnel issues – someone who knows the physical requirements for different jobs; and a third person on the board who is usually a combat arms officer."
Waldkoetter added that the board is non-adversarial, and that all participants, including the panelists and the paralegals who assist the JAGs, are trying to figure out what's best for the soldier.
At the same time, JAGs also need diplomatic skills when appearing before the panels, which tend to remain the same.
"You develop a reputation with the board. … If you take an extreme position in one case, it could potentially diminish your credibility in another case. You need to find a legal way to get to yes," he said.
He added that because retirement for a soldier can be costly, the tribunal not only has responsibilities to the soldier, but also to the Army and taxpayers. For instance, if an injured 20-year-old soldier is found to be at least 30 percent disabled, he will receive government-funded healthcare for himself and his dependents for the rest of his life.
Attorneys and paralegals from the U.S. Army, Office of Soldiers Counsel, in Europe man a display during ESPN's SportsCenter broadcast from Grafenwoehr, Germany, on Veterans Day. Fortville attorney and U.S. Army Reserve Major Jeff Mastin, second from left; U.S. Army Reserve Master Sergeant and Chief Paralegal Rodger McConnaughey from Middletown, third from left; and former Baker & Daniels paralegal Judith Gilliam, right; staff the operation with U.S. Army civilian attorney R. Charles Collica, left; and U.S. Army civilian paralegal Glenda McRavin, second from right. (Submitted photo)
Another Indiana lawyer, McGillivray, 50, is currently serving in the Office of Soldiers' Counsel at Walter Reed Army Medical Center in Washington, D.C. In Indiana, his legal job is a supervising attorney role in a legal clinic at Indiana University in Bloomington, through the school's Office of Student Affairs. The clinic isn't attached to the law school, but he does work with 2Ls and 3Ls to help undergraduate students with their legal issues.
His experience at Walter Reed, he said, is one of the best of his career. He has met many young soldiers with missing limbs and severe injuries who maintain good spirits through it all.
He has also seen older soldiers who are at the end of their careers.
"Being a soldier is hard," he said. "Over the course of a career, you can get dinged up in a variety of ways. … After a 10-, 12-, 15-year career, what started as a little knee problem is now a disabling knee problem. I've seen lots of soldiers with injured knees, ankles, and shoulders. But because the Army doesn't want to just kick somebody out, the soldiers are very carefully evaluated with a combination of medical providers and military personnel experts."
He added that he has admired the tenacity of his clients.
"I've had a curious mix of clients," he said, "including some who are fairly badly injured, but want to stay in. So then our advocacy is to get them found fit. … Others might disagree with the ratings they receive, thinking they are too low, so we collect evidence and testimony from our client to try to get them a higher rating."
But there is no room for error, Waldkoetter said, adding the officers go through intensive training to become certified to serve in this office. If an officer makes a mistake, he or she will be reassigned. However, of the JAGs he has needed to reassign since starting, he said none of them have been from Indiana.
"The Indiana team is really exceptional," he said. He added that many of the Indiana officers "have had combat experience, so they share that bond of esprit de corps that not all JAG units have," which may also help in their attention to detail and with telling their clients' stories.
The soldiers also enjoy the work, including Cordingley, an attorney in his late 20s who graduated from Indiana University School of Law – Indianapolis in 2008 and has been serving at Brooke Army Medical Center at Fort Sam Houston in San Antonio, Texas.
Like McGillivray, Cordingley said he has also had a mix of clients in terms of how long they've been serving and the types of injuries they have.
And even though he hasn't had a great deal of legal experience outside of working for the Army Reserves, which he joined the summer he graduated from law school, he highly recommends the work for other attorneys who want to serve their country full- or part-time.
"There are so many opportunities as a reservist or in the National Guard" for lawyers, he said. He added he has enjoyed traveling around the country in the last two years for his service, including Hawaii and Germany, and that it has also been a great way to keep in good physical shape.
Cordingley said the job "is a positive mission … to make sure that these veterans are taken care of. The cases have been getting backlogged and it's a serious mission for us to help. … I think the Army decided to call in reservists to do this … for morale purposes. They are making sure this is on the forefront, they are being proactive, and taking care of those who need to be taken care of. They are making sure others aren't falling through the cracks. … It means a lot to be able to represent your fellow soldier," he said.
McGillivray and Waldkoetter agreed and also recommend getting involved with the military for their fellow attorneys. Anyone seeking more information may contact Waldkoetter at his office: (703) 681-5917; his mobile work number: (571) 318-2187; or his personal mobile phone: (574) 527-1263. He can also be reached via e-mail, [email protected].
For more information about the Office of Soldiers' Counsel, including a video explaining the process of MEBs and PEBs, visit the website, https://www.jagcnet.army.mil/otjagosc.•
Please enable JavaScript to view this content.