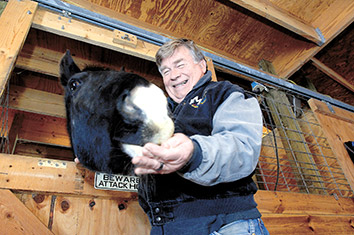 For attorneys who may be making a New Year's resolution to consider retirement in 2011, 2012, or even 2013, it's never too early to start planning.
To help attorneys get a head start, the Indiana Judges and Lawyers Assistance Program partnered with the Indiana State Bar Association to run seminars around the state during 2010.
JLAP has also helped a number of attorneys facing retirement, something executive director Terry Harrell said JLAP has been hearing about more and more in recent years.
The calls started, she said, because attorneys were noticing other attorneys should retire due to memory problems or other issues in the office. They sometimes called Harrell and her staff for advice.
As a way to let the entire legal community know that not all lawyers need to practice into their 70s or 80s, especially if they can no longer keep up with the demanding job of being a lawyer, she said JLAP started making retirement more of a priority.
"We can assist lawyers with any career transition, including retirement," she said. "There are situations where retired lawyers will thrive and there are situations where they might be in trouble, might be depressed. We want to help them. … We love to meet with attorneys before they retire to talk to them about what they can expect in terms of the emotional aspects."
For instance, attorneys who retire without something else in their lives tend to have a harder time making the transition. She strongly suggests attorneys start a hobby, volunteer, or travel, something to keep them engaged as they shift from full-time worker to retiree.
But before retirement happens, attorneys must take the proper steps to close down an office. Those steps include making a timeline that ends after current cases are scheduled to be wrapped up, telling others at the firm, informing clients about the decision and their options to find a new lawyer for future representation, sending clients a copy of their file, deciding how long to keep client files and having a plan to eventually destroy them, and figuring out what to do with everything associated with the office such as furniture and phone lines.
At the end of this list, the attorney must also inform the Indiana Supreme Court of his or her retired status. After this is filed, an attorney can no longer practice law.
Harrell added attorneys sometimes forget this step, which means the attorney would likely face fines and/or other disciplinary actions.
In addition to the sessions about retiring that took place this summer, how to close an office due to retirement or for other reasons is often discussed at legal conferences.
For instance, Grant Superior Judge Warren Haas participated on panels about this topic for the Indiana State Bar Association in October 2006 and again for the Indiana Continuing Legal Educational Forum in October 2008.
Before he ran for judge in 2008, he said he was concerned about what would happen to his practice if he was involved in an emergency.
He started a solo practice May 5, 1976, and he said he wanted to make sure that his clients would be taken care of if anything happened to him.
"Because the practice of elder law is fairly technical, my client contracts normally contained a paragraph naming a successor attorney, if I would become unable to complete work due to death or disability," Judge Haas said via e-mail. "Unearned fees were always placed in trust and the arrangement was for that money to be transferred to the successor attorney to complete the work. My primary concern was to protect my clients."
While he didn't end up closing his office due to any emergencies, he did decide to run for judge and made arrangements to transfer his practice after deciding to participate in the 2008 election.
He started working with Teri Pollett, who had been in Grant County for a few years and had an interest in elder law. They agreed to operate as a general partnership starting Aug. 1, 2008. He gave her control of the files starting Dec. 30, 2008, and the general partnership was dissolved. Judge Haas started serving as a judge Jan. 1, 2009.
Another attorney who decided to shut down his office was Avon attorney Robert McDowell.
"It's easier to open a practice than to stop," he said. "When you first open your doors, you invite people you know to an open house and hope you get enough clients to keep going. I've been in the process of retiring for two years."
McDowell, 63, said he told his clients and the other attorneys in his small firm in mid-2008 that he planned to start winding down his practice. His goal at the time was to retire by the end of that year.
Knowing he would continue to get calls and mail, McDowell had his office phone number forwarded to his home phone. He continues to visit the office once a week to pick up his mail.
While his practice has slowed down, he still receives five to 10 calls a week, including new client referrals.
In some of those cases, he said, callers have fairly simple questions he can answer. If he knows the question isn't simple, if it's a potential new client, or an old client who didn't pay him before he started shutting down his office, he'll refer the client to another attorney.
While with the Avon Law Office of Singer McDowell & Schmutte, McDowell practiced mostly family law. Prior to that, he worked for the legal department for Rolls Royce, formerly Allison Gas Turbine Division of General Motors. While working for Rolls Royce, he also had a small part-time civil practice.
He recalls that when he retired, he benefitted from the experience of his partner, Nicholas Schmutte, 68, who had joined the practice full-time in 2002 as a bankruptcy attorney. Schmutte had also worked for Rolls Royce's legal department while practicing part-time.
Schmutte decided to retire two years earlier in 2006, when he decided to run for judge in Hendricks County. He told his partners in mid-2006 that on Jan. 1, 2007, he would either be on the bench or retired.
While McDowell had a difficult time ending his family law practice, Schmutte said he thought he was lucky because bankruptcy cases tend to have a defined end date.
Schmutte continued to do some bankruptcy work after slowing down his practice, which included leaving his office space to work from home. He said he again notified clients and other lawyers that he's officially finished as of the end of 2010.
While they have both slowed down their practices, they have no plans to slow down their lives.
McDowell said he has done some legal work for his wife's consulting firm, including contracts. He also has a couple of open cases and said he has considered volunteering to take on pro bono cases.
Schmutte said he continues to remain active with the Hendricks County Bar Association as a way to socialize with other attorneys. He also owns two horses and keeps them on his property, and he spends much of his time with them, including camping trips.
"I'm pretty satisfied with the way it worked out," McDowell said of his retirement. "It was helpful to see Nick do it first, and keeping the phone number was a good idea. The downside is the phone rings all the time, but I figure if I don't get it, it goes to voicemail, and I can get to it on my own time."•
Please enable JavaScript to view this content.