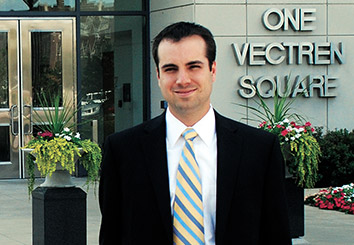 Going to the mall isn't an off-hours activity for Jason Schiesser.
That's where the Indianapolis attorney's mind must go every day when he goes to work, as one of the many in-house corporate counsel for the nation's largest shopping mall owner, Simon Property Group. The 34-year-old focuses on mall-specific legal issues and often makes a visit to the places where millions of shoppers spend their time either in person or online and pump countless dollars into the economy.
Not exactly where Schiesser expected he'd end up as a kid who grew up on "the wrong side of the tracks." The 34-year old attorney said he often ponders how he ended up where he is today despite starting out on a much different path as a child.
"I was given the chance to shape my future rather than allowing my childhood circumstances to shape me," he said.
 
Growing up on the outskirts of Valparaiso with little money, Schiesser had a dream of attending college ever since elementary school when he'd watch Indiana University basketball with his dad. Neither of his parents were college graduates, but they worked to make sure their son had access to the best schools and could move on to college, he recalls. Aside from being exposed to neighborhood theft, violence, and criminal activity, Schiesser suffered a kidney infection at age 9 and recovered after a few weeks, but then at 15 he suffered from a mal seizure and was put on medication that took him away from competitive sports.
College gave him a fresh start. He worked multiple jobs and received the Valparaiso Dollars for Scholars renewable $500 scholarship, which gave him a total $4,000 to use for his education at Indiana University in Bloomington.
Graduating summa cum laude in 2001 from Indiana University School of Law – Indianapolis, Schiesser went to work at Baker & Daniels where he had served as a summer associate. Working in the firm's business and finance group, he says his responsibilities included primarily transactional work for cities and developers, such as the Circle Centre Mall refinancing, Lucas Oil Stadium financing, and the Conrad and Simon headquarters building projects.
"Now, I'm over here at Simon and get to see things from a little different perspective," Schiesser said, noting that he went in-house in May 2006. "I'm doing something completely different than what I was doing on the other side, and I'm more of a corporate generalist."
As one of more than 30 lawyers working in various legal departments for Simon, Schiesser is one of six in the legal operations department. Legal operations, he says, handles "pretty much everything" outside of the other divisions including legal finance on mortgages and acquisitions, real estate development, and leasing.
"There is a lot of overlap, but we work mostly alongside the folks in other groups that are more specialized," he said. "We serve as legal advisors to executive management here at corporate, and also servicing the 400 shopping centers across the country."
Schiesser's work day may involve litigation or contract negotiation/review involving commercial, employment, or real estate matters of law as well as risk management policies and procedures. Schiesser said each attorney in his division handles on average 150 to 200 pieces of active litigation at a time that might impact hundreds of operations, including commercial shopping mall matters, lease disputes, or slip and fall cases.
"It all keeps us busy and on our toes," he said. "We do a lot of work in-house and pre-litigation dispute resolution in our group before it might turn into litigation, and then we might actively manage it. In most cases, we get local counsel to handle the day-to-day litigation in that location."
As the economy has worsened in recent years, Schiesser said he's noticed an overall increase in litigation. But he points to Simon's growth rather than the economy as a main reason for the increase.
In the past year, Simon has completed a $2.3 billion purchase of Prime Outlet malls that added 21 shopping centers to the company, Schiesser said, and it continues looking to increase its portfolio nationally and overseas.
"We continue to grow, which in turn results in more property to service and more work generally," he said. "We're fortunate to have weathered the recession well and like to view ourselves as a leader in the retail real estate industry. We've demonstrated through stock performance and growth and income that we deserve that distinction."
Schiesser said his division spends a good amount of time on landlord-tenant disputes, since the shopping malls essentially become like mini-cities and "differences of opinion" often come up. Someone might call to ask how to remove a customer or tenant because of complaints, or how to deal with merchants selling merchandise that potentially infringes on another merchant and whether that qualifies as grounds to terminate a lease.
More recent trends in the shopping industry keep Schiesser on his toes, such as how real brick-and-mortar centers can compete with online shopping sites. Simon has been trying to connect customers more online, such as developing an iPhone application specifically for Simon Malls that offers discounts for shoppers. Another focus has been adding a tool that tracks customers going in and out of stores and giving shoppers an instant discount or coupon once they enter that store, Schiesser said.
Reviewing those shopping center legalities combined with security reporting issues has been an interesting challenge, Schiesser said. It brings a whole new level of understanding because you're not only a legal advisor, but also a business advisor who must spot potential hurdles down the road.
"Technology is driving a lot of the changes, but at the end of the day people still want to come shop," he said. "We're trying to make these centers the places to go, but offer main street fairness for everyone involved."
Despite the growth and activity level, the past year has been a tough one for the Indianapolis-based Simon – specifically because of the November 2009 death of one of its named founders, Melvin Simon, and continued litigation between family members over that personal estate. Schiesser said the company's growth has kept most of the legal staff busy and focused and they don't have much involvement in those ongoing legal issues, but losing Melvin Simon did hit many in the company hard.
"Losing Melvin was a big blow to the gut, just because he was a founding father of the company," Schiesser said. "But he hadn't been as involved recently, and thankfully David (Simon, Melvin's son) is an incredible visionary and a fantastic leader. The mantle had already been passed, and so there wasn't a letdown at all and we have been able to keep moving."
Schiesser said he sees the in-house world giving him a chance to become a more creative attorney than if he'd stayed in private practice.
"You're no longer the revenue-generating part of the practice, you're part of the overhead and have to prove and demonstrate your strategic value," he said. "Some refer to in-house attorneys as the 'business prevention department,' but we don't want to be an impediment. We want to work with our business people and help them succeed."
Schiesser is a new board member of the Indiana chapter of the Association of Corporate Counsel this year, and his colleagues there say he's been an asset to the organization and his experience with Simon brings a valuable perspective for other in-house attorneys.
Mark Clark, general counsel at Finish Line and chapter vice president, says the group's mix of fun and educational seminars give members a chance to interact with those attorneys like Schiesser, who might see a variety of issues statewide and nationally from a multi-lawyer legal department perspective and be able to communicate with small or solo in-house counsel about those matters. Schiesser agreed with that, and said he enjoys the opportunity to serve in that capacity.
Aside from his legal community work, Schiesser stays active as a mentor in the community to young girls and boys. He continues working with the Dollars for Scholars program and has been a Big Brother for almost 10 years, as well as staying involved in other community initiatives and his church.
"It's always good to give back," he said. "I have a soft spot for people working through their own challenges, and think it's important that they have that same kind of opportunity that I did. People in this profession, sometimes we forget or lose sight of that. But you never know the impact you may have on someone else's life, no matter how small or short the interaction is."•
Please enable JavaScript to view this content.