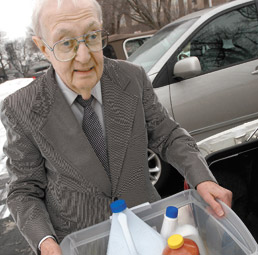 Sitting in Environmental Court in Indianapolis on a snowy day, a few things stick out in the courtroom.
For one, the setting is fairly informal. On this particular Tuesday everything is either resolved or extended and there are no hearings before the judge. But that doesn't mean there isn't a lot of activity in the courtroom between the housing inspectors, attorneys, clerk, and residents who are there to address various citations involving their homes.
One can't help but overhear a sigh of relief when someone in the courtroom says, "that's Orville's case," referring to attorney Orville Copsey Jr.
Copsey works for Indianapolis Legal Aid Society as a liaison between elderly residents who have various housing issues and the Marion County Health Department's attorneys and inspectors.
Copsey, 79, officially retired from his 40-year career with an insurance company in the mid-1990s but decided he wasn't quite done practicing law. He landed with ILAS in 1997 as part of a program that is funded by a grant to help elderly residents stay in their homes. Executive Director John Floreancig said he has been an invaluable addition.
"He works to keep people in their homes as much as he can," Floreancig said, adding he and the staff respect Copsey's dedication, which includes the fact that he keeps cleaning supplies in his car and that he wears a second-hand suit jacket to meet with all of his clients.
The opportunity at ILAS was a great fit for Copsey, he said, because not only is his undergraduate degree in social work, but also because he is acquainted with a variety of resources available in Indianapolis. In fact, on Fridays he volunteers for the 211 information line, and he can easily connect his clients with support systems in the Indianapolis area.
He is also fairly successful at keeping residents in their homes, depending on the circumstance.
In some situations, multiple dumpsters are required to clean out homes. Even after cleaning, the home may not be structurally sound; the person may not be capable of keeping up the home by himself or herself; or the sewer, electricity, or heat may not work properly. In some cases, a person may have literally let stray cats take over the house.
In those cases, the client might need to leave his or her home for a better situation. Based on his experience, Copsey can usually tell early in the process if someone will be able to stay in a home or not.
On this particular day, Copsey is representing a client – a widow in her 80s – who has lived in the same home for more than 60 years. When he discussed the situation with Marcus Ballenger, an environmental health specialist with the Marion County Department of Health, Copsey said he couldn't have scripted it better.
Unlike many of his clients, the woman had family. Her son was still in the picture and wanted to help. He found a senior living facility near his home, and the client has agreed to move there. She also has a brother who lives near her son.
In this situation, the garage was in disrepair and will ultimately be demolished. While that is not a big deal, Copsey said, the home has other issues, such as outdated plumbing and electric wiring, and the homeowner cannot keep up with the needed repairs by herself.
While Copsey knew early that this woman might not be able to stay in her home, that is not always the outcome.
He shared photos from a 2007 case of occlusion, or hoarding as its more commonly known, which do not look much different than the "before" images on the television show "Hoarders."
"How do you start?" he asked, while pointing out dirty dishes, boxes, and other indistinguishable items covering furniture, countertops, and floors. Going from photo to photo, he described what was done to clean the kitchen, living room, bathroom, bedroom, and basement.
Requirements, Copsey said, for a home to be considered livable include: the bathroom must be useable, one should be able to walk on the floor, doors should be able to be opened in a full arc, there needs to be access to the windows, and "then you need to liberate the kitchen."
Copsey worked with the client and two other people who volunteered to "rescue the sink" and other parts of the house. The client also needed to arrange a $68 service call to fix the plumbing in her bathroom, which she did.
Floreancig
However, some sewer situations he's encountered could cost $1,000 to $2,000 to repair if there's a root obstructing the pipes – not an easy fix.
A few years later, that client he helped in 2007 is still in the house, Copsey added.
Obstacles he often faces when helping to clean the homes are animals and animal waste. In many situations, Copsey has had to remove the animals – particularly cats that have not been spayed or neutered in accordance with Marion County pet ordinances – and he said that can take a toll on his clients.
But at the end of the day, if those animals are a contributing factor to the unclean situation in a home to the point that the person could lose the home, there is no other choice, he said.
To help the clients, Copsey even keeps a cat carrier that can accommodate up to six cats and fits in his car. This way, he is more discreet than an animal control van.
He said that some clients have flat out refused his help. In at least five cases, clients have threatened suicide, but they didn't follow through, he said.
In his practice, he has probably seen situations similar to those shown on "Hoarders," and worse, including one yard that was full of old cars and other junk, but had been hidden from the rest of the neighborhood by an 8-foot privacy fence.
In many cases, he added, it's not that the people bought or collected things they didn't use, but instead inherited one or more estates around the same time and couldn't quite figure out how to sell off or donate the items – including large pieces of furniture – that they simply didn't need and didn't have room to keep in their own homes.
The attorneys and inspectors Copsey works with both respect and admire the work he does.
"We don't want to kick people out of their homes," Ballenger said, adding that Copsey has been helpful in working with people who can manage to stay in their homes.
Marion County Health Department attorney Amy Jones has been with the department for nine years and has worked with Copsey all that time. She said it is rare not to see him at least once a week at a hearing in Environmental Court.
"He goes above and beyond the call," she said of his work with his indigent clients.
Having been a public defender herself before joining the health department, she said she has an appreciation for the work he does.
"He's a social worker, a community liaison, an attorney, and a friend to his clients, all in one bundle," she said, adding it wasn't unusual for him to provide transportation for his clients to their court hearings and for him to connect clients with resources.
In fact, on that particular day, he had driven one client to and from the courthouse, and he planned to meet with his newest client at her house that afternoon.
"There are cases where I have no doubt that they could not have been brought to completion but for his involvement," Jones said. "It's who he is, not just where he works. He's committed to public service and he appreciates and understands the plight of the people he works with."
She added that while he is dedicated to helping residents who are part of the baby boomer generation and older, he will help find assistance for those who are too young for him to help or don't fit the qualifications for his program.
"There are not enough hours and words to talk about him," Jones said. "He had redefined the representation of indigent people in the civil arena. … He is virtually a one-man show."•
Please enable JavaScript to view this content.