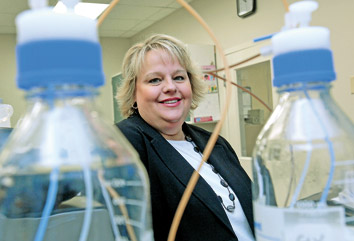 Working for a company while in law school then staying at that company as a lawyer is fairly rare, but it happens.
Even less common for today's in-house counsel is starting at a company without a bachelor's degree making $6 per hour doing data entry work and staying with that company through the completion of undergraduate and law school degrees.
Debi Edwards, vice president and corporate counsel to Heritage Environmental Services in Indianapolis, a full-service environmental firm, did just that.
She started with the company in its Chicago facility's commercial lab in 1989 doing data entry. In 1992, she was transferred to Indianapolis where she continued to work in the commercial lab setting. In 1995, Edwards was the first person at Heritage to become a project chemist without a bachelor's degree.
 
It was in 1998 at an employment issues training at Baker & Daniels that she decided she wanted to be a lawyer.
"That was my moment," she said.
Edwards researched what she needed to do to become a lawyer, and the first step was finishing her undergraduate work. She enrolled in evening classes at Indiana University – Purdue University Indianapolis in August 1998 and received a bachelor's degree four years later.
The following year, she began full-time legal studies at Indiana University School of Law – Indianapolis, but she eventually returned to Heritage full-time and took classes part-time. She graduated from law school in 2006. She also earned a master's in business administration in December 2010 from Purdue University's Krannert School of Management following three years of Saturday classes.
"I admire Deb's determination and drive. Not only did she work full time while going to law school, she also did the same thing for her MBA. And even more impressive she did that while raising her son, Jonathon, who is a remarkable young man," said Edwards' friend and Baker & Daniels attorney Jacqueline Simmons.
The summer before her last year of law school, Edwards e-mailed the owner of Heritage, who she had never met, and the two had coffee to talk about what she could offer the company as a lawyer.
He then worked with her and helped her get experience at three different Indianapolis law firms: three months at Bingham McHale for experience in transactional work, three months at Plews Shadley Racher & Braun for experience in environmental and insurance work, and three months at Baker & Daniels for experience in labor and employment and intellectual property issues.
In August 2006 she became Heritage's corporate counsel. In January 2008 she was promoted to vice president.
Her firm experience was invaluable, she said. She continues to meet the firm lawyers she worked with on a regular basis.
"As a legal department of one, I can't just walk out the door and talk to another attorney when I have a question," she said.
Even though she had been with the company her entire career, Edwards said she had a learning curve when she took on the role of corporate counsel. She had to learn about what happens outside of the commercial lab.
One of the first things she did was to meet with department heads and tour the facilities to learn about all the company's operations.
She said as in-house counsel she spends a significant amount of time managing outside counsel – especially on issues having to do with facilities in other states or outside of the country, including a facility in Puerto Rico and another in China. She often hires outside counsel for litigation because she doesn't have the time to devote to it, and if there's an environmental issue that needs a more experienced attorney, she'll hire outside counsel to handle that. Much of her day is spent writing and reviewing contracts.
When it comes to labor and employment issues of Heritage Environmental Services' 550 employees working in its 14 locations, Edwards works closely with the company's human resources department. She also works with the company's vice president of compliance and safety as needed.
Edwards said she continues to learn new things about the company and its mission of removing waste for clients along with researching new ways of reusing that waste.
For example, the company has a patented way to turn copper into a food-additive for pigs called Tribasic Copper Chloride. As a result, it started a subsidiary called Micronutrients. The company has also patented a way to turn electric arc furnace dust and basic oxygen furnace dust from steel mills into three other products: crude zinc oxide, pig iron, and a high-quality slag that has several applications, she said.
In fact, the entry way to the building that houses Edwards' office includes an entire wall of glass-encased shelves covered with plaques of various patents held by Heritage.
Because she doesn't work with other in-house lawyers at Heritage, Edwards said she makes more of an effort to get involved with bar associations.
She became chair of the Indiana State Bar Association's Corporate Counsel Section, and she is also actively involved with the Indianapolis Bar Association through its Women and the Law Division and the Bar Leadership Series.
The ISBA Corporate Counsel Section is working to become more active, and as chair Edwards said she has been working closely with Maryann Williams, director of section services for the ISBA, and that the section will partner with the Business Law Section for a continuing legal education event at the Indianapolis Motor Speedway in May.
Because the ISBA is a statewide organization, she and other members of the section's executive committee are working to determine if they will host events around the state or stay in central Indiana, where the majority of Indiana's in-house lawyers seem to be based.
She is also respected by outside counsel she works with.
"She has tremendous insights into the business' objectives and at the same time is a very talented advocate," said Pamela Goodwin, an attorney with Saul Ewing in Princeton, N.J.
The two have worked together on issues specific to New Jersey regulations when it comes to transporting solid and hazardous waste. Goodwin said some of those regulations are highly specific because they date back to a time when the mob influenced transportation of certain materials.
"When we've had to deal with regulators, she not only understood the issues but could also translate them successfully to the business people she works with," Goodwin said.
Even though Edwards had just started as corporate counsel when the two began working together, "I was surprised when I first met her that she was a relatively new lawyer. She seemed so experienced and confident," Goodwin said, adding she was particularly impressed with Edwards' ability to achieve a high position in a male-dominated field.
"The thing I love most about working with her is she is always upbeat. I say that because she's had a lot of pressures over the years and has not had an easy go of it. But she always sees the glass half full or all full for that matter," Goodwin said.•
Please enable JavaScript to view this content.