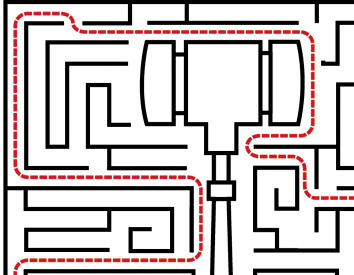 These days, litigation is more often about getting from point A to point B, and that small picture is what's important to the attorneys involved. While legal theory and precedent are part of the big picture, when navigating a case lawyers often keep their focus on resolving it early. "I've seen in my years of practice that the court system is more intent on having parties resolve the case at hand than push through to prove a principle that might be involved," said Indianapolis attorney John Trimble, who has been involved with the Defense Research Institute and is considered an expert on litigation relating to the national defense bar. "It would be great to take a case to a higher court for a decision that might be relied on in future cases, but we rarely get that chance and have to step back and look at what's most important to litigants in the case before you."
That is what happened with a recent case in the U.S. District Court for the Southern District of Indiana, in Wendi Morse, et al. v. MER Corporation, No. 1:08-CV-01389, a suit involving a class of dancers who sued the strip club they worked at on wage dispute and employment law issues. Though they no longer worked at the club when the suit was filed in October 2008, dancers Wendi R. Morse and Felicia Kay Pennington alleged that Dancers Showclub in Indianapolis failed to pay them and others similarly situated in accordance with the Fair Labor Standards Act.
They argued their past employer had incorrectly classified dancers as independent contractors instead of employees and failed to pay them minimum wage, and that the employer had required the women to pay a percentage of their tips to the club and other employees who don't customarily receive tips, violating 29 U.S.C. Section 203(m).
Dancers don't receive any wages or other compensation from the club, and they aren't allowed to dance at any other exotic clubs while working at Dancers Showclub, which the suit claimed set the hours, shifts, and minimum tips the dancers are required to get each shift.
The plaintiffs wanted the club to repay back wages in addition to wages equal to the amount they had to tip-out to the club and other employees, as well as liquidated damages equal in amount to the unpaid compensation and tips found were owed to the dancers.
"As demonstrated above, the factors adopted by the Seventh Circuit for determining whether an individual is an independent contractor or an employee weigh squarely in favor of Entertainers being classified as employees," the lawsuit stated. "Defendant exercises a broad range of controls over the conduct of Entertainers and over the method and manner in which Entertainers go about performing their job. Entertainers have limited opportunities for profit and virtually no risk of loss, are not permitted to make any investment in, or have any input regarding, the business, are not required to have any specialized skill or training, and have a very limited ability to take initiative and improve their earnings. The relationship between Defendant and Entertainers bears all the hallmarks of an ongoing one and they could hardly be more of an integral part of Defendant's business. Therefore, Defendant was required to pay wages to Plaintiffs in accordance with the FLSA. Defendant failed to do so."
Before this case, that issue hadn't been addressed here in this jurisdiction and plaintiffs referred to various federal precedent from the District and Circuit levels outside of Indiana to make their case.
But U.S. Judge William T. Lawrence in Indianapolis tackled that issue last year, relying on the outside precedent and other employment caselaw to decide that exotic dancers are employees, not independent contractors as the club owner argued in this Morse case. He made the decision based on the factors defined in Secretary of Labor v. Lauritzen, 835 F.2d 1529, 1535 (7th Cir. 1985), and also relied on a similar case out of the 5th Circuit Court of Appeals, Reich v. Circle C. Investments, Inc., 998 F.2d 324 (5th Cir. 1993), where that court found exotic dancers to be employees.
With that ruling, the attorneys in this case sidestepped a trial that had been set for December and instead began more seriously talking about a joint settlement – without turning to a higher appeals court to reweigh whether the District judge's interpretation was correct.
The litigation originally involved 31 individuals who would be eligible for class status against the club, but many were ultimately dismissed because they couldn't be located and didn't participate in prosecuting the dancers' claims.
The case settled in December, with the club owners paying a total of $79,952 to the 17 plaintiffs – $237.50 for each month a dancer would have worked between Oct. 14, 2005 and the time this agreement was filed by the court in December. The two named plaintiffs for the class, Morse and Pennington, also received an extra lump sum of $5,000 each.
The plaintiffs' lawyers received nearly $63,048 in fees, a 20 percent reduction from the total they would have charged, the agreement shows. Attorneys Philip Gibbons and Andrew Jones with Gibbons Jones law firm in Indianapolis couldn't be reached for comment on this litigation before IL deadline. Defense counsel Rick Kammen also couldn't be reached for comment.
But those who've worked in simple or complex litigation say this case isn't anything out of the ordinary. Rising litigation costs and mediation preference makes settlement more common, according to Indianapolis attorney Tom Schultz, past president of Defense Trial Counsel of Indiana. He said it's not unusual, even in larger more complex matters, for a settlement to be reached even before those larger matters are resolved. Sometimes, the significant cost of litigation causes parties to move toward a settlement and many times the cost of discovery will cause parties to negotiate and avoid the much larger and costlier issues in a case.
Trimble agreed, but said that even though trial lawyers aren't focused on the broader legal issues, they are always mindful of those during pre-trial litigation stages and work to make sure the record is efficiently and correctly established.
He recalls what a federal judge once said during a case he was handling and how that applies to any litigation.
"If you've gone up on appeal, then you've lost," Trimble recalled the judge saying. "Going to finality for your client is what's important. Litigation is so expensive and time-consuming, and lawyers want a case over with. They want to be seen as problem-solvers and resolve those disputes as quickly and economically as they can."•
Please enable JavaScript to view this content.