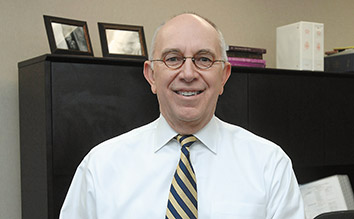 To lead any large law firm, a managing partner needs a diverse set of skills. He needs to understand budgets, crisis management, personnel issues, and how to interact with the media.
It's essentially the same for the prosecutor of Indiana's largest county.
During his first days in office, Marion County Prosecutor Terry Curry, who was sworn into office at midnight on Jan. 1, has faced some unique and sensitive issues.
On Jan. 2, a deputy prosecutor was arrested on charges of battery with injury and criminal trespass. She was later fired.
On Jan. 12, Curry re-filed charges in a high-profile case involving Indianapolis Metropolitan Police Department Officer David Bisard. According to the re-filed charges, Bisard's blood alcohol content was at least .15 percent when his police car hit a group of motorcyclists, killing one and injuring two others.
Former Marion County Prosecutor Carl Brizzi did not include the alcohol-related charges in his filing because he said the blood draw was not done according to IMPD procedures because the facility that did the blood draw was not certified.
 
Curry told Indiana Lawyer the facility did have a written protocol prepared by a physician for blood draws, which is one requirement for them to be considered valid. He also conferred with deputy prosecutors to learn more about the circumstances of the blood draw, and found there was a valid argument to be made to include those results in the charges.
Curry and his opponent in the race for prosecutor, Mark Massa, each said if elected they would re-file the charges to include the alcohol-related charges.
On Jan. 27, Curry filed charges against a man accused of shooting IMPD Officer David Moore, 29, during a traffic stop Jan. 23. Moore died Jan. 26. Moore's funeral has been one of the toughest things Curry has had to face in his term so far.
"It was exceedingly emotional," he said. "I can't say enough good things about Jo and Spencer Moore and the dignity they showed given the circumstances that, at least to me, are incomprehensible."
Curry explained that the prosecutor's office has been forthcoming with the media about these and other cases it is handling as part of his effort to make the office more transparent and restore confidence.
"The single biggest challenge for the new prosecutor of this office, whether I or my opponent Mark Massa would have won the election, is restoring trust and confidence in this office," he said. "Part of that is to make sure the public knows what our office does, including our successes, on a daily basis."
Curry began work with his transition team as soon as he was elected Nov. 2. He worked with attorneys and former members of the office to interview every employee in the office.
Curry's previous professional experience includes time spent in the prosecutor's office from 1982 to 1984 and again from 1989 to 1992. He worked for Sommer Barnard, now Taft Stettinius & Hollister from 1978 to 1982, 1984 to 1989, and from 2002 to 2005. He also worked for Butler Schembs Curry & Jones from 1992 to 2002. After he left private practice in 2005, he went to work as a mediator for Van Winkle Baten & Rimstidt Dispute Resolution.
Today, the Marion County Prosecutor's Office employs 175 attorneys and 190 professional staff, according to Lara Beck, the office's interim public information officer. If the prosecutor's office was a private firm, it would rank as the fourth largest law firm in the city of Indianapolis.
The transition team also considered the best ways to budget for the office, what practice areas within the office could be beefed up or pared down, and Curry participated in an orientation by the Indiana Prosecuting Attorneys Council with about 30 other new county prosecutors from around the state.
Linda Pence of Pence Hensel, a former colleague of Curry's, worked with him on his transition. Pence is also representing the Wells family, victims in the Bisard case.
"First of all, we all know for our community that it is a very significant position," Pence said. "The prosecutor has enormous powers and authority, so we want someone who's competent, thoughtful, and has good judgment. I was thrilled when he was elected because he has those characteristics."
Pence said Curry didn't waste any time getting started.
"He wanted to hit the ground running," she said. "When he was sworn in, he already had a game plan, which was very impressive. In all the meetings, he knew where he would go, how to improve, how to reorganize. He wasn't just meeting people, he had a game plan."
Steve Johnson, IPAC executive director, said he was not surprised that Curry evaluated the staff who worked for his predecessor.
"For the larger counties, when there's a shift in political parties and when a new prosecutor isn't moving into the job directly from a chief deputy prosecutor position, the new prosecutor will have to evaluate all of their staff. This is especially true in a large office where you want to have confidence in your supervisors. In some counties where there are only two or three people in the prosecutor's office, it's different. But in Marion County, while Terry could oversee some cases, he can't supervise everything that's going on."
Curry said he and the transition team spent time considering how to best use the human resources they have. Among his focuses are the major felony unit, white collar crimes, and political corruption. He also intends to beef up the Community Prosecution Division, providing more interaction with neighborhood associations, faith-based groups, and the police who regularly interact with residents.
Because he had trial experience prior to taking office, Curry said he plans to actively work on some cases. But he also said as prosecutor it's his job to be hands on with other cases, and he will be a sounding board for the deputy prosecutors who have questions concerning cases they are handling.
While fielding candidates for open positions, Curry said he noticed many applicants were highly qualified, likely due to the tough job market. He said he had a stack of resumes many inches high, and he got his first call asking for a job the morning after he was elected.
Early in the transition, Curry reached out to leaders at IMPD and in the sheriff's office, as well as state police, the secretary of state's office, the U.S. attorney, and federal investigative agencies to foster a better working relationship.
"In the first 30 days there were a lot of high-profile things going on, but that's not unusual," Pence said. "When you walk into a prosecutor's office like this one, you shouldn't be surprised. As you can tell, he has a very calm demeanor and sound judgment. In all of those situations, he went in and analyzed them, no emotion; he considered what does the law say, what are the facts. … When you have that training, you just know how to handle it."•
Please enable JavaScript to view this content.