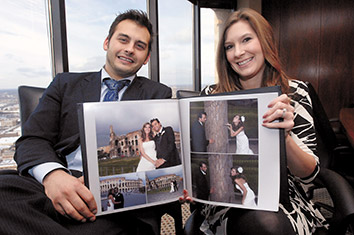 While some couples prefer to keep their work and personal lives separate, it's not unheard of for lawyers to pair up. Four couples shared their stories with Indiana Lawyer.
Heather and Sebastian
J. Sebastian Smelko, associate legal counsel and gaming and public safety advisor to Gov. Mitch Daniels, met Heather James, an associate in Ice Miller's municipal finance group, on their third day at Valparaiso University School of Law in August 2005.
After they graduated from law school in December 2007, they moved to Indianapolis. They were engaged June 5, 2009, and married June 26, 2010.
 
While in law school, Smelko recalled, he and James would often be the only two doing legal research in the library on Friday nights. They still sometimes talk about work, but they are careful not to betray the confidences of their clients.
"We can communicate with each other in ways a lawyer and non-lawyer can't," Smelko said. "It's not just, 'I had a hard day,' but 'here's why I had a hard day.'"
Because they're both busy, they also make an effort to spend time together. The two walk to work together, and they will schedule dinners. "I send him calendar invites," James said.
Craig and Diane
Craig Burke, a partner at Ice Miller, met Diane Cruz-Burke, assistant general counsel at Eli Lilly, on a bus to Chicago when they were undergraduate students at Indiana University's Kelley School of Business.
Both graduated from business school in 1988. Cruz-Burke went to Harvard Law School immediately after graduating from IU, and Burke got a job in Boston. They were married in 1989, and Cruz-Burke finished law school in 1991.
Burke said he never intended to go to law school, but after seeing the experience his future wife was having, including the issues she debated in class, he changed his mind.
Because their first child was born during spring break of Cruz-Burke's second year of law school, Burke considered schools closer to their home state of Indiana. Cruz-Burke passed the Indiana bar in 1991 and worked in Indianapolis, and Burke attended Indiana University Maurer School of Law and graduated in 1994.
Craig Burke, a partner at Ice Miller, and Diane Cruz-Burke, assistant general counsel at Eli Lilly, met on a bus to Chicago when they were undergraduate students at Indiana University. They were married in 1989. (IL Photo/ Perry Reichanadter)
While they rarely talk about work at home, they sometimes impart their legal-thinking skills on their children. For instance, they may ask their children, now ages 20, 14, and 10, to make their case about why they should be able to do something they want to do.
The couple's 20-year-old, a business student at IU, is now considering law school, but Cruz-Burke said she has suggested to her daughter that she wait a few years after receiving her bachelor's degree, something the Lilly lawyer sometimes wishes she had done so she could have either traveled or done something else between finishing her undergrad degree and starting law school.
Both said they work together to come up with "win-win" situations. When Cruz-Burke went to Austria for work, Burke agreed to go with her even though it had an impact on his work at the time.
"But I was the best ERISA lawyer in all of Vienna," he quipped about his experience with the Employee Retirement Income Security Act.
Rebecca and James
Rebecca and James Balanoff are the only two attorneys at the firm they started in the 1980s, Balanoff & Balanoff, with offices in Munster, Merrillville, and Chicago.
They met at a New Year's Eve party at Rebecca's parents' house when James was in law school at IU Maurer School of Law and Rebecca was a junior at the University of Chicago.
James graduated from law school in 1977, and followed Rebecca to Washington, D.C., where she attended George Washington University Law Center, and he worked for the Joint Committee on Congressional Operations. The two moved back to the Chicago area for Rebecca to finish her legal education at the University of Chicago.
When they first started working as a small firm, James worked as a part-time deputy prosecutor for a time and while their children, now ages 28, 25, and 19, were young, Rebecca took time away from her legal career or worked part time in their office balancing the roles of mother and lawyer.
Starting out, they'd take just about any case that walked in the door, but now most of their work is focused on Social Security disability.
The toughest thing has been planning vacations because there are only two of them, and when they do take a vacation, it's usually together. If they're visiting their kids, who now all live in Colorado, they'll stagger it so one will get there a day or two earlier and the other will leave a day or two later.
The advent of electronic communication has also proven helpful for staying in touch with clients when they are on vacation, they said, even though it means they don't always get a true break from the office.
Rob and Cathy
Rob Wiederstein and Cathy Nestrick have a different dynamic. Nestrick is an attorney at Bamberger Foreman Oswald & Hahn in Evansville, and Wiederstein is a district judge in Henderson, Ky.
The two met at Hanover College and married a week before they began classes at Indiana University School of Law – Indianapolis. Nestrick said they consider their three years in law school "our honeymoon."
"I definitely think that our marriage during law school was easier because we were both law students," she said. "We saw many law students divorce while in school, and I often thought it was due to the stress of the program. It helped that we went through that stress together."
Like other couples interviewed, Nestrick said even though both are lawyers, the two aren't competitive with each other.
"While our markets do overlap, my base is in Indiana and his is in Kentucky," she said. She added that she also wouldn't appear before him in court, but if a client she represented was ever to appear in his court, he'd recuse himself.
Like the other couples, she also said because they're both lawyers, they do talk about legal issues.
"It is helpful to have someone to use as a sounding board. As you know, the law is rarely black and white, and finding the 'right gray' can be tricky," she said.
As for applying legal lessons with their children, now ages 11 and 13, "We have had our kids (and their friend in one instance) sign 'contracts' to reinforce the importance of promises. I also tend to demand 'evidence' that a particular event occurred as described," she said.
All four couples said that their shared legal backgrounds have helped strengthen their marriages. They also agree that at the end of the day, it's nice to come home to – or drive home or walk to work with – someone who can understand what they're going through, whether they talk about it often or not.•
Please enable JavaScript to view this content.