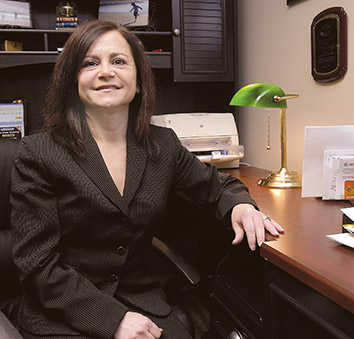 The aspirational pro bono goal for attorneys, set by the American Bar Association and endorsed – but not forced – by many states, is around 50 hours. Some Indiana attorneys work this into their annual budget by working with pro bono district plan administrators to accept cases when need exists and when they can easily fit them into their work schedules.
A Carmel solo attorney has pledged to do 150 hours of pro bono and modest means casework to be assigned from the Heartland Pro Bono Council, which covers Marion and neighboring counties.
 
In January, Wendy Clar submitted 36 hours of pro bono and modest means cases, and in mid-February she said she'll likely exceed her arbitrary goal and will keep taking cases as they are assigned.
Clar's story is somewhat different from most attorneys who take on pro bono cases. Instead of fitting it into her schedule or taking a case from time to time, she plans to transition her practice to be mostly pro bono and modest means cases. She also hopes to offer legal services through her practice at a low rate to those who don't meet the income qualifications for pro bono or modest means.
 
Boyd
Clar first got involved with Heartland Pro Bono Council in 2007 when she called plan administrator Laurie Boyd after learning about the organization through the Hamilton County Bar Association, one of the many ways Boyd and other plan administrators reach out to attorneys. Boyd said nothing makes her day more than a call from an attorney asking how she can take a case.
In October 2010, Clar received a Pro Bono Publico Award at the Randall T. Shepard dinner honoring pro bono service in Indiana. Boyd nominated Clar because she completed 10 cases received from the Heartland Pro Bono Council in 2009. In 2010, Clar accepted 16 modest means cases and five pro bono cases.
Doing pro bono comes naturally to Clar. She received her master's degree in social work from Syracuse University in 1988 and was a social worker for six years before she attended Whittier Law School in Costa Mesa, Calif., from 1995 to 1998. As a social worker in Rochester, N.Y., she worked with maltreated children and poor families.
After law school she worked as a part-time district attorney and a law guardian in Rochester, N.Y., and for a small firm in Newark, N.Y. She moved to the Indianapolis area after her husband accepted a job with the National Collegiate Athletic Association in 2005.
Clar was admitted to practice in Indiana in 2006. In her solo practice she handles all aspects of Indiana family law including child custody, child support, divorce, emancipation, enforcement proceedings, guardianships, legal separations, modification proceedings, parenting time, paternity, post dissolution proceedings, prenuptial agreements, protective orders, and spousal support.
For Heartland Pro Bono Council, she has taken on a variety of cases and told Boyd to send her whatever she thinks Clar can handle. Boyd said she has tried to send Clar a mix of cases in terms of issues and time commitment, and that Clar has turned down only one case due to a scheduling conflict. Boyd has also tried to send a few modest means cases to Clar so she'll be paid at least something, she said.
Another attorney who made a pledge to pro bono is Erin L. Berger, a solo who has a general practice in Evansville. In 2006, she offered to take on at least one case a month from the Volunteer Lawyer Program of Southwestern Indiana, which serves 11 counties in that part of the state. She succeeded.
Berger worked for Indiana Legal Services in Evansville as an intern when she was in law school and said she always had an appreciation for civil legal aid and pro bono work. By helping with ILS intake, she realized how many people needed legal help but couldn't afford it or didn't qualify for ILS assistance. As a part-time public defender on cases that deal with children in need of services in Vanderburgh County, she sees the need for legal aid there as well.
Berger said she has continued to take as many pro bono cases each year as she can. In her district, she said, the plan administrators send a monthly newsletter that describes cases that need an attorney. Many times, she said, she'll see a case she can handle and will volunteer.
Berger said she tries to take on pro bono cases in juvenile court such as guardianships, step-parent adoptions, paternity cases, and custody cases because she's often there anyway.
Districts are looking for more ways to recruit and retain volunteers. While many have events to appreciate attorneys who take on pro bono cases and some offer free or reduced-fee continuing legal education opportunities for attorneys who accept pro bono cases, districts are also asking members what they consider as incentives.
Diane Walker in District 10 performed a survey and learned that the top five motivators for those who responded were free CLEs, "discrete tasks that are time-limited," "peer mentoring," "giving me continuing legal education credit for doing a case," and "legal forms done beforehand."
The top reason for doing pro bono work, given by 83.3 percent of respondents, was "access to justice is important to me," she said.
Both Clar and Berger said they didn't volunteer to take cases to help their respective districts because of the budget cuts the districts endured for 2011, but both said they hoped more attorneys would consider volunteering their time.
"Even if an attorney can give an extra hour a month to a pro bono case, that's still 12 hours a year. It really adds up," Clar said. "The clients are so appreciative. That's the rush I get from doing this."
Fennell
Boyd added that there is a growing need, something that was echoed by Monica Fennell, executive director of the Indiana Pro Bono Commission.
"I think more lawyers are volunteering to help those in need because in this economy there are constant reminders that unemployment is high, foreclosures are not abating, and people are in crisis – and lawyers want to help," Fennell said via e-mail. "They are finding that there are many ways to use their unique skills, whether it is handling an appeal or attending a settlement conference with a borrower in a foreclosure case or one of the many other pro bono cases. For new lawyers and law students, doing pro bono work is also a good way to get experience in a tough job market."•
Please enable JavaScript to view this content.