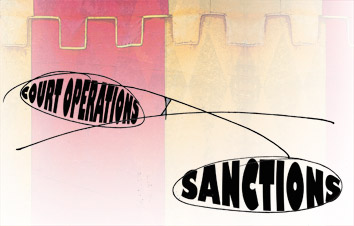 When deciding that a judge must be suspended and determining when that time off the bench should be, decision-makers must maintain a delicate balance.
On one hand, the Indiana Supreme Court must make sure that the jurist who has done wrong is held accountable for the misconduct committed. But the justices also must ensure that a local court isn't put at a disadvantage when its presiding judge steps aside.
 
The start of a recent 30-day suspension for Marion Superior Traffic Judge William Young came about three months after the Indiana Supreme Court ordered that sanction, a period the state's chief justice says is longer than what's typically seen but was necessary to make sure the high-volume traffic court didn't hit any operational speed bumps.
An analysis of the appellate judicial discipline docket during the past decade shows six suspensions out of the 20 judicial discipline sanctions handed down since 2000. The rest have been reprimands, resignations, or permanent removal from the bench. But of those six, Judge Young's case represents the longest gap imposed by the court between suspension order and start date.
But does that delay really matter?
Those in the legal community most involved in the disciplinary process say it's an interesting balance, but they aren't sure it does matter much as long as the sanction is carried out as ordered.
With attorney disciplinary actions where suspensions are imposed, court spokeswoman Kathryn Dolan said a customary four-to-five week delay exists between when the court orders a suspension and when it actually starts. The reason is that justices want to make sure clients have adequate time to learn about the upcoming suspension and the lawyer can prepare for that time away, Dolan said.
Similar trends aren't evident in judicial suspensions, but she said the appellate clerk's office speaks with local court administrators about any particularly disruptive periods for a suspension and what might be needed as far as a temporary judge.
"The goal is to make sure disputes are resolved and justice isn't delayed," Dolan said.
Past disciplinary dockets show that the court typically lets a month or so pass between the time the order is issued and suspension start date, and most often they give a jurist at least a few weeks to know specifically when his or her suspension will begin. Each one is case-specific.
McGoff
"From the respondent judge's perspective, there isn't really any ability to influence the timing of when the Supreme Court might issue an order or specify when a suspension begins," said Indianapolis attorney Kevin McGoff, who defends both attorneys and judges accused of misconduct. "That period tends to run its course the same as any litigation that culminates with an order and sanction, and you can't predict it."
McGoff said once a judge and the Judicial Qualifications Commission reach a conditional agreement, his work as defense counsel is finished and he isn't privy to any discussion the parties may have from then on.
By Admission and Discipline Rule 25 VIII(B)3, proposed settlements are confidential and agreements submitted for approval only become public when the Supreme Court accepts those in whole or in part and issues an order or opinion on a case, according to Dolan. The parties can enter into an agreement at any point prior to the court's final resolution of a case, and justices can accept or reject a settlement and return it to the commission for further action.
From past experience, McGoff knows that the court has stepped in and decided that proposed settlements weren't adequate, but no trend on how often that happens or when it might happen comes to his mind.
"I've never really kept score, but it does happen from time to time," he said. "We often receive a letter from the clerk's office saying it wasn't accepted, and maybe the court offers some guidance on how to proceed."
On the attorney side, former disciplinary commission executive secretary Don Lundberg said both sides are typically looking for a mutually beneficial agreement.
"They're looking for a goldilocks solution," he said. "Neither party is interested in an agreement that's destined to fail. They are always submitted in good faith, but you never know how a court may view it."
He said during his time as executive secretary between 1991 and 2010, the court occasionally notified parties that a settlement wasn't acceptable.
"I'm not sure what interpretation you can take from those turndowns, except that they didn't fit what the court viewed was necessary," Lundberg said.
Fort Wayne attorney James Fenton, who's defended a handful of judges on misconduct cases through the years, says the cases he has handled have been resolved with settlement agreements. Without getting into specifics of his cases, Fenton said he's always observed that the parties imposing the discipline have worked to minimize disruption to the local court as much as possible. The state has attempted to make sure that a suspension start date balanced with the ability of the individual court to continue functioning, he said.
Marion Superior Judge Grant Hawkins, who was given a 60-day unpaid suspension in March 2009, said his suspension began immediately upon the court's order but his situation was different because that sanction followed an automatic procedural paid leave period that started in November 2008. Before the holidays, the court named judge-elect James Osborn as the judge pro temp to fill in for Judge Hawkins and allowed a commissioner to help him out.
The court had found Judge Hawkins committed misconduct by allowing delays in post-conviction relief proceedings. In one case, the delays resulted in a wrongfully convicted man being kept in prison almost two years after DNA cleared him of a crime. While Judge Hawkins was suspended for a combined five months between paid and unpaid leave, the judge's former commissioner, Nancy Broyles, who was in charge of the case, resigned in response to the disciplinary action and the court permanently banned her from the bench.
Judge Young couldn't be reached to comment on the timing of his suspension before it began Feb. 22, but the docket shows the three-month gap included the holiday period and also a move in Traffic Court location in January. There's no indication based on public information whether that factored into the timing of the court's announcements.
The Indiana Supreme Court issued an official decision Feb. 14 on In The Matter of William E. Young, No. 49S00-1007-JD-374, a procedural step after the court ordered the month-long penalty on Nov. 23, 2010, when the judge and Indiana Commission on Judicial Qualifications reached a settlement.
The Indiana Commission on Judicial Qualifications formally charged Judge Young with misconduct based on allegations that he engaged in a practice of "imposing substantially higher penalties against traffic court litigants who chose to have trials and lost," and that Judge Young "routinely made statements implying that litigants should not demand trials and would be penalized for doing so if they lost."
Court records show that Judge Young "exhibited impatience" during trial by citing the time and his "full afternoon" docket when talking to one litigant about a plea agreement. He told her, "I don't know if I want to take your plea. I'd rather just go to trial, I think. I don't like being jerked around at all, all right?" The woman was sentenced to a year in county jail and her driving privileges were suspended for an additional 365 days. The Indiana Supreme Court reversed that conviction in June 2010 and ordered a new trial, pointing specifically to Judge Young's behavior that violated three judicial conduct canons requiring impartiality, patience, unbiased behavior, and recusal if a judge's impartiality might be questioned.
Citing that case in its suspension order, the Supreme Court recognized that Judge Young has not been previously disciplined and that he cooperated with the commission during its investigation and prosecution. The court also noted that the judge admitted that most of his conduct violated the judicial code and he is committed to changing his behavior.
The court cited two judicial disciplinary decisions from the past two years – Matter of Koethe, 922 N.E. 2d 613, 616 (Ind. 2010), and Matter of Hawkins, 902 N.E. 2d 231, 246 (Ind. 2009) – to point out that even reprimands create a "significant blemish on a sitting judge's reputation."
Aside from the unpaid suspension, the court also ordered Judge Young to pay any costs of this proceeding as part of his penalty.
Chief Justice Randall T. Shepard concurred in result, but wrote, "I would expect that in the absence of a settlement, this case should have resulted in a lengthier suspension. The per curiam understates the willfulness of the Respondent's conduct and the damage it has done to the public standing of the judiciary. Fortunately, the overwhelming number of Indiana's judicial officers strive demonstrably toward a much higher standard. Still, as in other litigation settings, there is much to be said for the benefits of settlement, so I have joined in approving the agreement tendered by the parties."
Indianapolis attorney Paul Ogden, who handled a lawsuit against Judge Young and his Traffic Court conduct, found the 30-day suspension inadequate but consistent with past sanctions in other cases.
"I'm not sure the reason for the delay, but I was expecting a lengthy, detailed opinion to provide guidance to other judges in the state," he said, noting that the holidays may have factored into the delay. "I was surprised that the opinion really didn't go much further than the original preliminary decision."
Ultimately, Ogden doesn't think the three-month delay has much impact. More important was the opinion rationale and penalty imposed, and particularly the chief justice's concurrence.
"While I agreed with the opinion, I liked that Chief Justice Shepard thinks a longer period of suspension is appropriate in these types of cases," he said.•
Please enable JavaScript to view this content.