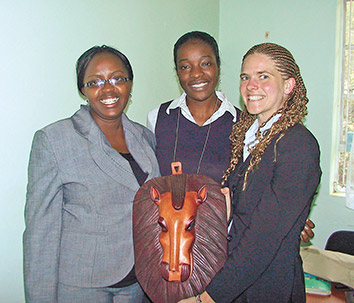 A few years after several Indianapolis judges and attorneys helped form a legal aid clinic in western Kenya, that clinic is thriving. Indiana Court of Appeals Judge Patricia Riley, a co-founder of the Legal Aid Centre of Eldoret, traveled there earlier this year to see progress being made and is encouraged that the Kenyan clinic recently received a grant to hire another attorney.
Locally, she and other supporters, including attorney Rebecca Shelton, are also helping to coordinate a fundraising effort, Race for LACE, which will occur during the 2011 Finish Line 500 Festival 5K, which takes place before the OneAmerica 500 Festival Mini-Marathon on May 7.
So far, Shelton said, eight law firms with Indianapolis-area offices have signed on at the $1,000 sponsorship level: Young & Young, Baker & Daniels, Ogletree Deakins, Taft Stettinius & Hollister, Plews Shadley Racher & Braun, Bose McKinney & Evans, Ice Miller, and Benesch/Dann Pecar.
 
While last year's participants compared their 5K times with the Mini-Marathon time of runner and LACE supporter Janet Cherobon to determine how much money they would give to the program, this year participants are asked to pledge a flat amount to support the clinic.
Like last year, participants will have the opportunity to meet and have photos taken with Cherobon, who has won the women's race four years in a row. She currently lives in Atlanta, Ga., but is originally from Kenya and still has family in the area, so she understands the importance of legal aid, Shelton said. View a Race for LACE promotional video made by Cherobon.
At least 20 LACE supporters ran the Race for LACE in 2010, and this year organizers hope to have at least 75 participants. To join the effort, sign up for the 5K. After registering, e-mail Shelton at [email protected], along with a pledge amount.
Anyone interested in sponsoring a law school student may do so by contacting Shelton. The registration fee is $35.
While organizers said they'd like to raise money with the event to help cover clinic costs – an attorney's salary at the clinic is $10,000, which is in line with the starting salary of other attorneys in the area – they also hope to raise awareness by having runners wear bright red t-shirts during the race.
"As Indiana attorneys we (took an) oath that we will never reject 'the cause of the defenseless, the oppressed or those who cannot afford adequate legal assistance,'" Shelton said via e-mail explaining why she encourages other Indiana attorneys to support LACE.
"There are many in Kenya who are defenseless and oppressed," she continued. "The staff of LACE work very hard for very little to try to help Kenya move toward a more effective and productive justice system by helping one person at a time obtain justice. As Americans we are privileged to have the resources and opportunities that others don't have. Thanks to AMPATH, Indiana already has a 20-year history with Eldoret and surrounding areas in Kenya, and we as attorneys can continue that beautiful relationship and make the world a better place."
AMPATH, which stands for Academic Model Providing Access to Healthcare, is a partnership of Moi Teaching and Referral Hospital and Moi University in Eldoret, and a consortium of North American universities led by Indiana University.
Like the relationship between the medical school at Moi University and Indiana University Medical School, which involves medical students from the schools working together, IU School of Law – Indianapolis has also been building a partnership with the law school at Moi University. Law students from Moi University help with the intake process at LACE, and IU School of Law – Indianapolis students have traveled to LACE to assist as well.
Shelton spent six weeks at the clinic in 2009 before a delegation of Indiana judges, attorneys, and professors visited that October, and she hopes to return with the next delegation, which will likely be in early 2012.
As for her involvement with the Race for LACE, she said, "I am an attorney turned stay-at-home mom who likes to run. I have personal friendships with the staff at LACE … where I made wonderful connections."
While in Kenya, Shelton worked closely with Milkah Cheptinga, an attorney-advocate who can represent clients in court; lawyer Avril Rua, who is currently studying law at IU School of Law – Indianapolis and will eventually return to Kenya; and LACE administrative assistant, Irene Waringa. While Shelton could not represent LACE's clients in court, she did help with intake forms and questions for clients.
During her visit in early 2011, Judge Riley also met with LACE staff, as well as Vincent Mutai and Eric Gumbo, attorneys on LACE's board.
On this and every visit since the clinic started in October 2008, Judge Riley has seen firsthand the impact LACE has on patients at the AMPATH hospital, and she hears from the staff at LACE how busy they are. Typically, the clinic will take on 65 cases per month, and it is often forced to turn away other clients.
Thanks to a grant from the Open Society Initiative for Eastern Africa, LACE has been advertising to fill two new positions at the clinic – an administrative assistant and attorney. While space is tight at the hospital where LACE is currently housed, new space will soon be available for the clinic to serve more people.
The staff at LACE has adjusted the types of cases it handles to meet the needs of its clients. It now works with victims of rape and sexual assault on criminal cases. In the clinic's early days, the staff primarily handled civil legal issues such as land trust and estate matters. One of the more common issues involved widows and orphans unjustly losing their property when the male head of household had died of AIDS, and his family tried to reclaim the property as its own.
Even in those situations, Judge Riley said, once the people breaking the law are made aware that what they are doing is wrong according to the country's constitution, they typically comply.
Judge Riley has noticed many changes in Eldoret. The political landscape is changing, she observed, as well as the physical landscape. Read more in her blog posts from Kenya.
Fran Quigley, a co-founder of LACE, associate director of AMPATH, and visiting professor at IU School of Law – Indianapolis, has also been to Eldoret many times and hopes to return this summer.
Like Shelton and Judge Riley, Quigley supports the Race for LACE and encourages other Indiana attorneys to do the same.
"Our Kenyan colleagues obtain justice immediately for clients who are poor and discriminated against, and also work to develop an expectation of justice for all of the people of Kenya," he wrote via e-mail. "Plus, our dollars go much farther in Kenya due to lower professional salaries and litigation and public education costs. All of that means that a donation supporting LACE packs as much impact as any charitable gift ever could."
Quoting Kenyan attorney Gumbo in terms of where the clinic is headed, Judge Riley added, "The sky is the floor."•
Please enable JavaScript to view this content.