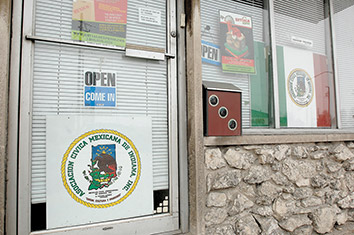 Years ago, the Indiana Supreme Court made it clear what non-lawyers could and could not do related to immigration services. Crossing the line might be considered the unauthorized practice of law.
Now, two people in Indiana are facing the consequences of doing exactly that.
The Indiana attorney general is using that court guidance from 2005 and pursuing cases against a pair of non-lawyers from Indianapolis and Fort Wayne. Both offered immigration-related services normally done by attorneys to their Spanish-speaking clients, but neither is a licensed lawyer and the AG alleges that neither is legally certified or trained to provide advice to clients on immigration law.
Each is accused of committing consumer deceptive sales acts and faces a civil action. The non-lawyer in Indianapolis also faces a misdemeanor of practicing law without a license and 10 criminal counts of income tax evasion.
While the individuals charged with UPL face multiple charges and potential penalties, the damage has already been done to those on the receiving end of those illegal matters. One person was barred from re-entering the country because of immigration issues that weren't properly handled by one of these non-lawyer notarios, according to the AG's office.
"Profiting from immigrants' desperation over their legal status is considered exploitation in any language," Attorney General Greg Zoeller said. "It's important that foreign nationals who wish to follow the law and get their immigration paperwork in order not be deceived by fraudsters motivated by fees who are unqualified to give proper advice."
The suits were filed March 9. One is in Allen Circuit Court against Evelyne O. Casiano, who has been doing business as United Hispanic Caring Hearts in Fort Wayne; the second suit is in Marion Superior Court against M. Esther Barber, also known as Maria Esther Tapia Cuevas, who was doing business as Asociación Civica Mexicana De Indiana Inc.
The Fort Wayne suit alleges that Casiano operated as a "notario publico" since 2008, and two consumers paid her for services such as selecting, completing, and filing U.S. Citizenship and Immigration Services forms for them. Although Casiano claimed to be an "assistant to an attorney," the suit says that no such relationship existed. One customer who complained of paying thousands of dollars in fees for legal assistance now faces deportation proceedings as a result of Casiano's actions, according to AG spokesman Bryan Corbin.
In the Indianapolis case, the lawsuit alleges that Barber has advertised herself to the Spanish-speaking community as someone who can assist with immigration issues and since 2006 she has allegedly done similar selection, preparation, and completion of USCIS immigration forms for a fee.
Both lawsuits allege the defendants knowingly violated the Deceptive Consumer Sales Act by providing services without the required license and training, and the suits seek injunctions against Barber and Casiano to prevent them from advising consumers about immigration policies or doing that type of work without first obtaining a license to practice law.
Each lawsuit also seeks consumer restitution for unlawfully obtained funds, civil penalties of up to $5,000 for each knowing violation, and up to $500 for each intentional violation of the Deceptive Consumer Sales Act, as well as attorney fees.
Kuzma
Separate from the civil consumer suit, the AG also used the office's limited criminal jurisdiction to have a search warrant issued on Barber's business and residence in Indianapolis as part of an investigation into possible tax offenses. Charges followed March 24 against Barber specifically, with the AG alleging she committed 10 counts of income tax evasion.
A probable cause affidavit shows Barber advertised her business services in Spanish-language newspapers and over time received at least $56,768 for tasks such as preparing immigration forms, business formation, and liquor licensing applications, but she filed no state income tax returns between 2005 and 2009.
The attorney general used a tax evasion legal maneuver known as the "Al Capone approach" which it has used three other times since late 2008 in cases concerning two commercial dog-breeding operations and another cash-and-carry stereo business. Those three cases ended with guilty pleas and felony tax-evasion convictions.
With these civil actions, Zoeller is trying to raise awareness about the larger issue of non-English speakers seeking immigration assistance from individuals called "notarios" who aren't licensed to practice law but who might be assumed to be attorneys by the immigrant population. In the U.S., a notary public is a person certified to serve as a state-authorized witness for the notarization of documents. But in Spanish-speaking nations, the term "notario publico" can refer to an attorney with specialized training. Language barriers or misunderstandings might make immigrant clients more trusting of advice they receive from notaries here.
These suits are the first actions filed against "public notaries" since the December 2005 decision by the Indiana Supreme Court in State of Indiana ex rel. Indiana State Bar Assoc., et al. v. Ludy Diaz, 838 N.E.2d 433 (Ind. 2005), which specifically focused on this type of activity and determined it constituted the unauthorized practice of law.
Abby Kuzma of the AG's Consumer Affairs Office, formerly with the Neighborhood Christian Legal Clinic that provides immigration-related legal services similar to those at issue in the current cases, said these are directly on point with what happened in the Diaz case. The only difference is that Diaz was first and set the stage to decide that this kind of activity is, in fact, UPL.
"There's an opportunity that they're finding to take advantage of people, or in our lingo, consumers that want to legally improve their immigration situation," Kuzma said. "They go to these individuals and think they're seeking assistance from someone who is qualified to provide those services, and that's the problem because they're not."
Immigration law is very complex, Kuzma said, and it's dangerous to have non-lawyers trying to tackle these issues without proper licensing, training, or knowledge of the system.
"People can be much worse off than before, and their legal options can be put in danger because of this," she said. "Ask any immigration lawyer in town, and you'll hear that they spend a lot of time analyzing cases where previous immigration cases and situations have been damaged by people providing this type of assistance. It's almost like a whole subset of immigration law practice."
In Indianapolis, attorney Angela Adams with Lewis & Kappes said that's a common element of her practice despite the guidance that Diaz offered to the legal community and public. She said attorneys regularly try to educate the public about these issues and explain the difference between a "notario" in the U.S. versus what that term means in Latin American countries. She is pleased to see the current action trying to address the problem.
"It is good to see that the attorney general is taking this issue seriously and is concerned about protecting the rights of a vulnerable population," she said. "It sends a strong message that unauthorized practice of law will not be tolerated in our state."•
Please enable JavaScript to view this content.