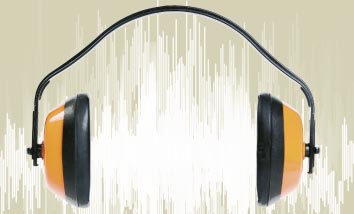 When it comes to workplace injury, most envision a dangerous fall or an equipment or structural malfunction leading to broken bones, pulled muscles, strained backs or head injuries. But one often overlooked and potentially devastating injury is hearing loss resulting from high noise levels in a workplace.
The issue isn't one that Indiana lawyers specializing in worker safety and employment law have missed. Recent news reports have put noise-level issues on the forefront and tie them into a larger discussion of how the federal occupational safety agency writes or changes rules dictating how attorneys advise their clients.
"This was a real significant issue for those lawyers who deal with OSHA, because if they pushed this through to change the workplace noise interpretation then that could change the game for everyone else," said Fort Wayne attorney Mark Kittaka, a partner at Barnes & Thornburg.
Attorneys representing the business and worker sides differ on whether this would be a beneficial change, but they do say that what is happening in the workplace safety arena warrants more review by everyone.
Earlier this year, the U.S. Department of Labor's Occupational and Safety Health Administration (OSHA) withdrew its proposed change to workplace noise standards that would have toughened employers' requirements on those workplace noise situations by clarifying the phrase "feasible administration or engineering controls" within its rule.
If adopted, the proposal would have essentially resulted in employers having to adopt increased safety measures to protect the hearing of employees rather than just providing them with ear protection gear, such as ear phones.
The administration contended that if something was feasibly possible, even cutting-edge technology that might not be widely available, then it could be required under the new interpretation.
Employers and attorneys mulling what that new interpretation would have meant found it could have resulted in high-cost building modifications or equipment changes in how work is actually done in these sites. Some would have cost more than what it costs to buy hearing protection to help shield workers from the noise, they said.
OSHA first published its new interpretation of the noise rule terminology in the Federal Register in October 2010, and in December it extended the public comment period for three months. Federal officials contended this wasn't a rule change but rather simply a new interpretation, while opponents in the business community argued it circumvented the administrative rule-making process and had the potential to go beyond just hearing loss issues in the workplace.
"This wasn't going through the formal rule-making process and wasn't really a change in regulation that's out there, it was just an interpretation of an existing rule that could have been expanded greatly and been huge in workplace compensation and employment law," Kittaka said. "That's a crazy difficult standard for feasibility and would impair companies, but if they can do this for hearing loss compensation then that standard could be applied to many others OSHA issues."
Almost immediately after the proposal was published, it sparked criticism from various industrial and trade groups who viewed it as a costly measure that would require them to make extensive and unnecessary changes – possibly requiring noise-dampening equipment or other expensive technologies. Employers argued this would likely hit the economy hard because some businesses would have to lay off employees or possibly close.
OSHA explained that the noise proposal was a result of concern about continued high levels of hearing loss among workplace employees. This is despite statistics that Indiana lawyers say show the number has decreased by a third between 2004 and 2009.
"The numbers just don't show that this should be a concern, and so the question is why they would make this change on something at a time when these injuries are getting better statistically," Kittaka said.
Now, the federal agency is exploring how to address the hearing loss issue without incurring these types of significant costs.
Though the proposal has been scrapped, Hoosier attorneys worry that it could return in some form or that it's part of a larger push to revise the broader rule-making process.
Kittaka said the big concern is that OSHA is overreaching and that can be bad for the economy.
Carmel attorney John Daly, who handles construction site law and teaches OSHA courses, said he sees the point of trying to eliminate the potential of hearing loss claims in the first place.
"If you can design out a hazard, that's the best way to go because you can avoid it all together down the road," he said. "You're not just adapting and responding to it. The rub is what's 'feasible' and that's where the employers say it's too expensive … and that's where you move to the battleground. It's not like this was some radical decision, because in reality a problem is that workers just don't wear the ear protections they're given."
Daly's professional experience has made him aware of other issues impacting workplace injury as a result of using hearing equipment. In some cases, employees couldn't communicate adequately or handle a situation to prevent an injury, as they might have been able to do without ear protection.
"You can tell which way the political winds are blowing based on how much emphasis is placed on interpreting the rules," Daly said. "That's what happened here. The thing about OSHA is that they have police duties, but can't be everywhere and have to come in and enforce after the fact rather than trying to prevent this from the start. That's where you need contractors and employers to know the rules and enforce them."
His law partner, Matt Golitko, chair of Indiana Trial Lawyers Association's workers' compensation section, said these types of hearing loss claims are so few that it didn't seem like it should be a priority for the federal agency. In his 11 years of practicing workers' compensation at high volume, he's had less than five of these. Those clients suffering from workplace hearing injuries are employed at places such as factories and loud construction sites, he said.
"Generally speaking, anytime we can eliminate the risk of injury to an employee, that has a benefit to everyone," Golitko said. "If we take those issues away, you'll have even fewer hearing loss claims and that would in turn have a good effect on an employer's rates with insurance companies.
"But whether it would play out that way in reality, because of the costs that would be involved here, is a different question. Indiana is still one of the best places to have a business because our worker compensation laws are as good here as anywhere in the country."•
Please enable JavaScript to view this content.