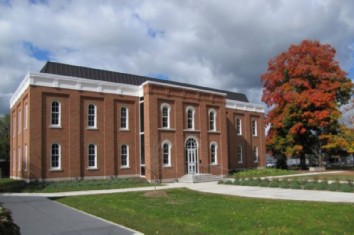 Following a two-year reconstruction, Valparaiso University School of Law's oldest building – Heritage Hall – has become the newest learning space for law students.
Built in 1875, the building has served many functions through the years – as a dormitory and barracks during World War I, a machinery classroom, and a library. Now, the building will be the home of the Lawyering Skills Center.
"The Lawyering Skills Center is the legal equivalent of a teaching hospital," said Valparaiso Law Associate Dean Curt Cichowski, who oversaw the reconstruction. "Classrooms, lecture halls, and other large spaces don't always support teaching and lawyering well. So we have a courtroom with jury box, counsel tables, bench and everything that exists in the greatest courtroom in the country."
Offices for the school's Legal Clinic will be in the new building, which is connected to neighboring Wesemann Hall via an elliptically-shaped exterior plaza.
Architects were able to salvage some materials from the old Heritage Hall, including the original structural timbers that have been repurposed as benches for the interior of the new building. Internal accent walls were built with bricks hand-picked from the exterior of the old building.
After the dedication at 2 p.m. CDT April 2, visitors may tour the new building, which features several exhibits that memorialize the history of Heritage Hall.
Please enable JavaScript to view this content.