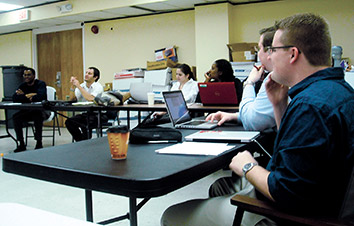 Each morning, students meet with public defenders in a rundown office building, just down the street from the New Orleans courthouse. These mostly second- and third-year law students have sacrificed their spring break in exchange for lessons they can't learn in a classroom. As part of Valparaiso University School of Law's annual trip to New Orleans, students handle – under the guidance of professor Derrick Carter – important tasks that enable these overworked attorneys to serve the public.
Carter's group visited New Orleans between Feb. 28 and March 9 this year. The school's early spring break coincided with a late Mardi Gras celebration.
"I figured there'd be a lot of drugs and pick-pocketing and other things," Carter said. "But there were many domestic cases like murders and assaults. And one student was interviewing a kid who had just shot his brother, and he was constantly in tears."
The Orleans Public Defenders office did not exist when Carter first visited New Orleans in 2006 to gut homes damaged by Hurricane Katrina. In 2007, the state and federal government allocated funds to hire and train people to handle the population's legal troubles. Today, the defenders represent 90 percent of all people who have a legal case in the city.
"There's a lot of political issues in New Orleans," Carter said. "Almost daily, there are stories of prosecutorial misconduct."
Carter said cases involving double jeopardy, search and seizure, and allegations of racism require the kind of knowledge that many students new to law may not have. While students from other universities may volunteer to help the public defenders, they're often first-year students who don't have the knowledge to handle such complex issues, Carter said.
"We take it to another level. I go with efficient criminal procedure students."
Usually, the students' primary responsibility is compiling briefs. The defenders' office does not have a brief bank.
"They're quite aware of a brief bank, but they have yet to find a person to do that," Carter said.
No time to lose
Carter knows students may want to tour New Orleans and enjoy the Bourbon Street nightlife, but he demands accountability from students. "Rule number one: Be there in the morning for your assignment," he said.
Students begin their day at 8 a.m. in the defenders' office conference room. It's not unusual to work until 6 p.m., preparing materials for lawyers. The students may also spend hours watching trials in the busy 12-room courthouse, where they see how stressful the work can be.
Carter said even as attorneys are "pacing back and forth, waiting for a verdict," they still enjoy discussing cases with students.
Tom Little, a student who went on the trip this year, said he liked being able to put his education to work. "You're shoved right into the mix," he said. "At the end of the week, you have a great sense of accomplishment."
Little said he was amazed by the caseload the attorneys juggled from day to day. "I could see how the course of work over the years could burn an attorney out," he said. "The attorney that I was working for at the time, that was her last week. From what I've heard, they don't stay there too long."
In the office's cluttered conference room, inspirational posters that once lined the walls are gone. The room now features a punching bag.
"It's obvious why it's there," Little said. "With the kind of stress these guys go through, you would think it would be nice to have an outlet."
Ryan Rowan, made his second consecutive trip to New Orleans this year with Carter's group.
"This year, I wanted to see how the criminal justice system works during Mardi Gras," he said. He was surprised to find that people were arrested for mostly the same offenses as last year.
"The biggest difference would be that they have a parade route statute," Rowan said, explaining that carrying a firearm within proximity of a parade route is a chargeable offense in New Orleans.
Rowan intends to practice criminal law upon graduation and appreciated seeing how the courts handle cases elsewhere. "From a criminal perspective, it just gives you exposure to different jurisdictions."
But Rowan also found a personal connection with New Orleans.
"One of the things that I think is very valuable about going to New Orleans …. I was actually able to tour the Louisiana Supreme Court and view the original documents in Plessy v. Ferguson," Rowan said. "Especially as an African-American student, I reflected on the importance of this landmark case that upheld the constitutionality of racial segregation that would not be overturned until the 1950s and realized that law is about serving my community in a positive way."
Creating opportunities
Initially, students had to pay their own way for the New Orleans trip. But Carter said Valparaiso started helping students with expenses last year, and Little is thankful for that assistance.
Little said he's also thankful that Carter accompanies the group on the trip, because many universities may not send a professor or adviser along to help.
"Having someone with his experience was instrumental in our success," Little said. Carter, a former public defender, reviews the briefs students prepare, which Little appreciates, due to the fact that the cases they're working on "have a huge impact on the future of these defendants."
As for measuring the group's overall success, Carter said, "If they're exhausted, I know I've done my job."•
Please enable JavaScript to view this content.