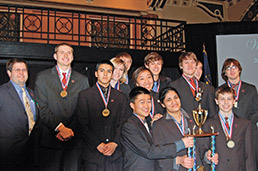 The message from lawyers, lawmakers, and educators is clear: Civic education is suffering, and along with it, our country. But no one seems certain how to convince people to care about civics.
Days after Congress passed a budget that cut $35 million for civic education, former U.S. Rep. Lee Hamilton announced on April 19 that the National Conference on Citizenship (NCoC) will soon begin work on the Indiana Civic Health Index. The project will assess the civic engagement of Indiana's population, and findings are expected to be announced in September.
"Those of us interested in this project are concerned … because there is an awful lot of evidence that suggests an awful lot of Americans are less and less interested in civics, and if that's the case, the entire democracy is in jeopardy," Hamilton said. Many people who had gathered in the Indiana Supreme courtroom for the announcement nodded solemnly in agreement.
The NCoC will collect census data and turn it over to the Center for Information & Research on Civic Learning and Engagement (CIRCLE) at Tufts University's Jonathan M. Tisch College of Citizenship and Public Service. There, the staff will crunch the numbers to produce statistics on civic life in Indiana, including voter turnout, community involvement, and civic education.
Since 2006, the NCoC has conducted a yearly national Civic Health Index. Comparing results of the indexes with research studies conducted in the 1970s and thereafter, the NCoC reports that most forms of civic engagement measured in the index – like voter turnout and volunteerism – have fallen over the past three decades. In 2008, the NCoC began offering state-level indexes. Ohio, California, and Florida were the first states to receive such a report, as they have every year since. In Florida, the results helped support legislation that aims to improve civic education in middle schools.
Florida Rep. Charles McBurney, R-Jacksonville, said he cited results of the Florida Civic Health Index when he introduced the Sandra Day O'Connor Civics Education Act. He said that due to the state's weak economy, it took almost three years to win approval for the bill, which passed with a unanimous vote in 2010. The bill states that beginning with the 2012-13 school year, middle school students must complete a one-semester civics course, in addition to meeting other already established requirements.
"We have a requirement of reading at every grade level. What the bill also requires, since you've got to have reading anyway at every grade level, some of that reading has got to include civic reading," McBurney said.
By the 2013-2014 school year, the end-of-course assessment will account for 30 percent of a student's course grade. The following year, students will be required to pass the exam in order to pass the course.
 
He said the exam wording was included in the bill because the Florida Legislature wanted to ensure that teachers devoted proper attention to the course.
"We actually had a requirement for civic education, but they weren't teaching it," McBurney said.
Sheila Suess Kennedy, professor and director of public affairs programs for the School of Public and Environmental Affairs at Indiana University – Purdue University Indianapolis, is familiar with the challenges of teaching students about civics and of getting teachers to teach civics.
"Indiana has fabulous standards," she said. "But we don't use them. We don't apply them."
Kennedy, who joined IUPUI in 1998 as an assistant professor of law and public policy, said she sometimes gives her undergraduate students a pop quiz: the U.S. Citizenship Test. Foreign students, she said, always fare better on the test than their American-born classmates.
She said the lack of civic knowledge is not a new problem, but the changing nature of the country points to a need for pushing civic education.
"The other kinds of identities we share as Americans are fewer than before. We have even less in common if we can't all say what's in the Constitution," she said. "Our differences as individuals – race, religion, political affiliation – none of that would matter if we had really strong civic education."
Educators have tried again and again to find a way to make young people care about civics, "but nothing seems to take," she said.
A civics success story
The Indiana Bar Foundation has tried to revive civic interest among young people with its programs, Project Citizen and We the People. Project Citizen, for grades 5 through 9, intends to help children work together to accomplish tasks like determining which level of government can best handle a particular problem. We the People, for grades 5, 8, and 12, focuses on understanding the Constitution. The course involves mock congressional hearings, where student groups compete with each other to give the best answers. For high school students, the course culminates in a national final in Washington, D.C., with a team from each state, the District of Columbia, and the Northern Mariana Islands competing for the championship.
 
Munster High School's 12-person We the People team, with teacher Michael Gordon, after winning the Indiana championship. Gordon and the students will compete in the national finals April 30 through May 2 in Washington, D.C. (Photo courtesy Indiana Bar Foundation )
This year, Munster High School will be sending a team to nationals for the fifth time.
Munster High School teacher Michael Gordon will take his team of nine seniors and three juniors to the finals, April 30 to May 2. He said there are many reasons the team has been so successful.
"We have a school administration that is unbelievably supportive," Gordon said. "We have a community that was willing to give time, energy, resources, finances – including a host of people who come into our Monday evening practices."
Students may compete only once at the high-school level, but he said the students continue to be involved in the program, even if they can't compete. Juniors who participate will volunteer as seniors to help the class.
Dunlap
"Not to mention that the current team goes and recruits for the next year and talks about the impact that the program is going to have," he said. "The program becomes part of them."
Morgan said that last year, Munster sent a team of 28 students to the national finals. Even with financial support from the IBF, the school needed to come up with between $6,000 and $7,000 to cover the costs of the trip.
"The school sent fundraising letters to alumni – 65 percent of those letters came back with checks," he said. "Half of those letters went to kids that were still in college."
We the People and Project Citizen lost all federal funding this year with the passage of the national budget. But Chuck Dunlap, IBF executive director, said he is confident the programs will continue, thanks to support from the legal community. Already in place is a fundraising program – An Hour for Civics – which asks attorneys to donate the amount of one billable service hour in support of the programs.
Kennedy lamented the loss of funding for the program. "We the People is the single most effective civics program of its kind," she said.•
Please enable JavaScript to view this content.