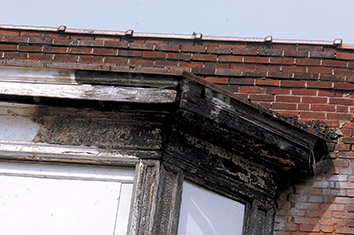 Leaky roofs, broken windows, cracked pavement, or dangerous tree limbs are red flags indicating neglect of a piece of property or real estate.
But while the age of a building, and whether it is considered to have historic significance, might add a new level of legal nuance to disputes surrounding the preservation and upkeep of properties, some Hoosier lawyers and preservationists say that "preserving history" does not typically drive the legal remedy. Real estate, property negligence, and zoning laws are often utilized to preserve, restore, or protect sites having historic significance.
"Just because something is historic, that doesn't mean there's any protection locally," said Indianapolis attorney Tom Engle, who represents Indiana Landmarks and handles historic preservation cases throughout the state. "There's some historic preservation statutes that can be used, but most often it comes down to building codes and local ordinances that make the difference on these properties that are vacant or not kept up."
One of the most effective tools that Indiana Landmarks pioneered to help save historic sites is the use of receiverships, according to both Engle and Mark Dollase, the organization's vice president of preservation services. They were first used almost a decade ago and have been used occasionally since then. The court can assign a receiver to determine and make improvements on a property, and the receiver then returns to the property owner for potential reimbursement, allowing the original property owner to retain the title. If that does not happen, the organization can work to get that deed through sheriff's sale for ownership or resale down the road.
"Receiverships generally turn out the way you might want them to, but it never moves quickly enough," Dollase said. "So as a result, you face market changes and what was true for a real estate sale when you started isn't necessarily where you end up."
That happened the first time the organization used a receivership about eight years ago to repair a historic building in Indianapolis. The structure collapsed from the weight of a snowstorm before Indiana Landmarks could preserve the building, he said. The group has used the receivership mechanism in other locations throughout the city, as well as sites in New Castle and one currently pending in South Bend.
"It's a great tool, you just have to know it will take a while to get to other end. You have to plan an out, knowing who the end user might be from the start and if it'll be worth investing the time and money when you might not get money back," he said. "For us, that monetary loss can come with the knowledge that we're meeting our mission and so it might be worth it."
Aside from receiverships, Engle and Dollase said they have used architectural and conservation easements to offer protection for owners who want to retain a title to a property but also want the historic preservation protection. The easements typically result in a loss in value, but that can be worthwhile to preserve the property in the long run.
Targeting neglect
In Indianapolis, the city prosecutor filed two lawsuits April 11 against a pair of property owners who are accused of allowing their historically designated properties to become public eyesores or community dangers.
One suit targets James E. Chalfant and Chadwick Partners Inc., owners of the 1925 Chadwick Building at 1005 N. Pennsylvania St. A two-alarm fire inside the vacant 31,000 square foot building in January gutted what was left, and the city demolished the building following that fire. This was at least the third fire in the past decade, and the city asserts this final destructive fire and subsequent demolition was a "foreseeable result of unreasonable neglect" by the owners.
The second suit filed that same day targets Caroline Briggs, owner of the 1905 Lodge apartment building at 829 N. Pennsylvania St., on allegations that she unreasonably caused community damage by allowing that building to "become dilapidated, harbor vermin, serve as a temporary residence for vagrants, and contribute to blight." As a result of those conditions, the health and safety of residents has been put in danger and the city has had to spend money in responding to those conditions, the suit says.
Specifically, the suits use Indiana Code § 36-7-11.1-12 in saying the owners failed to maintain real estate in a good state of repair and a safe condition and that both are nuisances. IC §32-30-6 allows for a civil action to abate or enjoin a nuisance. The Briggs suit also delves into various counts based on local code requiring that windows, exterior doors, and other parts of a historic building be adequately maintained.
Both filings are part of the city's broader effort to crack down on negligent property owners. It is a joint effort by Indianapolis code enforcement and legal officials as the city acts as the enforcement official on behalf of the Indianapolis Historic Preservation Commission, which has jurisdiction over the two properties in the St. Joseph Historic District. In the Chadwick suit, the city wants to recoup the cost of emergency demolition and punitive damages, while in the Briggs suit, it is requesting injunctive relief, fines, and punitive damages.
"Repeat citations and enforcement actions against Briggs have failed to produce any improvements, and the deteriorated condition of Mr. Chalfant's property unreasonably harmed the city and the citizens it serves by contributing to urban blight," said city prosecutor Helen Marchal in the Office of Corporation Counsel.
This type of litigation isn't used commonly, Marchal said, but it's a resource that is always available if someone doesn't resolve a negligent property issue or work with city officials to avoid it becoming a nuisance or danger.
Indianapolis attorney Bryce Bennett with Riley Bennett & Egloff found the city's approach interesting, particularly in the demolished Chadwick situation where Indianapolis is attempting to recover money spent on combating the recent fire and building demolition. He worked in the 1990s with then-mayor and attorney Stephen Goldsmith to first use that legal move as a way to maintain properties and neighborhoods.
"We pioneered the whole idea of using public nuisance laws to go after absentee landlords and gain control of those properties for the community's benefit," he said. "That was very effective, and it sounds as though they're using those same laws now and expanding it to recover money damages."
In his legal work in these areas, Bennett pointed to his representation on the city market and other local historic preservation projects that delve into these many real estate and building issues.
"This is not the most exciting area of law, but there's a lot of litigation that falls into it. You usually do have administrative remedies locally, but we found that litigation was more direct and effective and the most cost-effective."
For those looking at the larger historical preservation picture, the end result of these lawsuits and legal challenges often isn't the broader issue at play.
Dollase and Engle said they don't see many lawsuits relating to historic preservation. They added that Indiana Landmarks tries to be judicious about using litigation, though it isn't afraid to turn to the courts if needed.
"You don't have a lot of caselaw in Indiana on these types of issues, since most of the time that's not something that would go up on appeal," Engle said. "That's because it's not about winning in court, and usually it's not just a court battle that saves a historic building – it's what comes after that in moving, demolishing, or adaptively reusing that property. Court may be a starting point, but it's usually not the end of it."•
Please enable JavaScript to view this content.