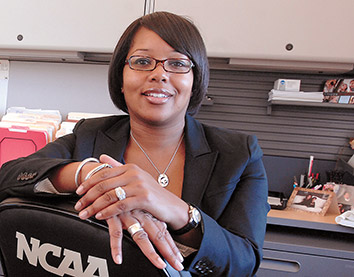 Naima Stevenson's love for sports began about the time she realized that sports fans in her household got to watch the big TV.
Stevenson said she and her mother watched movies together on a small television, while her stepfather watched sports on the home's larger television.
"I said, 'I'm tired of looking at this little TV,'" Stevenson said. So, as a 7-year-old, she joined her stepfather to watch and learn about football, golf, and all the other sports he followed.
Now 34, Stevenson has many opportunities to follow sports as the assistant general counsel and director of legal affairs for the National Collegiate Athletic Association.
 
She marked her fifth anniversary with the organization this spring, but she said it seems like little time has passed since she got the job offer.
In March 2006, Stevenson visited Indianapolis to interview for the position, during the men's NCAA Final Four. It was the first trip to Indianapolis for the Brooklyn-born-and-raised Stevenson. She was watching basketball at home when the call came.
"I remember it was Maryland – my alma mater – playing in the women's Final Four when I got the call," Stevenson said.
Since joining the NCAA, she has advised the legal staff on a seemingly endless stream of lawsuits. She explained that the NCAA can be sued in any state where it has a member organization, which is why staff relies on outside counsel for litigation.
She advises staff about enforcement and infraction questions. Staff members may ask, for example, if they can request phone records as part of an investigation, or whether certain requests for information are appropriate. But the majority of her work involves advising the busy NCAA Committee on Infractions.
"Institutions have an obligation to almost tell on themselves," Stevenson said. Colleges will generally report rules violations to the NCAA, and the enforcement staff investigates those reports. If a violation has occurred, the committee on infractions takes over. She attends all hearings for the committee on infractions and travels around the country frequently to attend court proceedings and depositions.
"We're a small legal staff, so we all pitch in as needed," she said. And her willingness to jump in and help has not gone unnoticed.
"Naima is highly regarded by her clients and colleagues within the NCAA national office, the membership, and others who work with her on a regular basis," said Donald Remy, NCAA general counsel and vice president of legal affairs. "She is relied upon to help distill complex issues into practical legal recommendations. Her approach to client service causes her to be sought out, which is one of the highest compliments inside counsel can receive. I am very pleased to have her on my team."
While Stevenson is a team player in the figurative sense, she said she has never considered herself an athlete. As a child, she reluctantly participated in the Colgate Women's Games track meet, finishing second-to-last in her group. "I don't think it was my idea to go – I think it was my mom's," she said.
Stevenson does enjoy playing in an annual charity softball game, which is an outreach activity that NCAA Executive Vice President Bernard Franklin established as part of the NCAA African-American Community Enhancement Group. Stevenson said the NCAA fields a team of "hodge podge staff" that competes against employees of Indianapolis radio station WTLC to raise money for charity. For Stevenson, outreach is one of the more rewarding parts of her job.
"Any opportunity I can get to talk to young people – that's something I enjoy," she said.
She volunteers to read to children during Indiana Black Expo when youth groups participating in Expo events are on lunch break. She said she enjoys reading children's books by her friend, Sahar Simmons, author of the "Briana's Neighborhood" series.
Simmons also grew up in Brooklyn, and has known Stevenson since the two were children. "My sister and she are best friends – she has literally been in my life since elementary school," Simmons said.
"Naima is one of the most genuine and kind-hearted people that I know," Simmons said. "She is extremely driven, but she doesn't come across harsh."
Even as a child, Stevenson was driven to succeed – she correctly predicted in the fifth grade that she would become a lawyer and graduate from Harvard University. And it was while she was working on her Juris Doctorate at Harvard that she decided to pursue a career in sports law. She knew that no sports organization would hire someone fresh out of law school for a corporate counsel position, so she decided to join a firm and gain some real-life experience.
She joined Arnold & Porter in Washington, D.C., where she was a corporate and securities associate for five years. During that time, she said she "started really getting the itch to look for sports law opportunities," and that led her to interview for the NCAA job.
Stevenson's love of sports has also played a big role in her personal life. This year, she became engaged to Stephen Starks, legal affairs director for the United States Anti-Doping Agency. Starks played in the National Basketball Association Development League before earning his law degree from Valparaiso University.
In her spare time, Stevenson still enjoys the hobbies she shared with her mother and stepfather as a child: watching movies and sports.
"I have the NFL Sunday Ticket, so on Sundays, I'm on the couch watching football," she said.•
Please enable JavaScript to view this content.