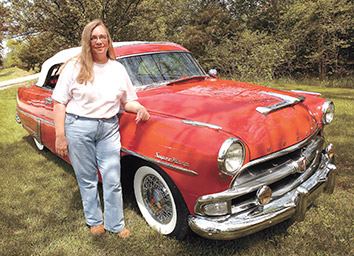 Just southeast of Indianapolis, attorney Sue Figert Kennedy watches her husband, Larry Kennedy, fire up her 1954 Hudson Jet Liner for the first time this year. They have waited patiently for the snow and rain to clear out of Indiana before pulling off the car's protective cover and getting behind the wheel. Larry carefully maneuvers the car out of the cavernous detached garage. The chrome accents gleam as if the Jet Liner just rolled off the assembly line.
In Zionsville, attorney Jim Voyles is looking forward to taking his cherished 1958 right-hand-drive Bentley for a spin. For collectors like Voyles and the Kennedys, fair weather means they can park their everyday cars for a while and enjoy driving strictly for pleasure. And this month, they had the opportunity to show a crowd of car enthusiasts their prized possessions.
 
In observance of the 100th anniversary of the Indianapolis 500, classic car collectors were invited to participate in the 100th Anniversary Indy 500 Celebration of Automobiles held May 13 and 14. Voyles' Bentley was featured in the car show on May 14. The Kennedys were unable to attend due to a Hudson car meet-up in Fort Wayne, but Larry drove his 1971 Dodge Challenger at the 100th Anniversary Pace Car Reunion, May 21 and 22.
 
Sue Figert Kennedy, of-counsel attorney for Rubin & Levin, reveals the work of more than 1,100 hours of restoration to her 1954 Super Wasp convertible. (IL Photo/ Perry Reichanadter)
Racing enthusiasts may remember the car from its crash into the photographer's stand, prior to the beginning of the race in 1971.
On being a "car person"
Some of Voyles' other cars include a 1972 Jaguar E-Type, a 1959 Triumph, and a replica of the Mustang driven by Steve McQueen in the movie "Bullitt." Standing inside his garage that houses the Bentley and a 1932 Highboy Hot Rod, Voyles explained that his love of cars is hereditary.
"I grew up as a car enthusiast. My uncle was a car enthusiast, and I think it just rubbed off on me," Voyles said. His uncle – George M. Ober – was a founding member of the United States Auto Club, which was the sanctioning body for the Indianapolis 500 from 1956 through 1997. He was USAC's Midwest vice president from 1955 to 1965.
Jim Voyles, attorney at Voyles Zahn Paul Hogan & Merriman, poses for a photo alongside his 1958 Bentley. (IL Photo/ Perry Reichanadter)
Sue said she was born and raised on a farm, where she and her family reused whatever they could. As an adult, that background made her respect classic cars. She couldn't see the point of buying a new car if she had the ability to restore something.
She bought her 1954 Jet Liner – the "Jet," as she calls it – while she was a student at Butler University in 1976. "Every year, I gave it some time and money," she said.
After 29 years as a litigator for Rubin & Levin, Sue retired in 2010, primarily to spend more time restoring Hudsons. She still serves in an of-counsel basis for the Indianapolis firm.
Donn Wray, attorney for Indianapolis firm Stewart & Irwin, said he clerked with Sue, and he used to own a Hudson. "Of course, her husband is one of the preeminent Hudson restorers in the world," he said. Larry is vice president of the Hudson-Essex-Terraplane Club, Southern Indiana Chapter.
Wray owns his grandfather's 1958 Buick Super and a 1937 Cord Westchester, which spends its winters on display at the Kokomo Automotive Museum. "Better to sit up there where people can enjoy it," he said.
"I've always been a car guy ever since I can remember, quite literally, and actually it influenced my practice pretty profoundly," Wray said. When he was a student at Valparaiso University School of Law, he assisted with the prosecution of Ford Motor Company after a series of deadly explosions in Ford Pintos were linked to the car's faulty fuel system design. Wray now specializes in representing automotive retailers.
The nuts and bolts
Larry performs almost all the restoration work on the cars he and Sue own, except for major body work or chrome work. Sue is more of a detail person these days, she said, but she can keep a car running in a pinch.
She recalled driving her Jet to a meet in Atlanta in 1985, when somewhere around Louisville, Ky., an engine ring blew. "We kind of limped all the way to the national meet in Atlanta. I drove it home from Atlanta without shutting it off," she said.
Wray knows his way around an engine, too.
"I drove clunkers all through law school and a couple years thereafter, so I learned how to keep a sled running," he said. The Cord is highway-worthy and capable of reaching 100 mph, he said, but the car's "got a front-end shimmy that kicks in at about 70 that acts as a governor."
A big hobby
The Kennedys and Voyles both have hydraulic lifts in their garages. Voyles uses his lift to store two Porsches in the same amount of floor space – one perched above the other. Since he and his wife, Joan – daughter of 1950 Indy 500 winner Johnnie Parsons – bought their Zionsville property 16 years ago, they've built two additional garages for the car collection.
 
Sue Figert Kennedy and Larry Kennedy's garage is home to a large collection of Hudson cars. (IL Photo/ Perry Reichanadter)
The Kennedys own 60 cars. They built an addition onto their home with a two-car garage and hydraulic lift. And they have several carports and a 50-by-100-foot garage where cars are neatly parked alongside each other and end-to-end. Outside, idle and weather-worn Hudsons offer convenient access to parts.
In 2010, the Kennedys carried spare parts as they drove their 1949 Hudson on a 6,000-mile cross-country trip, just in case the car needed a quick fix along the way. This month, they finished restoring a 1954 Hudson Super Wasp Convertible, after investing 1,100 hours in the project.
"When I retired, we had five convertible projects. We've finished one," Sue said. "I hope to be 85 and still doing this."•
Please enable JavaScript to view this content.