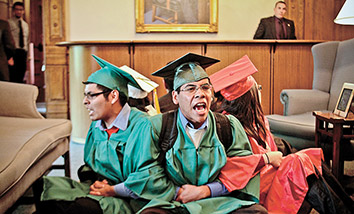 On May 12, Sen. Richard Lugar, R-Ind., said he will no longer co-sponsor federal legislation that would create a path to citizenship for undocumented immigrants. Once a supporter of the Development, Relief and Education for Alien Minors legislation – known as the DREAM Act – Lugar changed his mind about the bill just two days after Gov. Mitch Daniels signed House Bill 1402, which denies in-state college tuition to undocumented immigrants in Indiana.
For students like Omar Gama, the new law is another setback on the elusive path to citizenship.
Gama, a 20-year-old undocumented immigrant who has lived in the United States since age 11, will begin his junior year this fall at Indiana University, where he is president of the School of Public and Environmental Affairs Undergraduate Student Association. If he were to attend full-time, his annual tuition would jump from $9,028 to $27,688.
 
"Right now, I've been applying for private scholarships," Gama said. His parents will help pay for the remainder of his tuition, as they have in the past, but it will be a struggle for them to cover costs for Gama and his brother.
"Even if I have to go into being a part-time student and do one or two classes per semester, the signing of this bill is not going to stop me from getting an education," Gama said.
Increasingly, Gama and other undocumented immigrant students have been making their presence known in an effort to draw attention to the DREAM Act, which if passed, could allow them to become citizens by attending college or serving in the military. On May 9, Gama and four other students were arrested during a protest at the Indiana Statehouse when they refused to leave Gov. Mitch Daniels' office. Wearing caps and gowns, the students joined arms and sat in a circle, waiting to ask the governor to veto HB 1402 and its companion legislation, Senate Bill 590. They are scheduled to appear in court June 14 to face criminal trespass charges.
Through websites like www.thedreamiscoming.com/, students can learn about what student activists are doing in other parts of the county. While sit-ins and rallies may be drawing attention to their cause, the push for reform is not new.
"As a group and as a movement, we've seen young people working towards DREAM for 10 years now," said Kathy Souchet-Mourda, a board member with the Latino/a Youth Collective.
Having waited half their lives for an opportunity to become citizens, they are putting themselves at great risk, she said, in order to make a stand.
"These are young people who are coming out of the shadows," she said. They are students who have grown up, she explained, afraid of what might happen to them as undocumented immigrants. But now, "They're owning that status – being proud of who they are – as students, as young people, as contributors to their society," Souchet-Mourda said.
In 2010, the Indianapolis non-profit La Plaza, along with the LYC and other Latino groups, presented an award to Lugar for his longtime support of the DREAM Act. Gama, when asked what he thought about Lugar withdrawing his support of the act, said, "I honestly don't know what to think. I just hope that if and when it comes to vote, he will support the DREAM Act like he has for nine or 10 years."
Lugar's communications director, Andy Fisher, issued a statement that said the senator would not co-sponsor the new DREAM Act introduced by congressional Democrats because of President Barack Obama's May 10 speech in El Paso, Texas.
"President Obama's appearance in Texas framed immigration as a divisive election issue instead of attempting a legitimate debate on comprehensive reform. Ridiculing Republicans was clearly a partisan push that effectively stops a productive discussion about comprehensive immigration reform and the DREAM Act before the 2012 election," Fisher wrote. "The DREAM Act focuses on a select few high achieving students who would pay their own way to go to college or would join the military, and would not be recipients of government assistance. It is a very rigorous path, not amnesty, for a few good students who are not responsible for decisions their parents made. They should not be used in a political game. By doing so, the Obama Administration has guaranteed the bill will not move in this Congress."
Souchet-Mourda said that Obama could do more to help people like Gama. Some students in other parts of the country who have announced their status are now facing deportation.
"Right now, in absence of the DREAM Act, President Obama could provide an administrative relief for our DREAMers," she said. "It's a waste of resources trying to deport students. There's definitely a push on our side to give these young people some sort of relief from deportation as they're working hard, going to school, doing all the things that we told them to do."
She said she would like to see more local efforts to support immigrants who want to become citizens. "We're already investing dollars in helping them to get through K-12," she said. The DREAM Act is just one small step toward addressing the larger question of how to give all students – immigrant or otherwise – access to higher education, Souchet-Mourda said•
 
Please enable JavaScript to view this content.