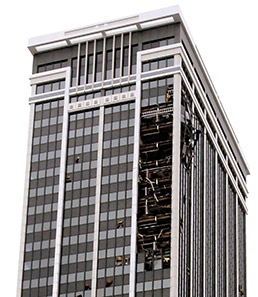 Like other businesses, law firms know it is vital to be able to serve clients during times of disaster. Locally, many firms have begun developing or have revisited business continuity plans – particularly after 2006 when a strong storm whipped through downtown Indianapolis and shattered the windows in a high-rise building, displacing several law firms.
Managers responsible for creating their firms' business continuity plans say that a good plan is flexible and adaptable for different scenarios, from technological failures to flu pandemics. A key element, they say, is for all firms to establish a communications plan so that employees, vendors, and clients can be contacted immediately when disaster strikes.
The first hours
Jeff McDermott, partner and a member of Krieg DeVault's executive committee, was watching TV one evening when he saw some shocking footage. Instead of going downtown to see John Mellencamp perform, he and his wife decided to stay home and avoid what looked like an imminent storm. When the news came on that evening, he saw aerial shots of the Regions Bank building, a 36-story office tower in the heart of Indianapolis, its windows blown out.
"You could see water coming out of the building," McDermott said. And then he realized the floors where Krieg DeVault's offices were located – 27 through 29 – looked like they had sustained significant damage.
"The first thought I had was the other two members of our management committee aren't even in town," he said.
The storm hit on a Sunday night, when the building was empty and many of the firm's employees were away on vacation. Because of that timing, many people had prepared in advance to be away from the office for a little while.
Monday morning, the firm had an emergency meeting at the Carmel office, where McDermott works. The firm librarian, human resources director, IT personnel, and others quickly developed a plan of action and contacted all the firm's employees via a phone tree.
"During the first 24 hours, we were providing hourly updates," McDermott said, adding that they didn't communicate any information to their staff until they could independently confirm reports about the damage.
"We were able to work with building management to get our IT people in there on Monday to get the server up," McDermott said. The firm had been relying more on digital files than paper so they didn't lose any information, but they were concerned about private documents fluttering about on the sidewalks of downtown Indianapolis.
"It was a massive amount of debris that got sucked out of the building," McDermott said. While the city sent front-end loaders to collect some of the desks and other large items that littered the streets, accounting firms and law firms were on the scene, scrambling to gather the confidential documents that had been swept from their offices.
McDermott
Unexpected challenges
Cohen & Malad was also a tenant of the Regions building in 2006. And while the firm had a business continuity plan in place, Administrator Jerry Abramowitz said it was "the things that we weren't apprised of that really hurt us, and I now know the correct question to ask."
Abramowitz said that the firm had to move to a temporary office space and did not know that their telephone vendor didn't have access to the new space, which resulted in a lack of continuity in their phone service. By the time the firm found a new vendor and had ironed out all of the glitches, it was time to move back to the Regions building. Abramowitz strongly recommends that firms understand the limitations and capabilities of their vendors to avoid disruptions in service.
To avoid surprises like the one Cohen & Malad encountered, Michael Arnold, chief operating officer for Bingham McHale, enlisted the help of a consultant when putting together the firm's preparedness plan.
The consultant conducted a "gap analysis," Arnold said, which entails "looking for holes in our plan, where we may not have really thought things through in their entirety."
Arnold oversees the plans for the firm's three offices located in Indianapolis, Vincennes, and Jasper. He said that firm management meets quarterly to ensure disaster plans are current.
"It's truly a process – I'm not sure you ever really come up with a final product," he said.
Keeping the courts running
On Jan. 1, 2008, Administrative Rule 17 went into effect, which allows courts to petition for emergency assistance from the Indiana Supreme Court. On Jan. 25, 2008, a storm ripped the roof off the Morgan County Courthouse in Martinsville, and the court became the first in the state to appeal to the Supreme Court for help.
The rule states that county courthouses may ask the Supreme Court for relief from certain deadlines or rules of procedure. Courts that, by statute, are required to conduct business within a certain building or geographical area may ask for a suspension of that statute that enables the court to conduct business elsewhere temporarily.
As for the Supreme Court itself, Public Information Officer Kathryn Dolan said "We've never really had a true Supreme Court emergency … presumably the court would be able to make some adjustments, because we do have offices in multiple locations, and we have redundancies in place."
Advice for other firms
Arnold
McDermott said Krieg DeVault's downtown staff squeezed into the Carmel office during the time the Regions building was being repaired. To ease overcrowding, the firm scheduled people in shifts and tried to make workers comfortable.
"We brought in breakfast, lunch, and dinner every day for months," McDermott said.
He said if possible, a firm should have some idea about where it will go if it cannot access its office. McDermott said he has heard some firms have set up partnerships, agreeing to take in each other's staff in the event of disaster.
"When this happened to us, it was amazing – we received calls from all over the place … we were getting calls from different sources saying, 'We're here if you need help,'" he said.
McDermott also suggests making the plan available across multiple platforms. "Your disaster plan – you want it in writing, you want it off-site, you want it in multiple media on a PDA or a home computer so, regardless of the incident or accident, you have access to it," he said.
McDermott has offered presentations for law firms about how to develop disaster preparedness plans. He said that having a thorough plan – especially considering the recent wave of deadly storms – just makes sense.
"We learned locally how in a few minutes your business can really be put in jeopardy," he said.•
 
Please enable JavaScript to view this content.