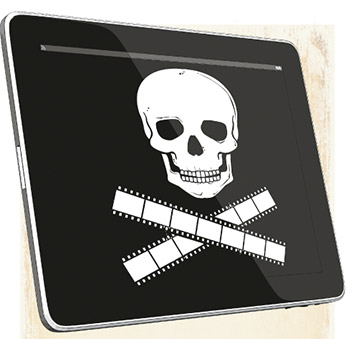 Indianapolis attorney Jonathan Polak could be considered a copyright criminal under a new law being drafted in Congress. Many might be.
Putting a video on YouTube and embedding that video onto another site could be all it takes to commit a felony under a statutory amendment before the U.S. Senate.
The legislation comes at a time when widespread copyright law reforms and the enforcement of intellectual property protections are on the table, and it ties in with a broader issue of how laws are written and interpreted in today's Web-savvy society. In the digitally driven 21st century, statutes and caselaw have trouble keeping up with the ever-expanding online universe where IP can change as quickly as someone has an idea. That puts courts and lawmakers at a disadvantage as they must constantly reevaluate how criminal code and long-established statutes apply to issues that often didn't exist when the laws were written.
 
Copyright laws bring in more nuances about IP and fair use, and it's an area Congress is currently exploring in the context of live streaming online as it looks to criminalize those who infringe on copyrights. Some question how far lawmakers are willing to go and whether a line is being crossed on reasonableness.
"As much as I am in favor of brand holders' rights, the concept of criminalizing this type of thing more than it already is is a little scary to me," said Polak, an IP attorney at Taft Stettinius & Hollister.
The U.S. Senate Judiciary Committee approved S.978 – also known as the Commercial Felony Streaming Act – on June 16, and it is now before the full Senate for consideration. Sponsored by Sens. Amy Klobuchar, D-Minn., and John Cornyn, R-Texas, the legislation eliminates the legal distinction between unauthorized streaming and downloading of copyrighted content. Supporters say it clarifies IP law and imposes stricter penalties in an age where sites regularly offer pirated material and illegal downloads of movies and music are available.
Under the current law, streaming is considered "public performance" and not a "reproduction" of any copyrighted work.
This anti-streaming bill complements another piece of legislation the Senate Judiciary Committee approved in May, giving the U.S. Department of Justice the power to block foreign websites that violate copyright laws. The Protect IP Act would prevent U.S. credit card companies and advertisers from accepting business from sites that distribute movies and television shows illegally.
These legislative moves against online copyright infringements are part of a broader White House push for IP protections. The Office of the U.S. Intellectual Property Enforcement Coordinator issued a white paper in March urging Congress to make these changes and provide guidance on murky IP issues, specifically because of questions about whether broadcasting audio or video live over the Internet constitutes an unauthorized distribution of copyrighted content.
S.978 increases penalties for live-streaming violations from a misdemeanor to a felony. Specifically, the bill says an offense consists of 10 or more public performances by electronic means during any 180-day period of one or more copyrighted works. The penalty would apply to anything where the total retail or economic value of the performance is set at $2,500 or if the total fair market value of licenses for that material exceeds $5,000.
Supporters of this bill say the legislation harmonizes existing U.S. copyright law's civil and criminal sections. In civil cases, a list of rights afforded includes those who reproduce, distribute, prepare derivative works or perform the work. Currently, the criminal infringement rules only cover reproducing and distributing, but not performing. The new legislation doesn't define "performance" and the text isn't clear on whether it would apply to embedding a pre-recorded video, such as those found on YouTube.
Indiana attorneys reading the proposed language say it's broad enough to include avenues such as YouTube, which has a widely used "embed" feature that would effectively be nullified if this law were to pass. Without proper consent, that would fall under the definition of public performance and could be targeted for something as simple as uploading a parody of someone singing a song and posting it on a blog.
While some say concerns about the legislative amendment are overblown because it will be rare for prosecutors to target those who are not the most egregious content pirates, others read the legislation as a move to open up those floodgates at any time.
"In order to be effective, you need provisions to ensure and protect (people) for fair use," Polak said. "As it's written now, you're not just creating a law to get at the bad people, but it also sweeps up in a broad net people who are innocent."
He reads the legislation language as including YouTube embedding, something that would essentially take the functionality out of the online tool that has become so popular – used by millions of people as well as companies, organizations, and government units. Another question would be what happens if someone posts a portion of a video using a copyrighted song. Whether to go after the person could be a prosecutorial decision.
Polak has represented clients who've had issues dealing with logos or trademarks appearing in unauthorized videos on YouTube, and in each of those instances the parties can work out a resolution to either remove the content or allow for compensation. With the new law's wording, Polak thinks that YouTube's embedding functionality would be eliminated.
Polak also wonders about those who, for example, perform all or part of a singer's music and then post a video of themselves singing that online, and someone else embeds that video link onto a personal blog viewed by more than 10 people. The law appears to include that as a criminal felony under this language, Polak said. The wording of the legislation raises the question of whether that's a violation under the "performance" terminology.
"There's an argument to be made that the only way you can stop this is if you have fairly cutting and arguably draconian types of penalties," he said. "Maybe what Congress needs to do is come up with a more strict definition of fair use in the digital age. All statutes have been aimed at the content-maker, rather than the content provider. But at the end of the day, artists won't be infringing if there's no way to get that material out to people in a mass way."
Indianapolis attorney Dan Lueders at Woodard Emhardt Moriarty McNett & Henry said this live-streaming legislation fits into the broader discussion about continually changing copyright law that doesn't address the realities of the modern age.
"This is just another example of where the entire paradigm of copyright law ought to be revisited in the context of the Internet," he said. "We need bright lines, but we never get them."
Describing what he views as three sets of time periods for copyright law, Lueders said he sees a three-way split between the pre-printing press days, time up until the Internet was created, and the years since then.
"The fundamentals of copyright law are radically different, but most of our laws are still ingrained in the context of the 1980s or before that," he said. "We need new bright lines to deal with these things so some high school kid doesn't become a felon based on unclear laws."•
Please enable JavaScript to view this content.