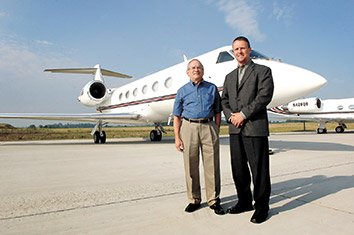 Deciding where the planes fly in or out of an airport and how land and buildings are used on airport grounds became the pivotal issue in a recent lawsuit in Marion Superior Court.
At the center of that court challenge was a 1980 state statute providing airport authorities, rather than local planning or zoning officials, are the sole decision-making power for land use at airports. Touching on an issue of first impression for Indiana, the trial judge handed down a ruling that has statewide implications for how communities handle airport land-use decisions that may have larger economic and aviation ramifications.
"This is a particularly important decision that reaffirms how airports are sort of unique," said Indianapolis attorney Robert A. Duncan, who recently joined law firm Norris Choplin & Schroeder after serving 38 years as general counsel for the Indianapolis Airport Authority. "Airports have oversight from the FAA (Federal Aviation Administration) that just isn't the province of local zoning officials. Our legislators were far-sighted enough to understand the importance of airports having exclusive authority on land use so no one would interfere with what the FAA requires."
The case involves the Indianapolis Executive Airport in southeast Boone County, an area covering about 525 acres along the Hamilton County line. The Board of Aviation Commissioners of Hamilton County originally purchased the land in 2003 and worked with Boone County officials to create an airport zoning district that would include that land. The Hamilton County officials agreed to restrict the airport land use through covenants, and Boone County amended its zoning ordinance in 2004 to provide for the airport district and those established covenants.
In December 2006, Hamilton County created the statutory Airport Authority outlined in Indiana Code 8-22-3-1, and that new authority acquired the Indianapolis Executive Airport from the Hamilton County Board of Aviation Commissioners.
The land use tug-of-war began in early 2010, when both Boone County and the Hamilton County Airport Authority adopted ordinances to control land use for the airport. In January 2010, Zionsville completed a statutory reorganization with the former Union and Eagle townships where the airport was located and began trying to exercise land-use control over the airport. But in March 2010, the Airport Authority adopted its own airport land-use ordinance to control what goes on at the airport.
That set the stage for this lawsuit: Hamilton County Airport Authority v. Town of Zionsville and Zionsville Plan Commission, No. 49D07-1006-PL-035761, which Superior Judge Michael Keele ruled on June 28.
The judge looked at the statute's plain language to decide that a local town or city cannot exercise land-use control over land owned by an Indiana airport authority created under any provision of I.C. 8-22-3-1. Specifically, he relied on a provision that gives these authorities "exclusive" use over its airport's lands as long as those uses are compatible with "the uses of the surrounding lands as far as practicable."
"The Court is not persuaded by Zionsville's argument that the Legislature only gave the Airport Authority control over how Airport land is 'arranged' or 'configured,' or that the Legislature 'merely added procedural steps' that are still subject to Zionsville's zoning control," Judge Keele wrote. "The Airport Authority's power to 'fix and determine exclusively' how facilities on its Airport lands are 'designed, arranged, or intended, or for which [they] are occupied or maintained' leaves no room for Zionsville to exercise any control over Airport lands."
Judge Keele relied on caselaw to determine that airport authorities are municipal corporations with executive and legislative powers, and that they have far-reaching powers to manage and regulate their own airport lands. No statute – nor anything generally within local zoning authority or the Indiana Home Rule Act – gives the community that power, he wrote.
Though a policy analysis isn't required in this case, Judge Keele pointed to the importance of this issue because it impacts not only the Indianapolis Executive Airport but the autonomy of airports throughout Indiana. Their collective ability to function freely and safely as part of an integrated national air transportation system is at stake, he wrote.
Attorney Robert S. Schein at Krieg DeVault, representing the Zionsville officials, declined to comment on the litigation or ruling as it remains pending. No decision has been reached about whether Zionsville will file an appeal, he said.
While Judge Keele's ruling isn't controlling precedent statewide, attorneys on the airport side of the case say it's a sound decision that will likely influence how these issues are interpreted in the future and how airport authorities work with local municipal issues on land use.
Indianapolis attorney Bryan Babb with Bose McKinney & Evans represented the Hamilton County Airport Authority and agreed with the judge that this decision is larger than just one airport. He also said it has a significant economic impact on Central Indiana and the rest of the state.
"That airport is a big deal, and it's a reliever airport for this entire area," Babb said, noting that FAA funding is tied to airports being able to control their land and follow national aviation regulations. "There (are) checks and balances for what airports can do … you can't build an amusement park. But they have to be able to make decisions that are needed to operate."
Babb said a slew of corporate jets come into that airport, often with college basketball coaches or other sports figures for conferences or events in Indianapolis, as well as musicians playing at Verizon Wireless Music Center in Noblesville. The expected Super Bowl activity at that airport will be a boost for the entire area's economy, but that could be in danger if the airport can't receive the FAA funds or is limited in its land use because of the community's zoning interference.
This issue has existed for many years, but Babb sees it becoming more common as development continues outside of traditional cities and suburbs.
"The problem is that these airports largely begin out in the middle of nowhere, then urban sprawl surrounds them and local politicians start feeling the political pressure from those people who live around the airports and they're spurred into doing something," Babb said. "This is an issue as more people and businesses come to those less-developed areas, and somebody has to provide perspective."
Writing an amicus brief on behalf of 12 airport authorities – a total of 23 airports – throughout Indiana, Duncan argued that this is the first court case of its kind since the state General Assembly created the Indiana Uniform Airport Authorities Act in 1980. The ability of the airports to develop and expand to meet the needs of the larger air transportation system would be endangered if local zoning authorities had say on the land use, he argues.
The Eagle Creek Airport is one prime example, Duncan says, because it's been constrained by land-use decisions from local officials and now it can't develop as a result of subdivisions being built nearby.
In southern Indiana, attorney Paul Wallace says that his client, the Evansville-Vanderburgh Airport Authority, has been dealing with similar issues from local planning officials who want a hotel and fast-food restaurant that has been in place at the Evansville Regional Airport since 1974 to obtain planning commission approval for renovations. Wallace sees hope as a result of this latest decision from Marion County.
"This opinion should settle this issue and clarify the exclusive control of airports over their lands, to the benefit of plan commissions and airport authorities, all of whom now know which entity has sole control over the airport properties," he said. "This clarity is significant and important for the very long-term planning which airports must undertake."•
Please enable JavaScript to view this content.