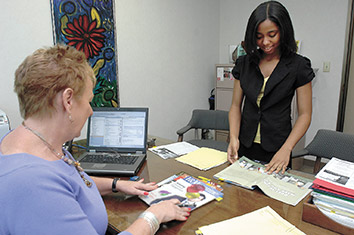 Jasmine Batts, wearing a black skirt and matching short-sleeved blazer, makes her way across downtown Indianapolis, walking from Kightlinger & Gray to Ice Miller for a lunchtime meeting. Along the way, she calls Jenny Ellis, director of administration for Kightlinger & Gray, to let her know she will meet her at a coffee shop before the meeting.
She arrives early to meet Ellis, like any smart businesswoman would. But what sets her apart from the hundreds of other busy professionals traversing downtown is that Jasmine is just 16 years old.
Jasmine is one of five students from Shortridge Magnet High School for Law & Public Policy who got a summer internship through a new program called L.I.F.E. (Leaders in Firms Emerging) Beyond Shortridge. Ellis created the program with the support of the Association of Legal Administrators, Indiana Chapter, and with funding from the national ALA.
 
All sophomores at Shortridge are eligible to participate in the L.I.F.E. curriculum, which covers subjects like mock interviewing, résumé writing, and workplace conflict resolution. Students who wanted to be summer interns had to attend two after-school sessions this spring. And Ellis said she wanted students to know that law firms offer plenty of non-lawyer jobs that might suit their interests. About 20 firms have lent their support for the project by hiring interns, speaking to the group, or underwriting the group's weekly lunches. Ellis said that even if these students decide working in a law office is not what they want to do, the lessons they learn through the internships will be helpful in any career.
A working lunch
At Ice Miller, the students – accompanied by a chaperone from their place of employment – have gathered around a conference room table. The first item on today's weekly meeting agenda: Business lunch etiquette.
Abigail Martin, senior paralegal for Betz & Blevins, reminds the students that the following week, they will be attending the ALA chapter meeting at the swanky Skyline Club in downtown Indianapolis, where membership is by invitation only. Martin asks the students if any of them have attended a business luncheon before. Nibbling on pizza, the students answer her question with blank looks.
Martin gives the students some pointers – be courteous to your server; don't slurp your soup; don't cut up all your food before you eat it.
Dominique Knox, the lone male intern, interjects with the question: "What do you do if you don't like the food that they serve?"
Martin explains that the food at business luncheons may sometimes be tasteless and unappetizing; the adults in the room nod in agreement. She advises the teens to make an effort to eat the food when possible, and Ellis reveals a secret standby excuse to use in case of emergencies: I'm sorry; I can't eat (some ingredient in this dish).
The guest speaker at the ALA luncheon will be talking about cost-benefit analysis, and Ellis – without talking down to the students – explains the concept so that the teens will be better able to understand the lecture. Martin tells them that even if they don't realize it, they engage in cost-benefit analysis every time they go to the store and compare the prices on bags of chips and think about how to get the most for their money.
The students are asked to talk about what they're doing at work and how their weeks have been. Chinaa Harris has been working the phones at Wooden & McLaughlin, through an arrangement with IST Management Services. Ellis said that when she called the firm recently, she hadn't immediately recognized Chinaa's voice, due to her mature, professional demeanor. Chinaa says working the multi-line phone is a challenge and that she doesn't like to hear her own voice when paging people over the intercom. That may be why she refuses requests from people at the table to use her "phone voice."
Justina Fields remarks that she's been doing a lot of stapling at LewisWagner. Soft-spoken Makiyla Gaddie passes on the question. And Dominique returns to the topic of table etiquette.
"Is there a certain time limit that you should have to talk at a table? Because I've been to lunches where basically only one person talks the whole time," he says, eliciting a round of hardy laughter from the room.
Mark Goins, facilities coordinator for Barnes & Thornburg, tells Dominique, "Some people are uncomfortable with silence, so if there are not other people talking, they feel like they have to fill that gap and over-talk."
"What do you do when someone cuts you off?" Dominique asks.
"That's when you learn how to suffer gracefully," Goins says. Vicki Bruce, chief operations officer for Bose McKinney & Evans, where Dominique works, tells the student to make sure he circles back to finish his thought after being interrupted.
The students continue asking questions about dining etiquette – about lessons many adults know, but can't say where they learned them. Jasmine makes an astute observation: "As I look around, I see that everybody over there has glasses, and we're drinking out of the cans."
"If you do notice something like that," Bruce says, "help yourself to a glass of ice and pour your drink into it so it makes you feel more comfortable. Because the older you get, the more you'll be drinking out of glasses instead of the can."
Jasmine smiles sheepishly and says, "Yeah, because I feel like a little kid right now."
Next steps
Shortridge will be adopting a year-round curriculum beginning this fall, Ellis said, and she's unsure how that will affect L.I.F.E.'s ability to offer internships. She said she hopes that the opportunities can be tailored to the students' availability. In the meantime, the program will hold a writing contest, with the top three finishers giving an oral presentation at an ALA meeting.
Ellis is working on a plan that other cities can adapt for use in their schools. As the child of two teachers – one of whom retired from Shortridge before it was a magnet school – Ellis places a lot of value on education's role in shaping well-rounded, engaged members of society.
"These kids are delightful, energetic, smart, inquisitive," she said. "In addition to learning tasks, they're learning a lot about themselves."•
 
Please enable JavaScript to view this content.