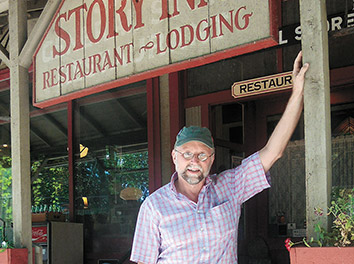 Two thirsty cowboys descend from a winding forest trail and hitch their horses to a post. They saunter about 100 paces to the tavern to grab a beer, where a tattooed bartender is watching the only TV in town, and Patsy Cline's voice drifts from the stereo. An elderly couple enjoys a post-lunch stroll in the garden, and in the distance, the high-pitched whine of a table saw means the handyman is hard at work, as usual.
This is life in Story, a tiny patch of paradise that began as a logging town in 1850. By the time of the Great Depression, the village had begun to fade away, its residents leaving in search of new opportunities. Throughout the years, people tried unsuccessfully to find a new purpose for this place. But in 1999, attorney Rick Hofstetter bought the property and began transforming the cluster of aging buildings into one of Brown County's most unusual tourist destinations.
Rooms and boards
Story's main building – the Story Inn – is home to a restaurant, four upstairs guest rooms, and a tavern. Except for the addition of walk-out decks upstairs, the inn looks unchanged from 1916, when it was rebuilt following a fire.
"Any time that we add a building here, it's functional and it fits the architecture," he said.
Story has 14 guestrooms among eight buildings. From the inn's "Blue Lady" room, where some guests have claimed to see a ghost, to the Treaty House, with its private hot tub, each room has its own character.
"No two are alike – they're all different," Hofstetter said. "The one thing that they have in common is that there's no phones, no clocks, no radios, and no TVs."
Air-conditioning, indoor plumbing, and electricity, however, are standard amenities, even if not historically accurate.
Hofstetter and his wife, Angela, live on the property and share their home with three galloping, slobbering Great Danes who are as friendly as they are large. Since moving here, the Hofstetters have lived in three different buildings on the property. The first was The Old Mill Loft, which is the only room that has been renovated, rather than restored to its original state (because people don't want to sleep in a dusty loft, Hofstetter said). The loft is now a relaxing guest room with vaulted ceilings and an open floor plan. A 250-gallon horse trough serves as a bath tub, and the room has a shower, for the less adventurous guest.
"We built this completely out of native lumber," Hofstetter said. "Now, when I say native lumber, I mean native lumber that came from Story." He explained that the trees were logged from a patch of land cleared for attorney Greg Garrison, who is building a large cabin that will house four more guestrooms. "And this is all jack pine from the Civilian Conservation Corps era – 1933 – where they planted the trees to hold the soil, but this is perfect barn wood, and they planted those trees there with the intention of giving us barn wood. Now we have it," Hofstetter said.
Much of the wood used to create fences, replace siding, and build new structures comes from Brown County barns that have fallen into disrepair. Hofstetter used recycled barn wood to build Story's horse barn just a few years ago, and he is pleased that the end result looks deceptively old. The barn's 12-by-12 stalls are available for rent during summer months, for guests who need overnight accommodations for their four-hooved friends.
 
After moving out of the loft, the Hofstetters lived in the Doc Story House, which sits on a hill overlooking the inn. While living there, they restored the blue house next to the inn, and finally settled there. Then they began restoring the Doc Story homestead, which is now a guest rental.
"It doesn't look a whole lot different than it would've back in the day," Hofstetter said. The windows and floors are all original, and Hofstetter added reproduction Victorian-era wallpaper and furniture. "This is very authentic to the 1860s," he said.
Fresh food and drink
Story Inn's restaurant uses fresh, local ingredients whenever possible.
"One of the things we focus on is, if we can grow it ourselves, we grow it," Hofstetter said. "If we can't grow it ourselves, we buy locally. If we can't buy it locally, then we'll just buy the best we can get our hands on, but the ingredients are very, very important."
The dinner menu includes salmon, chicken, pork, certified natural Angus New York strip in a chanterelle cream sauce, and a vegetarian entrée, announced daily. Lunch offerings include a grilled Angus burger, made from beef supplied by Jasper's Fischer Farms. For vegetarians, options include a grilled artichoke patty served on a croissant and a mixed field greens salad. The breakfast menu includes biscuits and gravy, made with sausage from Gunthorp Farms in LaGrange, seasoned with basil from Story Inn's garden, and served over fresh buttermilk biscuits. Or try the banana walnut hotcakes, topped with syrup that Hofstetter orders by handwritten letter from an Amish farmer in the area.
Story Inn owner Rick Hofstetter (above) converted this 250-gallon horse trough into a bathtub for one of the guestrooms. (IL photo/Jenny Montgomery)
Each month, the inn presents its Monthly Wine Dinner, which features four to five courses, made with local ingredients, each paired with a wine selection to highlight a varietal, region, winemaker, or special occasion. The dinners are $75 per person, which includes dinner, wine, tax, and gratuity. Space is limited to 30 guests, by reservation only.
The cozy cellar tavern, with recycled timber counter tops and bar stools made from tractor seats, is accessible from either the restaurant or an outdoor stairwell that connects with a patio. In 1932, this was where the Brown County sheriff confiscated a still. If you pick up a copy of Hofstetter and Jane Ammeson's book, "Images of America – Brown County," you can see a photo of the proud sheriff posing with his bounty. Nowadays, "We celebrate the action of yeast upon sugar here pretty much on a daily basis," Hofstetter said.
A gathering place
The Story Inn hosts a variety of functions – weddings, family reunions, corporate retreats – and the large meadow behind the inn can hold thousands of people.
"We do have two big events a year, and one is the Indiana Wine Fair, which in 10 years has grown to be really about the largest wine event in the state," Hofstetter said. "Believe it or not, our little place gets 5,000 people."
A weather-beaten tree swing offers a place to pause and think. (IL photo/Jenny Montgomery)
In September, Story will host the Hoosier Hops & Harvest beer-tasting festival, where visitors can sample craft beers from around the Midwest. A renovated century-old barn with a stage and 400 amps of power will showcase four bands, including Jimbo Mathus & The Tri-State Coalition. Mathus was a founding member of the Squirrel Nut Zippers, who topped the charts in 1997 with the big-band inspired single, "Hell."
The road to recovery
Hofstetter, a business lawyer who was on the legal team that took the financial services firm Conseco public, enjoys cracking jokes about his profession.
"It's a 12-step process to wean yourself from being a lawyer to being a productive member of society," he said.
Hofstetter still teaches business law classes at Butler University, where his wife is a lecturer. And on occasion, he still puts his legal skills to use, as he did when he sold Garrison six acres overlooking Story's open field.
"I wrote three pages of restrictive covenants into the deed for him – more onerous than I have ever put in for a client, because I own this, and I want to make sure that anything that goes up there doesn't look like a trailer," Hofstetter said. "So no vinyl siding, no aluminum – even the gutters and soffits have to be natural materials, the stone has to be native Brown County. I gave him the architectural styles he's allowed to build – rustic log cabin is one of them, and that's what he chose."
Keeping this aging 18-acre retreat up-and-running is a lot of work, Hofstetter said. He makes a 40-mile roundtrip to a Columbus hardware store almost daily, because something is always in need of repair. But for Hofstetter, there's nowhere he'd rather be.
"This sure beats practicing law," he said.•
Please enable JavaScript to view this content.