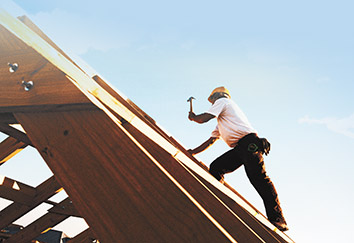 The Indiana Supreme Court is considering what a construction site manager must do to protect workers on the entire site when contracts try to limit overall liability if an accident occurs.
The result of this appeal could dictate how attorneys drafting contracts between construction companies, contractors, and project owners do their jobs and how those working in these potentially dangerous trades might recover.
On Sept. 19, the state justices will hear arguments in the case of The Hunt Construction Group, Inc., et al. v. Shannon D. Garrett, No. 49A02-1001-CT-86.
The Hunt Construction Group was hired by the Indiana Stadium and Convention Building Authority to be in charge of the Lucas Oil Stadium project in Indianapolis and served as "construction manager" for the stadium. Hunt Construction had a number of other contracts with those involved with the project and its safety.
Shannon Garrett worked as an employee with Baker Concrete, a subcontractor that didn't have a contract with Hunt Construction, and she was injured in October 2006 when a co-worker dropped a piece of forming material, striking her. She sued in Marion County for negligence, and Marion Superior Judge David Shaheed found that Hunt Construction had assumed by both contract and conduct a non-delegable duty of safety to all employees on the site, as well as those contractors and subcontractors the company didn't have a contract with. The construction company was vicariously liable, the trial judge found, and it denied a summary judgment claim by Hunt Construction.
In a December 2010 decision, the Court of Appeals found that the trial court erred in finding Hunt Construction was vicariously liable for the negligence of Baker Concrete. The judge based the ruling on Garrett's argument that Hunt Construction owed her a non-delegable duty. Vicarious liability has generally been applied in the general contractor/subcontractor relationship in construction litigation cases, Judge Michael Barnes wrote. That general relationship doesn't exist in this case as the ISCBA contracted separately with Hunt Construction and Baker Concrete.
But the judges were divided on whether Hunt Construction owed a duty to Garrett. The majority, after examining the contracts Hunt Construction entered into, found that many provisions gave the company significant duties regarding safety on the jobsite. It was responsible for approving contractors' safety programs, addressing safety violations, and had the ability to remove any employee or piece of equipment deemed unsafe. These provisions resulted in Hunt Construction assuming a duty to workers on the jobsite, including Garrett.
 
Judge Ezra Friedlander dissented on this matter, believing the majority disregarded the provisions that limited Hunt Construction's duties regarding safety. The judge wrote that he believes the contract language as a whole didn't assume a duty to Garrett by contract. There are several limiting provisions, which are an unequivocal statement that the construction company wasn't responsible for project safety and the safety of Baker Concrete's employees.
"The Majority wholly ignores the clear import of these provisions and fails to give them effect, essentially rendering them ineffective and meaningless," he wrote. "The Majority's holding will fundamentally alter contracts of this nature and make it virtually impossible for a contractor taking on the role of construction manager to limit its liability so as not to become an insurer of safety for workers of other contractors."
Imposing a duty of care on Hunt Construction for the safety of the employees of each contractor here is tantamount to making it an insurer of safety, Judge Friedlander wrote.
 
Gerth
Representing Hunt Construction, attorney Mark Gerth with Kightlinger & Gray in Indianapolis asked the Indiana Supreme Court to accept transfer and the justices took the case in August. Indianapolis attorney William F. Conour is representing Garrett. Both attorneys limited comments to what has been briefed, since the case has not yet been argued.
Specifically, Gerth argues that Hunt Construction's contract with the ISCBA delineated the contractor's responsibilities on the project to only its own conduct. Indiana law only allows parties to a contract or those affiliated with the parties to be able to make claims for breach of that contract, and not strangers who happened to be on the same site, Gerth contends. Instead, the state's public policy favors the notion that Baker Concrete was the only one to owe Garrett a duty of safety and not the construction manager, he adds.
"The contract documents, when read in their entirety, make clear that Hunt was not assuming Baker Concrete's safety obligations and responsibilities, and that the duties which Hunt owed under the contract were to be performed for the sole benefit of the Owner," the brief states. "There is no reasonable interpretation to the contrary. Hunt acted as nothing more than the Owner's 'eyes and ears' on the project. If Hunt observed what it felt to be a safety violation, it would inform the contractor involved, but it did not assume a duty to ensure that the safety violations did not occur."
But Conour disagrees in his brief, arguing that the Court of Appeals ruling was consistent with precedent from the past decade holding that a person cannot limit his or her tort law duty to third parties by contract. The Court of Appeals has repeatedly and consistently held that construction managers can and will be held to have assumed a duty of safety at construction projects where they're actively supervising the job site, Conour points out in citing appellate rulings dating back to 1978.
"Hunt claims that it should be allowed to enter into a contract with Owner which eliminates the ability of all persons who were not a party to that contract from ever attempting to hold Hunt accountable for negligence in connection with the Project," Conour's brief states. "Hunt claims that the 'freedom of contract' should allow Hunt to limit its tort law duty to third parties by contract. This, however, is contrary to public policy and contrary to well-settled law in Indiana which prohibits the same."
Carmel attorney Sean Devenney with Drewry Simmons Vornehm, who is unconnected to this case but has followed it and related cases, says this case is one of several in recent years from the intermediate appellate court that broadens the various construction industry participants' duties to individual workers despite contracts that state differently. The impact will likely be significant, he said.
If the justices continue the trend of expanding the tort-based duty of safety on construction projects, Devenney said attorneys will more often need to use contractual methods to accomplish risk-shifting for those job site participants. Specifically, he says that indemnity clauses and insurance will be more often turned to in these types of construction projects with multiple contractors and subcontractors.
"In essence, if the duty of safety becomes a responsibility for all project participants regardless of attempts to limit the duty through contract, the only thing left for the industry to do is shift the risk between and amongst the various parties working on the project," he said. "It remains to be seen what the Indiana Supreme Court will do with this case – but whatever decision it makes is certainly going to impact how construction contracts will be written in the future."•
Please enable JavaScript to view this content.