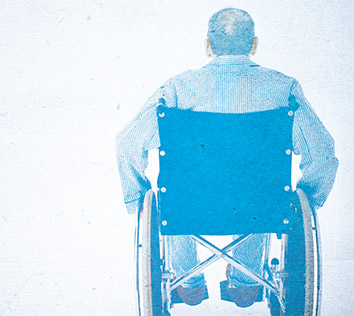 When siblings can't see eye-to-eye about how to care for their aging parents, families sometimes end up settling disputes in courtrooms. But elder care mediation can help families resolve conflicts before they become matters for litigation, if only more people knew about and used this option.
Janet Mitchell, a Fort Wayne attorney who specializes in elder care mediation, says the public and members of the legal profession seem generally unaware of the existence of elder care mediation. She is working to educate the public and fellow attorneys about how the process can be used to help families.
"The reason I do this is that my father is 99 and is in very good health. I want to honor elders and their families, and to me, the best way to honor elders is to get their families to be a unit," she said.
Resolving disputes
Mary J. Hoeller – an Indianapolis attorney, mediator and registered nurse – said she often sees court cases involving probate or guardianship that could have been resolved through mediation.
"You would not believe the number of issues that arise in families that could be worked out or should've been worked out," she said.
Mediators can help families determine what level of care is needed for aging parents, how to divide property and any number of associated issues. Guardianship, in particular, is often a source of tension among siblings trying to agree upon the best plan for aging parents, Hoeller said.
"I think guardianship is a huge issue. I think there's always a struggle among family members as to whether or not the person needs a guardian, who that guardian should be and how that guardian should behave," she said.
In Indiana, no rules exist defining the limits of a guardian's power over a ward, and rifts may arise when a guardian – who is often an adult child – makes decisions that seem counter to a parent's or a family's wishes.
The National Guardianship Association Standards of Practice state that guardians should either make decisions based on the ward's past decisions – a practice known as substituted judgment – or based on what would be in the best interest of the ward, Hoeller said.
"We have wards who, in fact, make a lot of decisions for themselves, but we find guardians who are unwilling to accept and take on the role of substituted judgment," Hoeller said. "Simply because someone's under guardianship doesn't mean they don't have a say in things."
Hoeller said family members who serve as guardians usually do honor the wishes of the parent, but they sometimes overstep their bounds by forbidding certain people from seeing the ward or making other choices that are counter to the ward's well being. One of her roles as a mediator is to educate people about what a guardian should do, she explained.
Mitchell
Guardians may either be assigned to oversee a person or an estate, Hoeller said, and she's increasingly looking for third-party fiduciaries who can take over an estate's financial administration.
"Sometimes, we have resolved these matters by allowing the family members to be the guardian of the person but taking away their capacity to manage the money," Hoeller said. "That way, siblings are just focusing on care of the parent and not worried about what they can get out of them."
Respecting wishes
Mitchell said that she prefers to have the parent or ward present for mediation. That may mean the mediation should be scheduled at a specific time of day – the time when the parent or grandparent is most alert. She begins the mediation by asking the elder relative what his or her wishes are.
"They usually say the same thing – I don't care what decision you make, I just want all you kids to get along. I want there to be a family after I die," Mitchell said.
Historically, care of the eldest family member usually was the responsibility of the sibling closest geographically, Mitchell explained. But now, with the ability to conduct a variety of business online including paying bills and handling other matters, the closest sibling may not necessarily be the one who's handling affairs for the parent.
"It isn't like the old days where one child takes care of everything and gets the house," she said.
But the children who see the parents most often may have a better understanding of an aging parent's limitations.
"The children who have had more access to parents … may know how much care the parents need, and a child in Alaska may not," she said.
Explaining the disconnect
Attorneys who are trained in elder care mediation aren't seeing a big demand for those specific services, even though mediation is much less costly and contentious than litigation.
Renee Bloom, of the Fort Wayne firm Burt Blee Dixon Sutton & Bloom, handles probate, estate and elder law cases and recently finished her training to become an elder care mediator. She said if families approach her about elder care disagreements, she will need to be mindful of how she handles their issues.
Bloom
"Probably, if they come to me as a lawyer, I won't be able to wear both hats. I would rather they come to me as a mediator," she said. "I think that it would help the family dynamics to be able to come to an agreed-upon solution, instead of fighting. Being in the courtroom is so litigious, and it always feels like one person wins and one person loses."
Bloom said that one reason family members may not know about elder care mediation is that no one orders them to attempt to tackle these problems outside of court.
"Definitely, in civil and family cases, it's court-mandated, so they're forced to seek out a mediator to solve their dispute. Whereas in elder care issues, you don't have that same mandate," Bloom said.
Mitchell said that even though elder care mediation isn't growing as quickly as she would like, she's already seeing the positive outcomes.
"The best part about this is when I get a call a year later – let's say it's Thanksgiving or whatever – and (they) say this is the best family get-together we've ever had, thank you for helping us," she said.•
Please enable JavaScript to view this content.