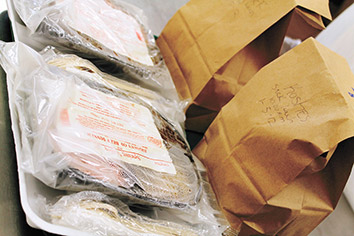 Ask and you shall receive, the Bible says, unless you're behind bars, where accommodating prisoner-religious requests is more than a matter of just asking.
For those in prison, the complex legal questions that come with prisoner-religious rights have been in flux for more than two decades and remain the central points in lawsuits throughout the country on prayer practices, items inmates can possess in their cells and what foods they're able to eat in order to comply with their particular beliefs.
That's where prison officials and lawyers come in, evaluating the balance between safety and security and the need to have those religious requests accommodated.
"This is an interesting area of law that I think a lot of people in the legal community don't know about," said Indiana University Maurer School of Law professor Aviva Orenstein, who studies this topic. "People would probably be surprised to learn about the very big divergence in what the First Amendment provides and how prisoner religious rights are protected. Essentially, religious rights of people are more protected in prison than those outside."
Civil rights attorneys and those watching these issues say the claims arise on a regular basis in prison offender litigation and other lawsuits, and a federal suit involving a mandate to provide kosher meals for inmates continues to raise questions about Indiana Department of Correction practices.
Four inmates in state prison facilities are asking that the DOC be held in contempt for allegedly not complying with the 2010 ruling by U.S. Judge Jane Magnus-Stinson that ordered the state to offer kosher meals to inmates who request them instead of giving them less-costly vegan meals. The class-action suit filed in 2009 by Orthodox Jewish inmate Maston Willis at the Miami Correctional Facility contended the state's cost-cutting policy of not supplying those meals violated his religious rights.
Magnus-Stinson ruled that the DOC violated the federal Religious Land Use and Institutionalized Persons Act (RLUIPA), which has been on the books since 2000.
The RLUIPA comes on the heels of a tug-of-war between Congress and the Supreme Court of the United States. The SCOTUS in 1990 held that the free-exercise clause of the U.S. Constitution doesn't require accommodations of religious practices and that identical treatment of believers and non-believers satisfies the First Amendment. The court has never addressed whether it applies to prisons or if it conflicts with an earlier decision finding restrictions are allowed if they're reasonably related to legitimate penological objectives. In response to the court action, Congress enacted the sweeping Religious Freedom Restoration Act to adopt a least-restrictive means test for public officials, but the SCOTUS struck it down and found the law couldn't be applied to the states. Congress then passed the RLUIPA to address those state-specific issues, intertwining both religious land use and zoning issues with prisoner-religion rights.
In the Willis case, Magnus-Stinson found the state DOC violated the RLUIPA by not offering kosher meals. The state agency claimed it had a compelling government interest to keep costs down and that is why it stopped serving kosher meals. Willis and others were awarded $60 and the DOC was ordered to provide "certified kosher meals to all inmates who, for sincerely held religious reasons, request them in writing." Although the DOC appealed, the state dropped that appeal after the DOC agreed to start offering kosher meals to inmates.
The Indiana Department of Correction serves pre-packaged kosher meals to inmates who request the meals for religious reasons. (IBJ Photo/ Perry Reichanadter)
But that is not happening, according to ACLU of Indiana legal director Ken Falk.
"The court's judgment in this case is clear, and the DOC is not free to disregard it," he said. "The DOC does not have the right to deny these prisoners an intrinsic element of their religious beliefs."
DOC spokesman Doug Garrison said the state believes it is complying with the court order by using the written request process to evaluate whether an inmate needs that special diet. The individual is required to submit a form, explaining his or her understanding of the kosher diet and how it fits in with the specific religious beliefs and practices.
"The law doesn't require that everyone who raises their hand gets what they want, and we have to balance that need with the basic fact that we have to manage our prison system," he said.
The DOC religious and volunteer services directors review and evaluate that information to make a determination, he said. They've received many types of requests, from various groups wanting to pray in certain areas and wear certain clothing to comply with their religious beliefs as well as inmates requesting to be able to possess certain items in their cells, he said.
Falk
The prison won't do anything unlawful to accommodate a person's religious beliefs, and something such as giving that person live snakes – a request that's been made – won't happen no matter what religious practices someone might have.
Cost doesn't determine how the policy and requests are evaluated, but it does factor into the policy decisions, Garrison said. Currently, 48 inmates receive three kosher meals a day at a cost of $4.46 per meal, which is more than triple the cost of non-kosher options that cost $1.18 per meal.
"So much of this is dictated by a lengthy and complex law, and so clearly it's a matter of wandering our way through litigation or negotiation on what the law means and how we handle these situations," he said.
These types of RLUIPA claims are frequent, Falk said, and range from kosher diets to where and how often individuals can pray in prison. Some of those same issues have come up recently in the case of American-born Taliban fighter John Walker Lindh, who's being held in Terre Haute. He has filed a federal suit with other inmates asking the Federal Bureau of Prisons to allow daily group prayers in their highly restricted cell blocks. The ACLU of Indiana is involved in that case, which is also before Magnus-Stinson in Indianapolis.
"Some restrictive (prison policies and) practices can't be justified, like in this kosher diet suit," Falk said. "They have this practice to fill out this written form to glean sincerity, which is problematic. There's a lot of resistance, in the sense of corrections saying that we know how to run our prisons best. But one of the things we can't say in the U.S. and through our courts is that your religious practices are silly and you can't express them, and that's what RLUIPA protects."
For Orenstein, these prison cases present some of the most interesting aspects about the still-controversial RLUIPA.
"If you come out wanting special food because you follow the Religion of Steak and Wine, no that's just not going to fly," she said. "Some are clearly faking and just want better food, and they're basically just causing headaches without any compelling interest in having this. Others are unnecessarily restricted or denied their legitimate religious rights. There has to be some reasonable balance.
"Wardens can become the stewards of religion and you don't want them to be in the business of determining what a valid religious practice is and isn't. But that's what we have."•
Please enable JavaScript to view this content.