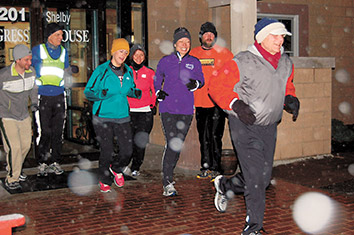 When attorney Leona Frank attended an orientation for the Back on My Feet program in the summer of 2011, it was out of curiosity.
"When I first heard about it," said Frank, "I thought, 'Helping the homeless through running?' How could that work?"
Frank learned that Back on My Feet is a nonprofit group founded in Philadelphia in 2007 by Anne Mahlum, a runner. Mahlum's goal was to promote independence for people who are homeless, in part through the discipline and confidence that can come from the consistence of regularly scheduled runs.
BoMF now has chapters in 10 cities, including Indianapolis, whose chapter was started in March 2011. The group consists of resident members who live in halfway houses and non-resident members who volunteer to help facilitate the morning runs. If resident members meet the 90 percent attendance goal in their Monday-Wednesday-Friday morning runs, after 30 days, they become eligible for incentives and financial aid to help build a more stable life.
Currently, Indianapolis has two teams associated with two halfway houses, and a third facility will be launched later this month. New members are brought in every 30 days. According to Lindsey Hein, director of communications and corporate relations for BoMF-Indianapolis, about 50 percent of
new resident-members stay committed for their first 30 days. Teams are kept to about 12 to 15 resident members so that the members can feel comfortable with each other and know one another by name.
Frank had been a runner for about four years when she heard about Back on My Feet. She began running for the health benefits and became more aware of the community and lifestyle benefits along the way, serving for a time as legal counsel for the Indy Runners group.
What Frank has gained through her involvement in BoMF has been an appreciation for recovery and an understanding of "what a disease [addiction] really is," she said. She has grown to admire the resident members of her team.
"The people in the organization have taught me to be non-judgmental," Frank said.
Frank met resident member Keith Brown through her involvement in BoMF. Frank and Brown ran together two to three times a week for about two months before each discovered the other was a lawyer. A former Ohio attorney who worked as a public defender for 20 years and had his own practice for seven years, Brown has battled with alcohol abuse. Brown is a resident of Progress House, a halfway house for Indianapolis adults with addictions. He's found both the networking support and the physical fitness aspects of BoMF to be essential in his journey. He graduated from Progress House before, but fell back into a lifestyle involving unhealthy use of alcohol. He said BoMF has made all the difference in his recovery this time around.
"Recovery is all about body, mind and spirit," Brown said. "When you take care of your body, the mind does follow."
Although he's now running five or six miles comfortably, Brown said he would have laughed if someone had suggested he would make it to that level when he first began running with BoMF in August 2011. Brown found the exercise and mental discipline from both the regular runs and the volunteer-provided yoga to be so helpful that he now attends yoga classes, although he's no longer able to attend the free classes offered on Wednesday nights at Progress House because he's working during that time. Brown works for Citizens Action Coalition in a position that allows him to use his legal and organizational skills.
"Ultimately, what we want is to partner our resident members with jobs," Hein said. Although Brown didn't directly receive his current job contact from BoMF, he nonetheless feels his involvement in the organization assisted in leading to the confidence that made this job possible. Dentist Nicole Van Le does pro bono dental work for resident members, and Brown has received a significant amount of dental work from Van Le. He said he wouldn't have been able to complete the face-to-face interactions necessary for his new job without this assistance.
"[BoMF] really provides benefits for volunteers as well as the residents," said David Jose, partner at Krieg DeVault. Jose has been team leader at Progress House since around Thanksgiving of last year. The role of the team leader is to attend the morning runs, motivate and support team members, and communicate information to both non-resident and resident members. The team leader ensures the team works together.
Jose became involved in BoMF in the spring of 2011. Within a week of hearing about the Indianapolis chapter, he received a notice about the 50th anniversary of Progress House. He was familiar with the halfway house from his work representing doctors and nurses with addiction issues. A longtime runner, Jose appreciates how much team members are able to learn from each other.
It's a sentiment that both Frank and Brown echo.
"I've volunteered for a lot of organizations in the community, but it's never hit home this way before," Frank said. "It's become so much more than what I expected my experience to be with it."
The team motto is "nobody runs alone," Brown said, and that support extends far beyond the morning run. "I cannot tell you what a great group of people these folks are."
For information about volunteering for the Indianapolis chapter of Back on My Feet, visit http://indianapolis.backonmyfeet.org/indianapolis-landing.html.•
 
Please enable JavaScript to view this content.