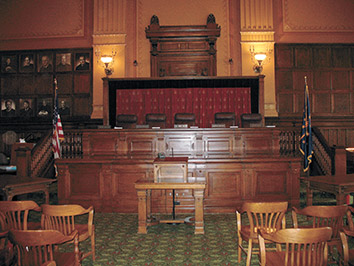 An appellate judge, former prosecutor and governor's counsel, and the leader of the Indiana Judicial Center are the finalists to become the state's 107th justice on the Indiana Supreme Court.
After semi-finalist interviews Feb. 22, the Indiana Judicial Nominating Commission selected Indiana Court of Appeals Judge Cale Bradford, Indiana Criminal Justice Institute Executive Director Mark Massa, and Indiana Judicial Center Executive Director Jane Seigel as finalists.
The seven-member commission, chaired by Chief Justice Randall Shepard, spent more than four hours deliberating behind closed doors before making their announcement shortly after 5 p.m. Fifteen had applied for the opening and after first-round interviews Feb. 9, the commission chose seven to return for second interviews.
Now, Indiana Gov. Mitch Daniels will choose who will replace Shepard, who is retiring March 23.
The other semi-finalists were Floyd Superior Judge Maria Granger, Columbus attorney Steven Schultz, Marion Superior Judge Robyn Moberly, and Marion Superior Judge Robert Altice Jr.
Each semi-finalist began the second round of interviews by answering a two-part question received prior to the session: "What is your finest professional accomplishment or contribution, and name two things that need improving in the Indiana court system that a justice might help solve." Those were the same questions the commission asked during Supreme Court justice interviews in 2010.
The commission posed similar questions to each applicant, asking about the greatest ethical challenges the semi-finalists have faced, how they'd work with other judges and lawmakers, and what role they think a justice should have in statewide initiatives such as technology or court reform. Each person was also asked whether gender diversity should be a factor in choosing the next justice.
 All said it was important, but that diversity should be just one part of the "most qualified" list sent to the governor.
"When people see judges that look like them or act like them," Seigel said, "it gives them more confidence in the court system. If I am selected to the Supreme Court, I would hope it would be because of my abilities … not just because I am a woman."
If Seigel is chosen, she would be only the second woman to sit on the state's highest bench. Indianapolis attorney Myra Selby was the first and only woman to be an Indiana justice, serving from 1995 to 1999 before returning to private practice. Justice Robert Rucker, the first and only justice who was elevated from the Indiana Court of Appeals to the Supreme Court, replaced Selby. Bradford would become the second if selected by Daniels.
"Diversity takes a lot of different forms," Bradford told the commission. "We all bring different personal and professional experiences."
When asked about judicial philosophy, Seigel described hers as one that includes fairness and consistency. She said she would judge each case individually and apply the plain meaning of the statute. Bradford cited his deference to trial courts as fact finders and to the Legislature that's elected to make policy, as well as how he saw the judiciary's role of "informing, directing, and inspiring."
Massa was not asked the question about judicial philosophy, but he mentioned "impartiality and reasoned judgment" in answering another question about what people can expect from judges. He also said criminal defense lawyers would get fair treatment before him despite his background as a federal and state prosecutor and that his experience would translate to civil cases because his four years as Daniels' chief counsel involved civil law areas.
Massa also faced questions from the commission about his 2010 run for the Marion County Prosecutor's Office, where he ran an ad criticizing his opponent, Terry Curry, for previously representing a convicted child molester. Commission member Jim McDonald said he found the ad "disturbing," and Massa responded that different rules apply between political campaigns and the legal community. He emphasized how he has worked collegially and civilly with both sides during his career.
"There are different rules of engagement at play in a political campaign than in the bench and bar, particularly in highly contentious hardball campaigns like that. It's a tough, nasty, brutish business. I can't un-ring that bell now, but I can say I'm proud of my career as a lawyer and the choices I've made. If appointed, maintaining civility in the bar would be a high priority," Massa said.
Once the nominating commission sends the list of the three finalists' names to the governor's office, Daniels has 60 days to appoint the next justice. In the past during appellate court appointment processes, Daniels has interviewed each person individually and the three have also sat down with his counsel for an initial review.
Shepard is retiring as chair of the Judicial Nominating Commission and Judicial Qualifications Commission effective March 5, allowing Justice Brent Dickson to take over as chair. Shepard will continue as the court's administrative leader and as a justice until he retires March 23. After that, Dickson, who will have the most seniority, will be the acting chief justice.•
Please enable JavaScript to view this content.