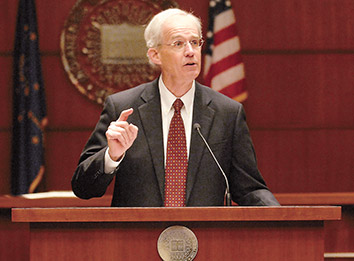 On the same day Indiana's newest Supreme Court justice started his job, Justice Frank Sullivan announced he would be stepping down from the bench to teach business and corporate finance law at Indiana University Robert H. McKinney School of Law this fall.
After almost 19 years as a justice, the 62-year-old South Bend native said this is his chance to start the next chapter of his career.
"Though my work here has been deeply satisfying and I'm proud of it, probably two years ago, I got to thinking I was reaching an age where if I was going to do one more big thing before retiring, I needed to get about it," Sullivan said.
Last September, he contacted the law school and asked about a teaching job. He taught a public finance law class there as an adjunct professor from 2007 to 2009, which piqued his interest in a career move. Just before Thanksgiving, he agreed with Dean Gary Roberts to start talking more seriously in January.
But an end-of-the-year surprise made Sullivan slow down: Chief Justice Randall T. Shepard told Sullivan about his plans to leave the court. The news went public in early December.
Sullivan decided to wait for Shepard's successor to be named and take the bench before announcing he would join the law school faculty. Sullivan told his staff and close friends after the governor chose Mark Massa March 23. Sullivan made a public announcement April 2, just a couple hours after the new justice was sworn in.
The job change takes Sullivan back to his business and corporate finance days – Sullivan worked as state budget director for three years and also practiced in corporate finance and securities law at Barnes & Thornburg in Indianapolis before joining the court.
"The law so dramatically impacts our economy, and our economy is impacted by the law. So this is exciting to be at that intersection, operating on that fault line," he said.
Roberts said Sullivan will bring a valuable perspective to the law school's roster, with a wealth of practical experience that is different than the typical faculty insight.
"He can help us build bridges that are critical to our law school's success and future," Roberts said. "This is truly a unique and special hire for us."
This latest news continues a period of change for the Indiana Supreme Court and gives Republican Gov. Mitch Daniels a rare chance to make three appointments to the state's highest court – a majority that could impact how cases are decided. That hasn't happened since Democrat Evan Bayh made four appointments in the mid-1990s, including Sullivan.
 
Although Sullivan hasn't yet decided when his last day will be, he knows it will be before the fall semester begins Aug. 22.
The Judicial Nominating Commission will interview applicants interested in becoming the state's 108th justice, but the timing of that process hasn't been announced. Sullivan said he hopes the application process is longer than what he's observed during the past two appointment periods to replace Shepard and Justice Theodore Boehm. Applicants had about a month each time to apply. The fast elimination process may have discouraged some applicants in 2010 from applying again, and he hopes there's more time for the nominating process this round.
Sullivan said he believes Indiana's demographics support increasing the size of the Supreme Court. He thinks Indiana would be better served by seven justices instead of five – the Indiana constitution allows for between four and eight associate justices and one chief justice. He also thinks the court would be better off if there was at least one female justice, and he said having more members would allow for the possibility that more women could be appointed.
Sullivan hopes that more women apply this time and receive the commission's consideration.
Sullivan recognizes that he had a hand in deciding that this Republican governor will choose his successor. Sullivan said who was serving as governor factored little into his decision to retire this year, and it plays into the nonpartisan nature this court has had through the years.
"In my almost 19 years on this court," he said, "I don't think there has been a single what I would call Democrat-versus-Republican case that has been decided on a party-line vote. Not one."
Sullivan has been known for relentlessly questioning attorneys during oral arguments – often with hypothetical scenarios of future law that could result from what the court is deciding in the case before it. He likes to say that he "shoots from the hip," and sometimes he wonders if he talks too much during arguments.
"Even if you are only deciding the case before you, you are writing for the future," Sullivan said. "If you look at a lot of my questions, they are meant to test the arguments the lawyers are making against whether the rule of law they are advocating will work not only for their case but also the next case. I like engaging the lawyers. I learn a lot."
Sullivan has written around 500 majority opinions, including Creasy v. Rusk in 2000, a civil tort case involving people with disabilities.
"I hope that my legacy would be one as a judge who tried to find the best decision, the best result to every case that came before the court without regard to any ideological or partisan preconception," Sullivan said.
Sullivan is also known for chairing the Judicial Technology and Automation Committee, which has rolled out a statewide case management system known as Odyssey. That system is currently live in 120 courts, handling about 35 percent of the state's caseload.
Sullivan's work with minorities, including a recruitment program through the Indiana State Bar Association, has also defined his judicial career.
Barnes & Thornburg partner Jimmie McMillian called Sullivan the inspiration for his legal career. The attorney clerked for Sullivan from 2002-2004, and the justice then encouraged him to join Barnes & Thornburg. McMillian said he wasn't interested because he was looking at smaller firms that served African-American clients. But Sullivan convinced him that he could do good and feel comfortable at a large firm setting, and the two have grown to have a father-son style relationship.
"You would be hard pressed to find another member of the judiciary who is as committed to diversity as he is," McMillian said.
Appellate attorney Bryan Babb at Bose McKinney & Evans, another of Sullivan's former law clerks, said this departure is a loss for the Supreme Court but an opportunity for the rest of the legal community.
"We've all benefited from those years of consistency and stability on the court, whether you agree with the decisions or not," he said. "The challenge will be moving ahead with that same level of consistency and respect, but also taking it to the next level."•
Please enable JavaScript to view this content.