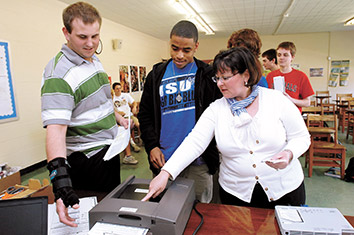 Helping educate Indiana high school students about the importance of being active and involved citizens takes work from teachers, parents and other members of the community. Thanks to the interest and time investment from members of Indiana's legal community, high school students have access to real-life civics lessons from professionals who interact daily with various branches of government. Two programs that assist in furthering high school students' understanding of government and the legal process are yVote! and Indiana Mock Trial.
Students involved in Indiana Mock Trial compete in groups of six to eight to conduct a constructed trial. Students act as both the lawyers and the witnesses in a case and are judged by volunteer panels that may be composed of attorneys, judges and third-year law students with mock trial experience. High school students in Indiana compete in events in one of four regions, and 20 teams advance to the state mock trial competition, held in Indianapolis.
The 2012 State Competition was held March 10-11. Team Whüp Swag from John Adams High School in South Bend finished first and will represent Indiana at the National Mock Trial Competition May 3-6, 2012, in Albuquerque, N.M. Caroline Corcoran, a student from Heritage Christian School in Indianapolis, was awarded "most effective witness," and Addison Kane, a student from South Bend's Trinity School at Greenlawn, won honors for "most effective attorney."
 
Cases for the competition are written by Indiana Mock Trial board of directors member Susan Roberts. A full-time attorney in Lafayette, Roberts estimates she spends about a month each year to compose the cases during her free time. She enjoys channeling her creative side, and she is "very passionate" about the mock trial program.
"I think it's just a terrific civics education program for students in Indiana," Roberts said.
Indiana high school mock trial teams have been very successful in the national mock trial competition, with Indiana teams consistently placing in the top 10 at the national contest. Next May, Indianapolis will host the 2013 National Mock Trial Championship.
"We're looking forward to it, and we're very excited about hosting," Roberts said.
Ann Marie Waldron, an Indianapolis-based attorney and current member of the Indiana Mock Trial board of directors, is the host director of the committee for the national competition. Waldron enjoys seeing the students who participate learn public speaking skills, poise and self-confidence.
"It's amazing to watch the transformation in students from nervous freshmen," who are terrified to make an objection, to seniors "who own the courtroom," she said.
Although mock trial participation may stem from interest in law, Waldron said many students are interested in mock trial for the debating or the acting. Waldron notes that the mock trial program "sneaks in little lessons" for the students.
"We teach them about civics, government and the trial process when they're not looking," she said.
The success of the Indiana's mock trial teams is a combination of the hard work the student teams put into the case and the expertise of their attorney-coaches.
"One of the most important factors is that the teams benefit from having very talented attorneys work with them to teach them both the technical aspects of lawyering, such as the rules of evidence, as well as the tactical aspects of lawyering, such as when and how to make an objection or not to make an objection," Waldron said. In turn, the attorneys who work with the students "feel as though they're giving back to the community."
Get out the vote
yVote! is another civics program geared toward Indiana high school students. Started in 2008 in part as a response to teacher requests for more information due to excitement surrounding the 2008 presidential election, the yVote! program is now in its eighth semester.
 
Marion County Clerk Beth White and staff member Chris Hampton, left, demonstrate to Bishop Chatard student Myles Maline-Wright the proper way to insert a completed ballot into the voting machine. White presented the yVote! program at Bishop Chatard High School March 20. (IL Photo/ Perry Reichanadter)
Through yVote!, Marion County Clerk Beth White's office is able to provide voter education to high school students. The program encourages students to vote by helping them understand the voting process and, if students are eligible, registering them to vote. Since its launch, yVote! has visited 23 different schools and registered more than 2,100 high school students to vote.
White and her staff are able to tailor the yVote! curriculum to a school's specific needs and requests. According to Angie Nussmeyer, White's media assistant, the program can range from teaching all-day civics classes at a school to just assisting eligible students to register to vote during free time. During the more extensive curriculum, mock ballots and actual voting equipment are brought to schools for students to practice using. When helping students determine if they are eligible to register to vote, White and her staff inform students who are 17 years old that they are eligible to register and to vote in the primary if they will be 18 years old by the date of the general election. If voting during the primary, eligible 17-year-olds use a specially printed ballot.
When visiting schools, White said, "What I hear from students is, 'I'm not going to vote, I don't know how that works.'" By providing basic education about voting concepts such as Indiana's voter ID law, what a precinct is, and who is eligible to vote, White said it takes away the mystery. Many parents and teachers have approached White and thanked her for registering students to vote.
"We have to focus on getting the word out for young people to vote," White said.
After learning the results of the 2011 Civics Health Index, White feels even more strongly about the need to further engage Indiana high school students. The index measures several areas of community engagement, such as volunteering, voting and religious participation. According to the index, Indiana ranks 48th in the nation in voter turnout and 43rd in the nation in eligible voters registered. Additionally, across the nation, 18- to 25-year-olds are the demographic who vote the least.
"As a state, we've got some work to do, and we can't start too young. I just feel that focusing on registering people to vote and then educating them on the process is key," White said.•
__________
Lawyers interested in learning more about becoming an adult volunteer or judge in the 2013 National Mock Trial Competition in Indianapolis are asked to contact Ann Marie Waldron at [email protected].
Please enable JavaScript to view this content.