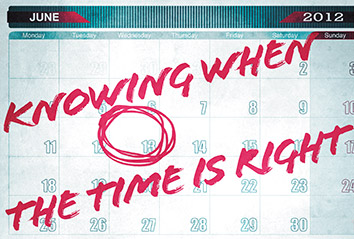 Knowing when to begin mediation can play a significant role in the success – or failure – of negotiations. And understanding when cases are ripe for negotiation comes with experience. South Bend mediator and arbitrator Joseph Simeri said no formula exists for determining when to mediate a case.
"This stuff is really not a science, it's an art. I can't tell you what I do or how I do it. I don't have a perceived game plan, I just try to get a feel for people, and how they feel for me," he said.
Who, when and why
The type of case plays a role in finding the right time frame for mediation. For example, while employment matters may be settled quickly, in personal injury cases, early mediation may not be appropriate if all the facts are unknown.
Indianapolis attorney and mediator Denise Page, with The Mediation Group, mediates primarily personal injury and wrongful death cases.
"What I see makes a mediation blow up and not settle when it's too early is that all the relevant medical records haven't been given to the other side. If the medical causation or the damages – loss of income, loss of inventory in a fire loss – if it's not documented to the satisfaction of the other party, it's too early," she said.
Conversely, resentment and frustration can build over time. When parties wait too long to attempt mediation, they may become less likely to cooperate.
"It's harder to let go of the notion and maybe entertain they're not totally right," Page said.
Anderson solo attorney and family law mediator Marianne Woolbert said that while she has never had a case in which she believes parties attempted to mediate too early, she thinks that in divorce, mediation may be ineffective in reaching an agreement if the value of the couple's belongings hasn't been assessed. Otherwise, she said, early mediation works well.
"I've had people come to see me that want to try to avoid divorce even before they filed and basically want to mediate their lives," Woolbert said.
Simeri handles a wide range of cases, and he said early mediation is particularly effective in employment matters, often because a worker who has a complaint about an employer has no legal remedy.
"A lot of times, the employee's maybe just looking for a good reference, or for the employer to not argue with severance pay," he said.
Simeri said the Equal Employment Opportunity Commission's internal mediation program, RESOLVE, has been particularly successful in keeping employee complaints from ending up in litigation. Its external program appears to be effective as well – in 2010, the EEOC's external mediation program reached a resolution in 73.4 percent of cases.
At early stages, Simeri said, neither the employer nor employee has invested a lot of money and time into defending against or pursuing a complaint, and that makes resolution more likely.
Recognizing the right time
You won't find a "fundamentals of good timing" course in law school, so experience is the key to knowing when to mediate.
"I didn't learn any of it in school," Page said. "Each case is different, too. There may be one case that is perfect for settling early, and then there may be a case where there are so many issues that are going to have to be researched, documented, given over to the experts – you know that case is going to be pending for a couple of years."
Mediators can help their clients recognize when the time is right, too.
Page said some clients may not realize just how long they may have to wait for a case to go to court. Once they're aware that they may have to wait up to two years for a court date, they may be more inclined to work out an agreement in mediation.
Early on, when a plaintiff's attorney working on a contingency fee hasn't invested extensive work in a case, a settlement will generally allow the plaintiff to recover more money.
"If a party is paying their attorney by the hour, when it's in the early stages, you can point out to them, 'You're going to be spending a lot of money on this case,'" Page said.
Setting the pace
Page said that while she tries to keep the process moving, she also recognizes the importance of letting the parties work out their differences at their own speed.
"There are times when somebody tells me, 'You're going too fast,' so in that case, I slow it down," she said. "Sometimes it takes the passage of time for people to cool off a little bit – there's something about that going back-and-forth process that really works."
Woolbert said that generally, she can discern right away whether the parties aren't going to come to an agreement. But with experience, she's also learned that maybe one mediation session just isn't enough time, and that they may need to meet again another day.
"Once you get into the process, you kind of get a feel – it'll happen as quickly as the parties want it to happen," Woolbert said.•
 
Please enable JavaScript to view this content.