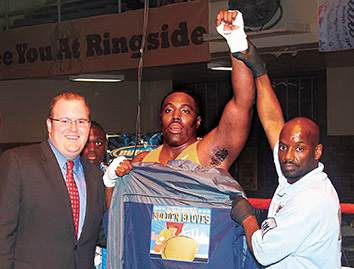 An Indianapolis lawyer who took up boxing a couple of years ago to get in shape recently won the Indiana Golden Gloves Junior Open Division Super Heavyweight title.
Alan Buckley had always been athletic – he played football at Ball State University and wrestled in high school – but staying fit fell by the wayside as he got older. The 2010 graduate of Indiana University Robert H. McKinney School of Law decided that he needed to get back in shape. He was following workout videos at home that incorporated boxing moves, but decided he might see more results if he did some actual boxing. A law school friend who boxed introduced him to the idea while the two were still in school.
Buckley began training at Broad Ripple Martial Arts in Indianapolis and found out his boxing coach also trained mixed martial artist Anthony "The Recipe" Lapsley, of whom Buckley was a fan. Lapsley and Buckley got together, and Buckley added mixed martial arts to his workout repertoire.
He began fighting first in MMA; the decision to box competitively was inspired by a sparring partner.
"I was apprehensive about doing it competitively, but I would spar in practice," he said. "I found out one of the guys I sparred with got second in the (Golden Gloves) tournament. I told myself if he could get second, I could win it, so I gave it a whirl."
And he was right. Buckley went undefeated in the 2012 tournament and won his division. In the Golden Gloves tournament boxers fight in three, two-minute rounds. The only time the clock stops is if someone is knocked out, chooses to end the match, or there is a technical knockout, where it's determined the fighter can't safely continue the match.
Buckley said, like any boxer, he tried not to get hit too much. He thinks he got hurt more in practice than during the tournament in March and April. His final win came April 12.
For his victories, Buckley received an embroidered jacket. He won't move on to the national competition because those who win titles in the junior open division don't advance.
Since he won in the junior open division, next year, he'd need to compete in the open division if he wanted to fight in the Golden Gloves tournament. Buckley, who is the director of compliance with the Indiana Worker's Compensation Board, hasn't decided if he will fight again next year or just continue to box to stay in shape.
Even if this year's tournament ends up being his last, Buckley said he enjoyed the experience. The bouts are held in the Tyndall Armory in Indianapolis, and there are spectators on two floors looking down at the ring.
"It's great hearing the crowd yell when you punch people in the face," Buckley said laughing. "It's hilarious watching it on YouTube. Even if I missed, people got excited."
He said boxing is a great stress relief.
"I do feel like when I'm fighting, you don't have time to worry about anything else. Anything that bothers you is on hold," he said. "Not getting beat up is the most important thing for those six minutes."
In addition to becoming a boxing champion, Buckley did get back into shape. He's 70 pounds lighter since he took up boxing and MMA.•
 
Please enable JavaScript to view this content.